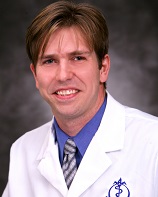 J. Christopher Ehlen, Ph.D.
Associate Professor
Neurobiology

Location: Multidisciplinary Research Center F14
Phone: (404) 752-1826
E-mail: jehlen@msm.edu
Education
POSTGRADUATE:

Georgia State University
Fellowship:
Neuroscience


GRADUATE:

Kent State University

Degree:
Doctor of Philosophy in Physiology
UNDERGRADUATE:

University at Albany, State University of New York

Degree:
Bachelor of Science in Biological Sciences
Research Interests
My current research focuses on: 1) understanding the mechanistic role of sleep in the neuronal circuits that regulate resilience to social stress; 2) elucidating the neuronal mechanisms responsible for regulating sleep need and identifying the genes involved in this mechanism.
Publications
Ehlen, J.C., Brager, A.J., Baggs, J., Pinckney, L., Gray, C.L., DeBruyne, J.P., Esser, K.E., Takahashi, J.S., Paul, K.N. (2017) Bmal1 function in skeletal muscle regulates sleep. eLife. e26557. PMID: 28726633
Brager, A.J., Heemstra, L., Bhambra, R., Ehlen, J.C., Esser, K.A., Paul, K.N., Novak, C.M. (2017) Homeostatic effects of exercise and sleep on metabolic processes in mice with an overexpressed skeletal muscle clock. Biocheme 32, 161-165. PMID: 27916643.
Ehlen, J.C.*, Jones, K.A.*, Pinckney, L, Gray, C.L., Burette, S., Weinberg, R.J., Evans, J.A., Brager, A.J., Zylka, M.J., Paul, K.N, Philpot, B.D., DeBruyne, J.P. (2015) Maternal Ube3a loss disrupts sleep homeostasis but leaves circadian rhythmicity largely intact. The Journal of Neuroscience. 35 (40): 13587-13598. PMID: 4595617.
Hummer, D.L., Ehlen, J.C., Larkin, T.E., McNeill, J.K., Pamplin, J.R., Walker, C.A., Walker, P.V., Dhanraj, D.R., Albers, H.E. (2015) Sustained activation of GABAA receptors in the suprachiasmatic nucleus mediates light-induced phase delays of the circadian clock: a novel function of ionotropic receptors. European Journal of Neuroscience. European Journal of Neuroscience 42(2), 1830-1838. PMID: 25865743.
Ehlen J.C., Jefferson F, Brager A.J., Benveniste, M.J., Paul, K.N. (2013) Period-amplitude analysis reveals wake-dependent changes in the electroencephalogram during sleep deprivation. SLEEP 2013; 36(11):1723-1735. PMID: 24179307.