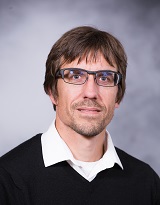 Robert Meller, D.Phil.
Associate Professor
Neurobiology

Pharmacology
Location: Multidisciplinary Research Center F220
Phone: (404) 756-5789
E-mail: rmeller@msm.edu
Education
GRADUATE:

University of Oxford

Degree:
Doctor of Philosophy in Neuropharmacology
UNDERGRADUATE:

University of Bristol

Degree:
Bachelor of Science in Pharmacology
Research Interests
Stroke
Concussion
Neuronal Injury
Intracellular signaling cascades
Gene expression and Non-coding RNA
Adaptive response to sub-lethal stress
Discovery of blood-based biomarkers for neurological disorders
RNA-sequencing
Bioinformatics
Publications
Assessing the accuracy of blood RNA profiles to identify patients with post-concussion syndrome: A pilot study in a military patient population. Hardy JJ, Mooney SR, Pearson AN, McGuire D, Correa DJ, Simon RP, Meller R. PLoS One. 2017 Sep 1;12(9):e0183113.


Sleep Is Critical for Remote Preconditioning-Induced Neuroprotection. Brager AJ, Yang T, Ehlen JC, Simon RP, Meller R, Paul KN.
Sleep. 2016 Nov 1;39(11):2033-2040


Blood transcriptome changes after stroke in an African American population. Meller R, Pearson AN, Hardy JJ, Hall CL, McGuire D, Frankel MR, Simon RP. Ann Clin Transl Neurol. 2016 Jan 15;3(2):70-81.


Dynamic changes in DNA methylation in ischemic tolerance. Meller R, Pearson A, Simon RP. Front Neurol. 2015 May 15;6:102.


A critical review of mechanisms regulating remote preconditioning-induced brain protection. Meller R, Simon RP. J Appl Physiol (1985). 2015 Nov 15;119(10):1135-42.


Honors and Awards
2005: Membership of the Society for Neuroscience

1998-1994: Wellcome Prize Studentship