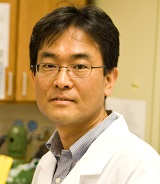 Shobu Namura, M.D., Ph.D.
Professor
Neurobiology

Location: Multidisciplinary Research Center
Phone: 404-756-8929
E-mail: snamura@msm.edu
Education
POSTGRADUATE:
Massachusetts General Hospital/Harvard Medical School

MEDICAL SCHOOL:
Kyoto University
Degree: Doctor of Medicine

GRADUATE:
Kyoto University
Degree: Doctor of Philosophy

Research Interests
Neuroprotection
Neural development
Neural conversion
Clinical Interests
Stroke
Cerebrovascular Diseases
Publications
Namura S, Ooboshi H, Liu J, Yenari MA. Neuroprotection after cerebral ischemia. Ann N Y Acad Sci. 2013 Mar;1278:25-32.
Wang G, Namura S. Effects of chronic systemic treatment with peroxisome proliferator-activated receptor α activators on neuroinflammation induced by intracerebral injection of lipopolysaccharide in adult mice. Neurosci Res. 2011 Jun;70(2):230-237.
Wang G, Liu X, Guo Q, Namura S. Chronic treatment with fibrates elevates superoxide dismutase in adult mouse brain microvessels. Brain Res. 2010 Nov 4;1359:247-255.
Tsukamoto T, Nakata R, Tamura E, Kosuge Y, Kariya A, Katsukawa M, Mishima S, Ito T, Iinuma M, Akao Y, Nozawa Y, Arai Y, Namura S, Inoue H. Vaticanol C, a resveratrol tetramer, activates PPARalpha and PPARbeta/delta in vitro and in vivo. Nutr Metab (Lond). 2010 May 27;7:46.
Guo Q, Wang G, Namura S. Fenofibrate improves cerebral blood flow after middle cerebral artery occlusion in mice. J Cereb Blood Flow Metab. 2010 Jan;30(1):70-78.