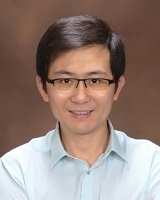 Tiandong Leng, M.D., Ph.D.
Instructor
Neurobiology

Location: Multidisciplinary Research Center 218
Phone: (404) 756-6698
E-mail: tleng@msm.edu
Education
MEDICAL SCHOOL:
Weifang Medical University
Degree: Doctor of Medicine

GRADUATE:
Sun Yat-Sen University
Degree: Doctor of Philosophy in Pharmacology


Research Interests
Stroke

Ion channel

Neuroprotection

Neurosteroid


Publications
Li MH*, Leng TD*, Feng XC, Yang T, Simon RP, and Xiong ZG. Modulation of ASIC1a by intracellular pH and its role in ischemic. JBC (*equal contribution). 2016 Jul 8. pii: jbc.M115.7136362016

Leng TD, Si HF, Li J, Yang T, Zhu MY, Wang BH, Xiong ZG. Amiloride analogs as ASIC1a inhibitors. CNS Neuroscience&Therapeutics. 2016 Jun;22(6):468-76. doi: 10.1111/cns.12524.

Wu JJ*, Jiang N*, Leng TD*, Yang T, Jiang YQ, Zhou YF, Jiang Q, Wang B, Hu YJ, Ji YH, Simon RP, Chu XP, Xiong ZG, Zha XM. Region Specific Contribution of ASIC2 to Acidosis- and Ischemia-induced Neuronal Injury. Journal of Cerebral Blood Flow & Metabolism (*equal contribution). 2016 Feb 9. pii: 0271678X16630558.

Yan M, Liu AL, Zhou SJ, Tang LP, Ou YQ, Yin W, Chen XY, Su XW, Qiu PX, Huang YJ, Zhang JX, Yan GM, Leng TD#. Characterization of a synthetic 24-keto-cholest-5-en-3β, 19-Diol as a neuroprotectant. CNS Neuroscience&Therapeutics. 2015 Jun;21(6):486-95 (#corresponding author)

Leng TD, Li MH, Shen JF, Liu ML, Li XB, Sun HW, Branigan D, Zeng Z, Si HF, Chen J, and Xiong ZG. Suppression of TRPM7 inhibits proliferation, migration and invasion of malignant glioma cells. CNS Neuroscience&Therapeutics. 2015 Mar;21(3):252-61

Hu HY*, Zhou YH*, Leng TD*, Liu AL, Wang YQ, Yin W, Huang YJ, Zhang JX, Qiu PX, Wang LW, Sang HF and Yan GM. The major cholesterol metabolite cholestane-3β, 5α, 6β-triol functions as an endogenous neuroprotectant. J Neurosci. 2014 Aug 20;34(34):11426-38 (*equal contribution)

Leng TD, Yejie Shi, Zhigang Xiong, and Dandan Sun. Proton-sensitive cation channels and ion exchangers in ischemic brain injury: new therapeutic targets for stroke? Progress in Neurobiology. 2014 Apr;115:189-209