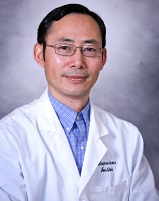 Zhigang Xiong, M.D, Ph.D.
Professor
Neurobiology

Location: Multidisciplinary Research Center 219
Phone: 404-752-8683
E-mail: zxiong@msm.edu
Education
MEDICAL SCHOOL:

Anhui Medical University
Degree:
Doctor of Medicine
GRADUATE:

University of Ottawa School of Medicine

Degree:
Doctor of Philosophy in Pharmacology
Sun Yat-Sen University of Medicine

Degree:
Master of Science in Pharmacology
Research Interests
Mechanisms of neurodegenerative disorders
Publications
Li MH, Liu SQ, Inoue K, Lan J, Simon RP, Xiong ZG. Acid-sensing ion channels in mouse olfactory bulb M/T neurons. J Gen Physiol. 143(6):719-31, 2014.

Leng T, Shi Y, Xiong ZG, Sun D. Proton-sensitive cation channels and ion exchangers in ischemic brain injury: New therapeutic targets for stroke? Prog Neurobiol. 115C:189-209, 2014.

Duan B, Wang YZ, Yang T, Chu XP, Yu Y, Huang Y, Cao H, Hansen J, Simon RP, Zhu MX, Xiong ZG, Xu TL. Extracellular spermine exacerbates ischemic neuronal injury through sensitization of ASIC1a channels to extracellular acidosis. J Neurosci. 31(6):2101-12, 2011.

Li M, Kratzer E, Inoue K, Simon RP, Xiong ZG. Developmental change in the electrophysiological and pharmacological properties of acid sensing ion channels in CNS neurons. J Physiol. 588(Pt 20):3883-900, 2010.

Stapels M, Piper C, Yang T, Li MH, Stowell C, Xiong ZG, Saugstad J, Simon R, Geromanos S, Langridge J, Lan J, Stenzel-Poore M, and Zhou A. Polycomb group proteins as epigenetic mediators of neuroprotection in ischemic tolerance. Science Signaling 3(111): ra15, 2010.
Honors and Awards
2007: Established Investigator Award, American Heart Association

2007: Guest Professorship, Anhui Medical University

2001: Scientist Development Award, American Heart Association

1998: Centennial Fellowship Award, Medical Research Council of Canada

1996: Postdoctoral Fellowship Award, Medical Research Council of Canada

1993: Graduate Student Travel Award, University of Ottawa