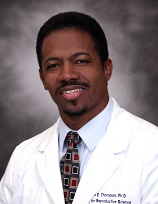 Winston E. Thompson, Ph.D., M.S.
Professor & Chair
Physiology

Director of Research & Director
Obstetrics & Gynecology and Mentoring Academy
Location: Medical Education Building
Phone: 404-752-1715
E-mail: wthompson@msm.edu
Education
POSTGRADUATE:

Marine Biological Laboratory

Certificate:
Embryology
Harvard Medical School

Fellowship:
Reproduction



GRADUATE:
Rutgers University and the University of Medicine & Dentistry
Degree:
Doctor of Philosophy in
Cell and Developmental Biology

Rutgers University
Degree: Master of Science in Endocrinology



UNDERGRADUATE:
Lafayette College
Degree:
Bachelor of Art in Biology
Research Interests
Regulation of Ovarian Follicular Development and Atresia

In the Thompson laboratory, a team of researchers is committed to the study of ovarian health. First, we are focused on understanding the mechanisms underlying the growth and development of a competent follicle with the capacity to release a fertilizable oocyte (or egg), since infertility is a clear public health concern in all its forms including oncofertility. Ovarian GCs play an important physiological role in supporting the development and selection of the dominant follicle by controlling oocyte maturation and by producing the steroid hormones, estradiol and progesterone, that are critical for maintenance of the ovarian cycle. Mammalian ovarian follicular development is tightly regulated by crosstalk between cell death, survival and differentiation signals. Studies performed in our laboratory have demonstrated that survival/apoptotic events in GC are mediated by a family of protein factors known as prohibitins (prohibitin 1, PHB1 and repressor of estrogen receptor activity, REA). We propose that these molecules play important roles in modulating specific responses of GCs to FSH, acting at multiple levels of the FSH signal transduction pathway. Understanding the intracellular signaling pathways utilized by the prohibitins in governing folliculogenesis is likely to help identify strategies to overcome fertility disorders and suppressing ovarian cancer growth. We designed three well integrative specific aims to address the physiological and biochemical effects of PHB1 and REA on the function of GCs and follicular development in concert with FSH signaling (Funded by the National Institute of Health).

Human Ovarian Cancer Biology and Gene Therapy

Second, in a multi-disciplinary collaborative effort involving several institutions, we are conducting studies on the role of prohibitins and other genes in modulating the sensitivity of ovarian cancer cells to chemotherapy both in vitro and in vivo. Ovarian cancer ranks second among gynecological cancers in the number of new cases, and first among gynecological cancers in the number of deaths each year. Mortality rates have remained relatively constant for the past three decades; hence, there is an urgent need for new therapies for the treatment of ovarian cancer. To this end, Drs. Thompson and Minerva Garcia-Barrio at Morehouse School of Medicine have developed a partnership with Dr. David Curiel at the University of Alabama at Birmingham, Division of Human Gene Therapy to design novel virotherapy for clinical use in the treatment of ovarian cancer. Virotherapy is the process of using a virus that has been engineered in the laboratory to find and destroy specific cancer cells without harming healthy cells. It is a type of targeted therapy. This partnership was formalized in grant supported by National Cancer Institute.

Oncofertilty

Third, Oncofertilty is a new discipline in the field of women's health. Life preserving treatments using chemotherapy and radiation can threaten fertility. The purpose of Oncofertility is to address the issue of fertility preservation in patients undergoing cancer treatment with sufficiently trained physician-scientists who will implement the research and clinical agenda required to treat their patients with new and emerging technologies. Who are at risk? More than 130,000 cancer patients are diagnosed annually in their reproductive years (up to age 45). Approximately 25% of breast cancer patients are diagnosed under the age 45. 12,000 children (0-19) are diagnosed with cancer each year. Since the late 1970's, treatments for infertility have undergone a radical transformation that is as profound as the rise in the number of cancer survivors. Yet, an advance in preservation of female fertility in these circumstances is lagging behind. Dr. Winston Thompson, Dr. Indrajit Chowdhury and Dr. Djana Harp have adapted an in vitro model system to mimic follicular development ex vivo, with the final objective of addressing some of the pressing needs in this women's health area.

Atlanta Center for Translation Research in Endometriosis (ACTRE)

The Atlanta Center for Translational Research in Endometriosis is a partnership between the reproductive research programs of Emory University (EU) and Morehouse School of Medicine (MSM) and will be jointly directed by Robert N. Taylor, MD, PhD of EU and Winston E. Thompson, PhD of MSM. The leaders are highly respected independent investigators with extensive experience and productivity in coordinated, multidisciplinary reproductive research and education teams. Moreover, the program will be facilitated by extant infrastructure provided under the aegis of the Atlanta Clinical and Translation Science Institute, which has been jointly operated between EU and MSM since 2007. The NICHD theme of "cells to selves" serves as the biological foundation to study the fundamental mechanisms of endometriosis lesion growth and apoptosis and their relationship to pain and infertility. The scientific focus of ACTRE will concentrate on the regulation of endometriotic cell cycle dynamics to determine why endometriotic cell apoptosis is dysregulated and how might it be therapeutically induced. Aim #1 will identify specific survival factor pathways in tissue specimens from women with and without endometriosis. In particular, the NF-κB and prohibitin pathways will be emphasized. Primary cell cultures will be developed using well characterized methods pioneered by Dr. Taylor. In Aim #2, Dr. Thompson will use these cultures to test the effects of hormonal and nonhormonal apoptosis-inducing agents and validate specific cytoplasmic and mitochondrial mechanisms of apoptosis using mRNA profiling and 2D gel phosphoproteomic techniques. Aim #3 will utilize rats bearing endometriosis-like lesions to test the efficacy of novel therapeutic agents designed to induce apoptosis in the lesions in vivo. The Scholars will be introduced in the clinic to women suffering from endometriosis and follow their endometrial specimens to the laboratory, where investigation of molecular mechanisms will take place. A diverse cadre of undergraduates will be exposed to the entire translational experience, from disease to possible drug development. Mentors from EU and MSM will guide scholars in clinical and laboratory research, didactic instruction, and provide individualized mentorship with the goal of facilitating matriculation in graduate and professional programs related to reproductive sciences.
Publications
Wu J, Williams D, Walter GA, Thompson WE, Sidell N. Estrogen increases Nrf2 activity through activation of the PI3K pathway in MCF-7 breast cancer cells. Exp Cell Res. 2014 Aug 27. pii: S0014-4827(14)00368-1. doi: 10.1016/j.yexcr.2014.08.030. PMID: 25172557

Thompson WE, Pattillo RA, Stiles JK, Schatten G. Biomedical research's unpaid debt: NIH's initiative to support and implement fairer competition for minority students is a welcome step to redress the exploitation of African Americans by science. EMBO Rep. 2014 Apr;15(4):333-7. doi: 10.1002/embr.201338274. Epub 2014 Mar 20. PMID: 24652854

Chowdhury I, Thompson WE, Thomas K. Prohibitins role in cellular survival through Ras-Raf-MEK-ERK pathway. J Cell Physiol. 2014 Aug;229(8):998-1004. doi: 10.1002/jcp.24531. Review. PMID: 24347342

Chowdhury I, Thompson WE, Welch C, Thomas K, Matthews R. Prohibitin (PHB) inhibits apoptosis in rat granulosa cells (GCs) through the extracellular signal-regulated kinase 1/2 (ERK1/2) and the Bcl family of proteins. Apoptosis. 2013 Dec;18(12):1513-25. doi: 10.1007/s10495-013-0901-z. PMID: 24096434

Liu D, Lin Y, Kang T, Huang B, Xu W, Garcia-Barrio M, Olatinwo M, Matthews R, Chen YE, Thompson WE. Mitochondrial dysfunction and adipogenic reduction by prohibitin silencing in 3T3-L1 cells. PLoS One. 2012;7(3):e34315. doi: 10.1371/journal.pone.0034315. Epub 2012 Mar 30. PMID: 22479600

Chowdhury I, Garcia-Barrio M, Harp D, Thomas K, Matthews R, Thompson WE. The emerging roles of prohibitins in folliculogenesis. Front Biosci (Elite Ed). 2012 Jan 1;4:690-9. Review. PMID: 22201905


Click here to view selected publications.
Honors and Awards
2012: Certificate of Teaching Excellence, Frontiers in Stem Cells in Cancer, Advanced Lab
Course at Howard University

2012: Elected to the Board of Directors, Society for the Study of Reproduction

2011: NIH R15 Grant Reviewer, NIH