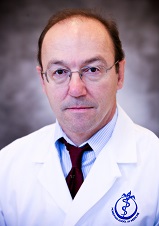 Gianluca Tosini, Ph.D.
Chief Scientific Research Officer
Professor and Chair
Pharmacology & Toxicology
Location: Research Wing 306/307
Phone: 404-756-5214
E-mail: gtosini@msm.edu
Education
GRADUATE:
University of Bristol
Degree: Doctor of Philosophy

Research Interests
The Role Circadian Clock and Light in the Regulation of Ocular Physiology and Health.
Circadian rhythms are fluctuations in biological processes that occur on a daily basis. These rhythms provide a selective advantage to organisms by allowing them to anticipate regular changes in their environment that occur as the day progresses. The daily, solar cycle of light and darkness is generally considered to be the most powerful entrainment stimulus. The retina is a remarkably rhythmic tissue, with many cellular, biochemical, and physiological processes expressed in a circadian fashion. It is generally accepted that these retinal circadian rhythms allow the organism to anticipate and cope with the more than 1 million-fold change in light intensity from night to day and to optimize visual function for each intensity. The functioning and the role of the retinal circadian system in regulating retinal physiology in health and disease state is the focus of the research in my laboratory.
Publications
Hiragaki S, Baba K, Coulson E, Kunst S, Spessert R, Tosini G. Melatonin signaling modulates clock genes expression in the mouse retina. PLoS One. 2014 Sep 9;9(9):e106819. doi: 10.1371/journal.pone.0106819. eCollection 2014. PMID: 25203735
Tosini G, Owino S, Guillaume JL, Jockers R. Understanding melatonin receptor pharmacology: latest insights from mouse models, and their relevance to human disease. Bioessays. 2014 Aug;36(8):778-87. doi: 10.1002/bies.201400017. Epub 2014 Jun 5. PMID: 24903552
Iuvone PM, Boatright JH, Tosini G, Ye K. N-acetylserotonin: circadian activation of the BDNF receptor and neuroprotection in the retina and brain. Adv Exp Med Biol. 2014;801:765-71. doi: 10.1007/978-1-4614-3209-8_96. PMID: 24664769
McMahon DG, Iuvone PM, Tosini G. Circadian organization of the mammalian retina: from gene regulation to physiology and diseases. Prog Retin Eye Res. 2014 Mar;39:58-76. doi: 10.1016/j.preteyeres.2013.12.001. Epub 2013 Dec 12. Review. PMID: 24333669
Baba K, Benleulmi-Chaachoua A, Journé AS, Kamal M, Guillaume JL, Dussaud S, Gbahou F, Yettou K, Liu C, Contreras-Alcantara S, Jockers R, Tosini G. Heteromeric MT1/MT2 melatonin receptors modulate photoreceptor function. Sci Signal. 2013 Oct 8;6(296):ra89. doi: 10.1126/scisignal.2004302. PMID: 24106342