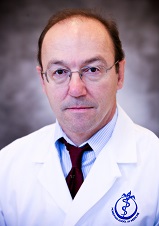 Education
GRADUATE:
University of Bristol
Degree: Doctor of Philosophy

Research Interests
Development of new culture methods to isolate and culture different type of retinal neurons (photoreceptor, amacrine and ganglion cells) to address this important question, and to identify the mechanisms (neural and humoral) that are responsible for the communication of the information among the different cells.


Publications
Hiragaki S, Baba K, Coulson E, Kunst S, Spessert R, Tosini G. Melatonin signaling modulates clock genes expression in the mouse retina. PLoS One. 2014 Sep 9;9(9):e106819. doi: 10.1371/journal.pone.0106819. eCollection 2014. PMID: 25203735

Tosini G, Owino S, Guillaume JL, Jockers R. Understanding melatonin receptor pharmacology: latest insights from mouse models, and their relevance to human disease. Bioessays. 2014 Aug;36(8):778-87. doi: 10.1002/bies.201400017. Epub 2014 Jun 5. PMID: 24903552

Iuvone PM, Boatright JH, Tosini G, Ye K. N-acetylserotonin: circadian activation of the BDNF receptor and neuroprotection in the retina and brain. Adv Exp Med Biol. 2014;801:765-71. doi: 10.1007/978-1-4614-3209-8_96. PMID: 24664769

McMahon DG, Iuvone PM, Tosini G. Circadian organization of the mammalian retina: from gene regulation to physiology and diseases. Prog Retin Eye Res. 2014 Mar;39:58-76. doi: 10.1016/j.preteyeres.2013.12.001. Epub 2013 Dec 12. Review. PMID: 24333669

Baba K, Benleulmi-Chaachoua A, Journé AS, Kamal M, Guillaume JL, Dussaud S, Gbahou F, Yettou K, Liu C, Contreras-Alcantara S, Jockers R, Tosini G. Heteromeric MT1/MT2 melatonin receptors modulate photoreceptor function. Sci Signal. 2013 Oct 8;6(296):ra89. doi: 10.1126/scisignal.2004302. PMID: 24106342

Tosini G, Iuvone M, Boatright JH. Is the melatonin receptor type 1 involved in the pathogenesis of glaucoma? J Glaucoma. 2013 Jun-Jul;22 Suppl 5:S49-50. doi: 10.1097/IJG.0b013e3182934bb4. Review. Erratum in: J Glaucoma. 2013 Sep;22(7):598. PMID: 23733129


Click here to view additional publications.