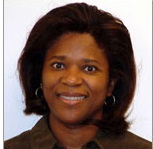 Karen Russell Randall, Ph.D.
Associate Professor
Pharmacology & Toxicology

Location: Research Wing 314
Phone: 404-752-1875
E-mail: krandall@msm.edu
Education
GRADUATE:

University of the West Indies
Degree:
Doctor of Philosophy in Biochemistry
UNDERGRADUATE:

University of the West Indies
Degree:
Bachelor of Science in Biochemistry and Chemistry
Research Interests
My research interests focus on opioid receptor dynamics and related signaling mechanisms in maintaining ocular function and regulating intraocular pressure (IOP). High pressure in the eye is one of the symptoms of primary open angle glaucoma (POAG), the principal cause of blindness in African Americans and a major cause in other segments of the population. Data from our lab demonstrated the presence of opioid receptors in cells involved in IOP regulation, and support our hypothesis that opioids have a role in the reduction of intraocular pressure. However, little is known about how such regulation is achieved. The long-term objective is to determine how opioid receptors function in the anterior chamber (front of the eye) and to determine the role of these receptors in the biology of IOP regulation. In the long term, we expect that our findings will reveal essential molecular targets for future therapeutic interventions for POAG and will result in improved outcomes for glaucoma patients.



Publications
Russell-Randall KR, Dortch-Carnes J (2011). Kappa opioid receptor localization and coupling to nitric oxide production in cells of the anterior chamber. Invest Ophthalmol Vis Sci.; 52(8):5233-9

Dortch-Carnes J, Randall KR (2009). Morphine-induced nitric oxide production in isolated, iris-ciliary bodies. Exp Eye Res. 89(5):660-4.

Dortch-Carnes J, Randall KR (2007). Morphine-stimulated nitric oxide release in rabbit aqueous humor. Exp Eye Res. 84(1):185-90.

Dortch-Carnes J, Russell KR (2006). Morphine-induced reduction of intraocular pressure and pupil diameter: role of nitric oxide. Pharmacology;77(1):17-24.

Potter, David E., Russell, Karen R.M. and Manhiani, Marlina (2004). Bremazocine increases CNP levels in aqueous humor and enhances outflow facility. J. Pharmacol Exp Ther;309(2):548-53.

Russell, Karen R.M and Potter, David E. (2002) Dynorphin modulates ocular hydrodynamics and releases atrial natriuretic peptide via activation of k-opioid receptors; Exp. Eye Res. 75: 259-270.


Click here to view additional publications.