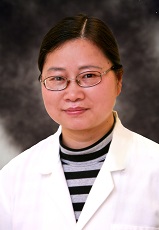 Xueying Zhao, Ph.D.
Associate Professor
Physiology

Location: Medical Education Building 342
Phone: 404-752-1902
E-mail: xzhao@msm.edu
Education
MEDICAL SCHOOL:
Suzhou Medical College

Degree:
Doctor of Medicine


GRADUATE:

Suzhou Medical College

Degree:
Doctor of Philosophy in Cardiology

Suzhou Medical College
Degree: Master of Science
Research Interests
Role of cytochrome P450 (CYP) metabolites in the regulation of vascular and renal function.



Publications
Li L, Zhao X, Wong CP. Deep Etching of Single- and Polycrystalline Silicon with High Speed, High Aspect Ratio, High Uniformity, and 3D Complexity by Electric Bias-Attenuated Metal-Assisted Chemical Etching (EMaCE). ACS Appl Mater Interfaces. 2014 Oct 8;6(19):16782-91. doi: 10.1021/am504046b. Epub 2014 Sep 19. PMID: 25188875

Li X, Shao M, Wang S, Zhao X, Chen H, Qian J, Song X, Wang J, Jin L, Wu J, Li Q, Bai C, Han B, Gao Z, Lu D. Heterozygote advantage of methylenetetrahydrofolate reductase polymorphisms on clinical outcomes in advanced non-small cell lung cancer (NSCLC) patients treated with platinum-based chemotherapy. Tumour Biol. 2014 Aug 8. PMID: 25104092

Zhang L, Zhao X, Zhang M, Zhao W, Gao C. Ubiquitin-specific protease 2b negatively regulates IFN-β production and antiviral activity by targeting TANK-binding kinase 1. J Immunol. 2014 Sep 1;193(5):2230-7. doi: 10.4049/jimmunol.1302634. Epub 2014 Jul 28. PMID: 25070846

Morrissey KL, He C, Wong MH, Zhao X, Chapman RZ, Bender SL, Prevatt WD, Stoykovich MP. Charge-tunable polymers as reversible and recyclable flocculants for the dewatering of microalgae. Biotechnol Bioeng. 2014 Jul 24. doi: 10.1002/bit.25340. PMID: 25060233

Li G, Zhao X, Zhao W, Zhang L, Wang C, Jiang M, Gu X, Yang Y. Porous chitosan scaffolds with surface micropatterning and inner porosity and their effects on Schwann cells. Biomaterials. 2014 Oct;35(30):8503-13. doi: 10.1016/j.biomaterials.2014.05.093. Epub 2014 Jul 5. PMID: 25002265

Cai W, Chen C, Li X, Shi J, Sun Q, Liu D, Sun Y, Hou L, Zhao X, Gu S, Wu Q, Chen H, Zhang W, Jin L, Lu D, Fei K, Su B, Qian J. Association of CDC25 phosphatase family polymorphisms with the efficacy/toxicity of platinum-based chemotherapy in Chinese advanced NSCLC patients. Future Oncol. 2014 May;10(7):1175-85. doi: 10.2217/fon.14.25. PMID: 24947259


Click here to view additional publications.