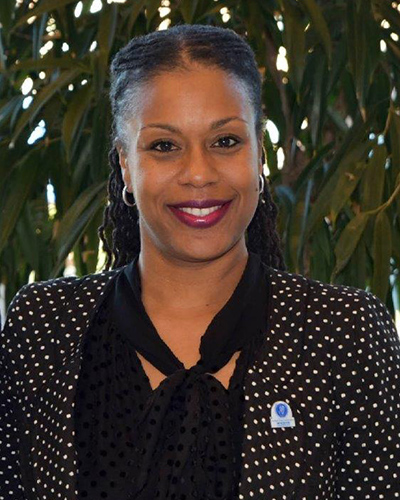 Kisha Holden, Ph.D., M.S.C.R.
Professor and Director
Research and Scholarship

Pouissaint-Satcher Endowed Chair in Mental Health
E-mail: kholden@msm.edu
Education
POSTGRADUATE:
Johns Hopkins University
Fellowship: Mental health disparities and health policy


GRADUATE:
Howard University
Degree: Doctor of Philosophy in Counseling Psychology

Morehouse School of Medicine
Degree: Master of Science in Clinical Research

Howard University
Degree: Master of Arts in Counseling Psychology


UNDERGRADUATE:
Howard University
Degree: Bachelor of Science in Psychology

Research Interests
Dr. Holden has dedicated her career to encouraging mental health and well-being among ethnically and culturally diverse families through research, programmatic initiatives, and the development of innovative strategies for informing health policies. She has placed a special emphasis on addressing the needs of underserved and underrepresented populations that are often overlooked, yet prevail in contributing to the myriad of health disparities. She aims to: (1) promote excellence in community-based clinical and translational mental health research, (2) develop innovative programs that improve accessibility of individuals to comprehensive healthcare, and (3) develop culturally centered, gender specific, resilience based prevention and intervention models for individuals at risk for depression and post-traumatic stress disorder.
Publications
Holden, K., Ofili, E., Jones, C., Satcher, D. (2019). Co-Guest Editor, Transdisciplinary Collaborative Health Policy Research: Leading the Creation and Advancement of Health Equity. Ethnicity & Disease, Vol. 29 Suppl 2.
Dawes, D. and Holden, K. (2017). Transformative Mental Health for African American Women: Health Policy Considerations. In Evans, S., Bell, K., and Burton N. (Eds.), Black Women's Mental Health: Balancing Strength & Vulnerability. New York: SUNY Press.
Holden, K., Charles, L., McGregor, B. et.al. (2016). Reducing Health Disparities and Improving Health Equity in the United States and St. Lucia. International Journal of Environmental Research and Public Health, 13(1), 37; doi: 10.3390/ijerph13010037.
Holden, K., McGregor, B., Belton, A., Hopkins, J., Blanks, S., and Wrenn, G. (2016). Community Engaged Leadership to Advance Health Equity and Build Healthier Communities, Social Sciences, 5, 2; doi: 10.3390/socsci5010002.
Holden, K., Belton, A. and Hall, S. (2015). Qualitative Examination of African American Women's Perspectives about Depression. Health, Culture, and Society, 8 (1), 48-60.
Honors and Awards
American Psychological Association, Division on Women, Carolyn Payton Career Award
Walter and Theodora Daniel Endowed Educational Research