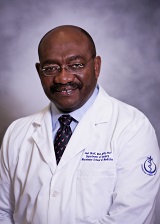 Education
POSTGRADUATE:
State University of New York at Buffalo School of Medicine
Residency: General Surgery

State of New York Roswell Park Cancer Institute
Fellowship: Endoscopy & Vascular Access

State of New York Roswell Park Cancer Institute
Fellowship: Surgical Oncology & Endoscopy

MEDICAL SCHOOL:
Yale University
Degree: Doctor of Medicine


GRADUATE:
Yale University
Degree: Master of Public Health


UNDERGRADUATE:
Seattle University
Degree: Bachelor of Science Clinical Chemistry
Specialties
Benign and malignant diseases of the breast, small and large intestine, liver, pancreas, thyroid, parathyroid, parotid glands, soft tissue tumors, melanoma, and endoscopy.
Publications
Crump SR, Shipp MP, McCray GG, Morris SJ, Okoli JA, Caplan LS, Thorne SL, Blumenthal DS. Abnormal mammogram follow-up: do community lay health advocates make a difference? Health Promot Pract. 2008 Apr;9(2):140-8. doi: 10.1177/1524839907312806. PMID: 18340089

Gabram SG, Lund MJ, Gardner J, Hatchett N, Bumpers HL, Okoli J, Rizzo M, Johnson BJ, Kirkpatrick GB, Brawley OW. Effects of an outreach and internal navigation program on breast cancer diagnosis in an urban cancer center with a large African-American population. Cancer. 2008 Aug 1;113(3):602-7. doi: 10.1002/cncr.23568. PMID: 18613035

Bumpers HL, Huang MB, Powell M, Grizzle WE, Lillard JW Jr, Okoli J, Bond VC. Effects of HIV-1 Nef, a cytotoxic viral protein, on the growth of primary colorectal cancer. Cancer Biol Ther. 2005 Jan;4(1):65-9. Epub 2005 Jan 15. PMID: 15662115

Bumpers HL, Gabram-Mendola S, Okoli J, Rizzo M. Image of the month. Locally advanced breast cancer. JAMA Surg. 2013 Mar;148(3):297-8. doi: 10.1001/jamasurg.2013.316a. PMID: 23553076

Qin Y, Xu J, Aysola K, Oprea G, Reddy A, Matthews R, Okoli J, Cantor A, Grizzle WE, Partridge EE, Reddy ES, Landen C, Rao VN. BRCA1 proteins regulate growth of ovarian cancer cells by tethering Ubc9. Am J Cancer Res. 2012;2(5):540-8. Epub 2012 Aug 20. PMID: 22957306

Yuli C, Shao N, Rao R, Aysola P, Reddy V, Oprea-llies G, Lee L, Okoli J, Partridge E, Reddy ES, Rao VN. BRCA1a has antitumor activity in TN breast, ovarian and prostate cancers. Oncogene. 2007 Sep 6;26(41):6031-7. Epub 2007 Mar 26. PMID: 17384678


Click here to view additional publications.