MSM's Global Health Initiative
Each year, Morehouse School of Medicine (MSM) continues to make strides to tackle global health issues around the world.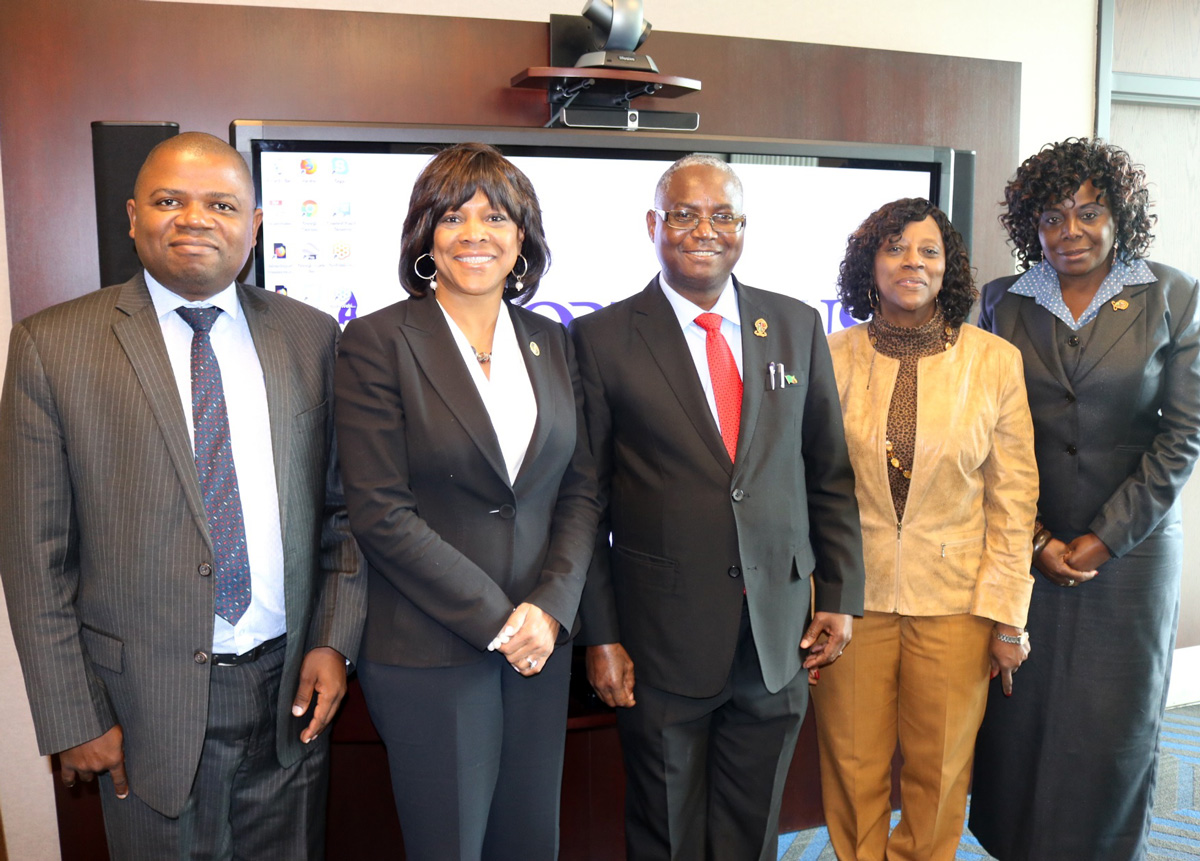 From left to right: Mr. Kennedy Msusa, executive assistant to the vice chancellor, University of Zambia; Dr. Valerie Montgomery Rice, president and dean, MSM; Dr. Luke Mumba, vice chancellor, University of Zambia; Dr. Sandra Harris-Hooker, PhD, Executive Vice Dean, MSM; Dr. Esther Munalula Nkandu, dean, School of Health Sciences, University of Zambia.
International Exchange Partnership
MSM recently announced its partnership with fellow HBCU medical school Meharry Medical College and the University of Zambia to develop an international exchange program focusing on disease research and prevention in the following core areas: HIV/AIDS, cancer, HPV, late-onset diabetes, hypertension, infectious disease, and malnutrition. The program is scheduled to begin in fall 2018.
On April 16, delegates from the University of Zambia visited MSM's campus and met with Dr. Montgomery Rice, M.D., David Satcher, M.D., Ph.D., founding director and senior advisor of the Satcher Health Leadership Institute, and global health leaders from various departments across campus.
Pan American Health Organization (PAHO) Commission Meeting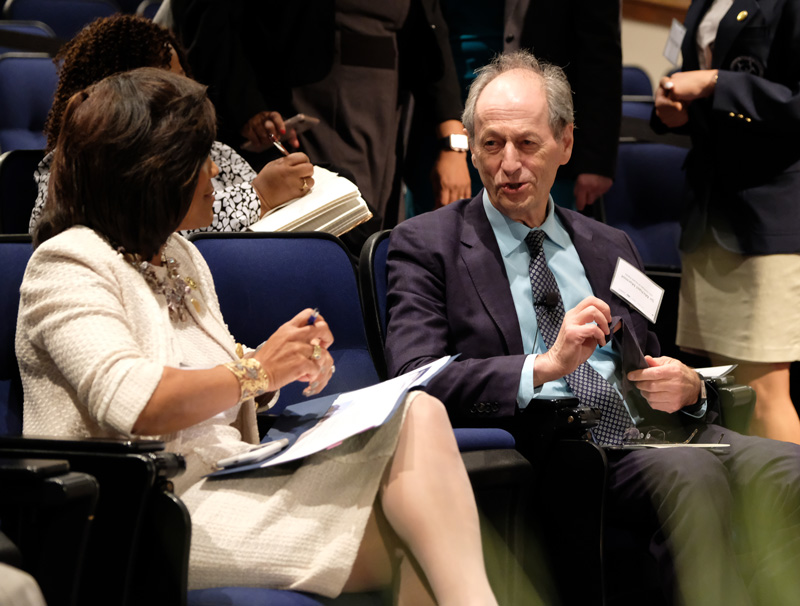 Dr. Valerie Montgomery Rice speaks with Sir Michael Marmot.
Earlier this year, leaders in healthcare from across the globe converged upon Morehouse School of Medicine to discuss how to achieve health equity. During this two-day gathering convened by Dr. David Satcher, M.D., PhD. in early March, attendees specifically focused on minority populations, such as African Americans, Latinos, and Native Americans in North, South, and Central America.
More than 500 government officials, community-based organizations, and members of academia attended the opening general session of the meeting where commission chair Sir Michael Marmot, MBBS, MPH, Ph.D., delivered the keynote address, "How Do You Achieve Change?" recently featured in Harvard University's This Week in Health podcast.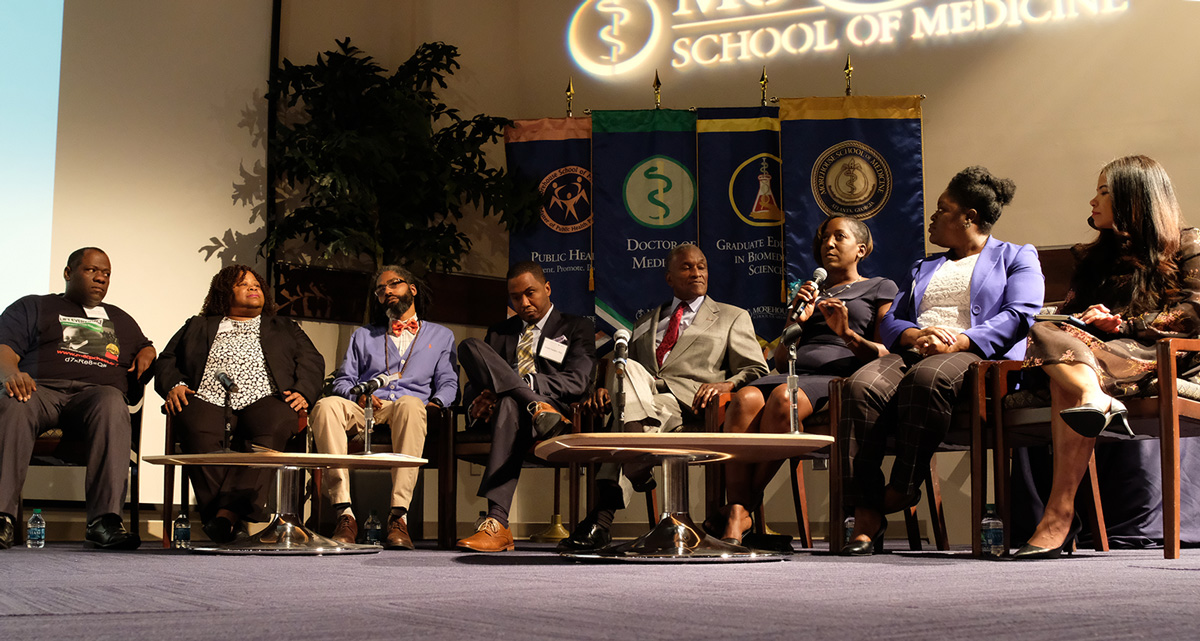 Sir Michael Marmot's keynote address was followed by a faculty and community panel.
The presentation was followed by a panel discussion with MSM Satcher Health Leadership Institute alumni to further discuss how inequalities that shape health across the world can be addressed.
It really is becoming less and less a reality to think of ourselves as separate, as existing inside of these false boundaries. Our wealth, our health, and well-being, our realities, are really closely intertwined and interdependent in ways that are becoming harder and harder for us to ignore as a global community. Gilberte "Gigi" Bastien, PhD, Associate Director, Office of Global Health Equity and Assistant Professor, Psychiatry & Behavioral Sciences
Haiti Medical Mission
MSM students, doctors, faculty, and staff are continuously collaborating with fellow health scientists and treating patients locally and abroad, while ensuring those in need have well-trained medical professionals, affordable options, and are able to get the medical care they need. Last April, MSM President and Dean Dr. Valerie Montgomery Rice, along with Meharry Medical College President Dr. James Hildreth, led a group of faculty, research scientists, and staff from the two HBCU medical schools to Senegal. MSM has also sent students and staff to Haiti since 2008, making MSM the first HBCU medical school to conduct medical mission trips. In July 2017, seven M.D. students and three physicians flew to Haiti to take part in a week-long medical mission. To learn more and help our students with their 2018 Trip, click here and give today!
In the quest for health equity, MSM continues to work towards making sure communities have access to the quality healthcare they need by engaging in collaborative partnerships, leading cutting-edge research, and providing compassionate care.
Learn more about Morehouse School of Medicine's Global Health Initiative.