Sickle Cell Education and Research in Ghana
MSM medical student Samed Obeng shares his reflection on summer medical education abroad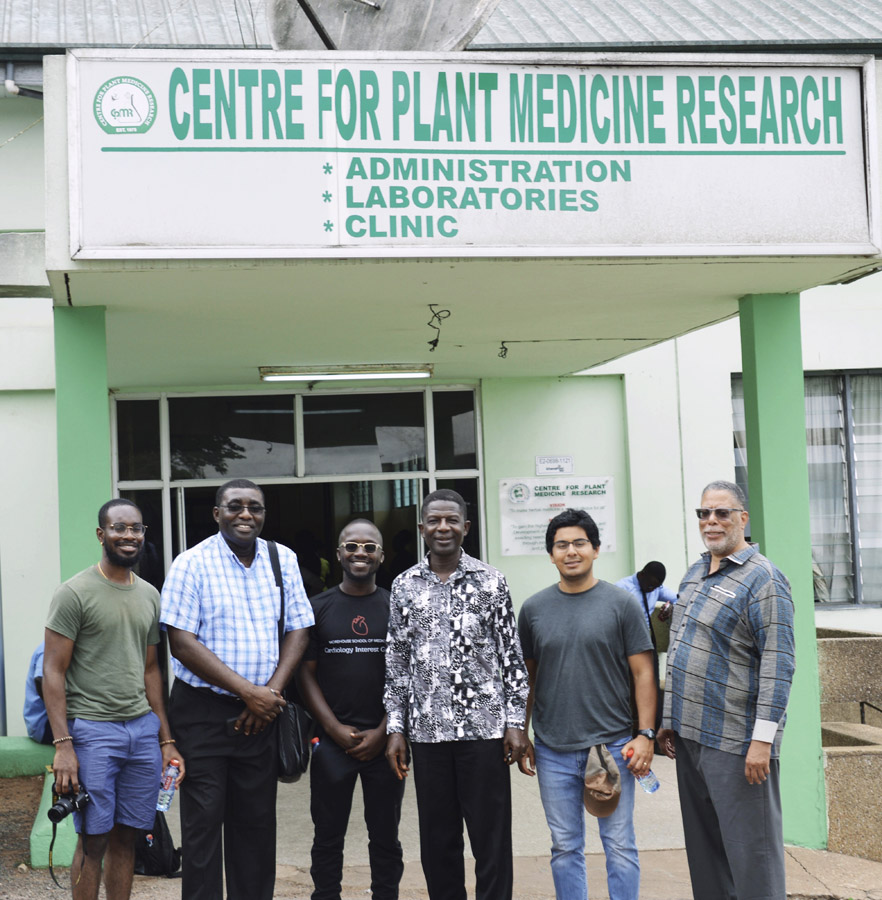 Samed Obeng stands with a group in front of the Centre for Plant Medicine Research building.
During summer 2019, I left my family in the United States, which consists of my two-year-old daughter and my pregnant wife, to travel to Ghana for two months in order to lead in the creation and advancement of health equity. While in Ghana, I was able to improve the health and well-being of individuals through sickle cell education, regardless of their socioeconomic status. While educating patients, I was also able to recruit them to participate in our research study.
I was originally born in Kumasi, Ghana and moved to the United States at the age of eleven. I had never been back to Ghana, so when I first learned about the Global Health Learner Experience program, I was very ecstatic because this was exactly what I was looking for in a summer program. Now, as a 26 year old MD student at Morehouse School of Medicine, the Global Health Learner Experience allowed me to go back to my home country to gain clinical and research experience while networking with some of the best healthcare professionals in Ghana.
I served at the sickle cell clinic near Korle Bu Teaching Hospital in Accra, serving patients whose ages ranged from eight years old to fifty years. While educating patients about their condition, I also recruited patients to participate in our study, utilizing the patient interviewing skills I learned during my first year of medical school. I was able to expand on practice-based skills in history taking with standardized patients.
Since my experience, I've gained a lot of knowledge on how research is conducted globally. I now understand how important it is for Morehouse School of Medicine to partner with organizations like the University of Ghana to continue its research on malaria and sickle cell disease. I think the existing partnership needs to continue growing so that we can continue to address global health needs.
During my time in Ghana, I've been inspired to come back and continue to promote health by conducting research in my field of choice. I hope our research will later benefit sickle cell patients by offering more knowledge about their condition and perhaps medications to combat their disease.
About the Global Health Learners Program
The Office of Global Health Equity at Morehouse School of Medicine offers small grants to students, faculty, and staff projects aimed at applying innovative solutions towards global health and development challenges impacting resource-constrained settings. Please contact globalhealthequity@msm.edu with any questions.