The New House Call: Health Care via Telemedicine
Many decades ago, it was not uncommon for family physicians to make in-person house calls to their patients for consultations or follow-up care. While that practice has long disappeared, a new form of it has rapidly emerged in recent years, thanks to the reach and possibilities of the internet and videoconferencing technology.
Telemedicine has become an increasingly popular mode of engagement between physicians and patients, especially in environments and conditions where in-person visits to doctors' offices are impractical or near impossible (such as during the current COVID-19 pandemic). Now, with a smartphone, tablet, or computer equipped with a camera and microphone, patients can have "virtual visits" with their physician to get the diagnosis and care they need—all from the comfort and safety of their home.
Telemedicine or telehealth?
The terms "telemedicine" and "telehealth" are often used interchangeably today, and while they are related, there is a distinction between the two. "Telemedicine" is essentially "healing from a distance," according to the World Health Organization. It is the clinical care that a patient receives directly from their physician or care provider online or through electronic channels. "Telehealth" is a broader term that extends beyond the physician/patient relationship and encompasses the use of electronic technology to support long-distance healthcare, health education, and health administration.
Here's an easy way to remember the difference: telemedicine is a service while telehealth is what supports or advances that service.
Conditions that telemedicine can address
While telemedicine isn't appropriate for emergency situations, such as stroke, heart attack, or broken bones, it is an ideal option for more routine illnesses and injuries. Colds, sore throats, bronchitis, coughs, fever, headache, insect bites, joint pain, rashes, and asthma are all conditions that can be capably handled through a telemedicine visit with your physician.
Furthermore, a virtual visit can help you get a prescription or a refill conveniently, and is also an appropriate platform for psychiatry or counseling sessions. And when you're not feeling well when far from home, it's a great way to connect with your primary care physician for a diagnosis or to have an ongoing condition monitored.
Expanding access to healthcare
In addition to the convenience benefits that telemedicine can bring to individual patients, there are several important benefits that it can deliver to certain communities and patient populations.
Rural areas
For people who live in rural and sparsely populated areas of the country, access to healthcare is becoming an increasingly serious challenge. These communities typically have few clinicians and/or up-to-date medical facilities within reasonable driving distance, have lower incomes than those in or near urban areas, and are more likely to be in poor-to-fair health overall. With rural hospitals and clinics steadily disappearing across the country, telemedicine can provide much-needed access and support for better health to these communities without significant costs or resource investments.
Older populations/patients with mobility challenges
If you have older parents, grandparents, or fall into one of these categories yourself, you understand the many difficulties that arrive with aging. One of the main obstacles facing older adults, or anyone with difficulties in walking, is simply getting around—not only around the house but anywhere outside of it. Those who need walkers or wheelchairs, or are simply unable to drive, are at a disadvantage when it comes to traditional physician visits. Telemedicine programs provide safe access to healthcare providers without having to deal with the hassles and travel time needed to see a doctor in person.
Benefits during the COVID-19 lockdown
Clearly there are significant advantages to telemedicine visits during the COVID-19 pandemic:
Patients can receive treatment without being exposed to the virus in transit to care, in a waiting room, or from a healthcare professional they may encounter.
Providers can treat patients without exposing themselves to the virus.
Continuity of care is preserved, especially if multiple clinicians need to be involved in the delivery of care, while still limiting COVID-19 exposure.
With health centers across the country being overwhelmed with patients suffering from COVID-19, virtual visits for non-COVID related conditions help reduce the utilization of hospital resources desperately needed to help to save lives.
The future of telemedicine
While in-person clinical visits will always be the standard for physician/patient consultations, it's evident that telemedicine presents an alternative that can meet a wide range of needs. Whether applied to provide greater convenience or to address public health issues, the future of telemedicine holds major promise.
To schedule a telemedicine appointment at Morehouse Healthcare, visit: http://www.morehousehealthcare.com/telemedicine
---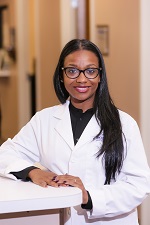 Specializes in Family Medicine
Physician and community health advocate Dr. Walkitria Smith has dedicated her life to reducing health disparities through education, primary care, and preventive medicine. Dr. Smith's clinical and medical research interests include Women's Health and Pediatrics Preventive and Lifestyle Medicine with a strong focus on diet, exercise, and living a holistically healthy life. She also has a strong interest in chronic disease, particularly empowering patients to navigate their diagnosis through health education.
Learn more about Dr. Smith.
---