34th Fall Convocation | White Coat & Pinning Ceremony
Fall Convocation is one of only two occasions where the Morehouse School of Medicine President and Dean, Board of Trustees, academic and institutional leadership, faculty and alumni gather in a formal academic setting focused entirely on students. The other, of course, is graduation, commencement. These bookend events – one for those coming in, the other for those going out – represent the academic circle of life.
At MSM, Convocation recognizes and celebrates the incoming class of students, and serves as the official kickoff of the new academic year. It is a pivotal time and transformational experience for the first-year students who represent our Doctor of Medicine, Graduate Education in Biological Sciences and Master of Public Health programs.
Included in the proceedings is the time-honored tradition of the White Coat and Pinning Ceremony. Incoming MPH students receive blue blazers and pins symbolizing their entrance into a field dedicated to protecting the public health and welfare of our communities. First-year MD receive their white coats and GEBS students their lab coats as symbols of the trust bestowed upon them as they carry on the noble traditions of medicine and science. GEBS students also receive pins.
We hope you will be able to join us as we welcome another generation of learners who soon will be leading the creation and advancement of health equity.
Schedule of events
New student welcome reception
Thursday, Sept. 20, 4:30 p.m.-6 p.m.
Location: E. Ginger Sullivan Atrium, Louis W. Sullivan National Center for Primary Care
Fall Convocation and White Coat & Pinning Ceremony
Friday, Sept. 21, 10 a.m.-noon
Location: Auditorium, Louis W. Sullivan National Center for Primary Care
Parking will be limited. For additional parking information, please view parking information below.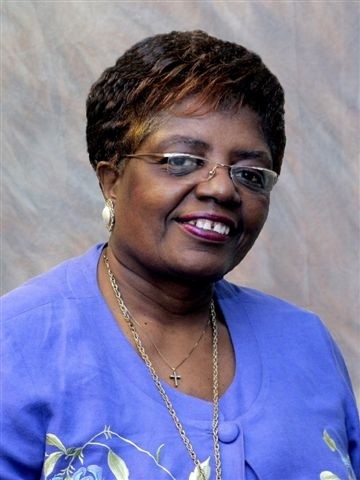 W. Mary Langley
Our Convocation Speaker
W. Mary Langley, PhD, MPH, RN, ICPS
Professor, Department of Community Health/Preventive Medicine
Director, Health Promotion Resource Center
Dr. Langley has served Morehouse School of Medicine for many years. She has extensive experience working with community-based organizations in both rural and urban communities investigating social determinants of health. For more than 30 years, she has worked with community- and faith-based organizations, helping them develop prevention programs for youth and families. Some of Dr. Langley's most significant impacts have been associated with her work on reducing teen pregnancy and sexually transmitted infections among at-risk populations in Georgia, as well as preventing substance abuse and youth violence. She has had her work published in peer-review journals, American Public Health Association, Georgia Public Health and Organizational Development. Read full bio pdf
MSM Learning Communities
All incoming students are grouped into learning communities, student-led and mentor-facilitated educational sessions that take place in a supportive team environment.
Making a Commitment
As they take the next step in their journey to becoming physicians, scientists, researchers, public health leaders and other health professionals, our entering students make a verbal commitment during the ceremony, dedicating themselves to upholding the highest professional and ethical standards.
Click title to view full pledge
MD students — Medical Student Oath to Service and Responsibility

Medical Student Oath to Service and Responsibility

As I begin the study of medicine, I do solemnly swear by that which I hold most sacred, that my efforts will be focused on the ultimate goal of serving my future patients. Toward this end, I will conscientiously and cooperatively work with my peers and professors in learning the art and science of medicine. I will regard the patients whom I will encounter in my training, as fellow human beings, and will do everything in my power to preserve their dignity. I will not compromise myself, nor endanger the welfare of my future patients by employing unworthy methods in the pursuit of my education.

I pledge to perform to the best of my ability and to engage in continuous self- evaluation in an effort to address my limitations. I will never hesitate to call upon the assistance of others when indicated.

I recognize that the study of medicine is a life-long responsibility; I pledge to continue to educate myself throughout my career and to constantly engage in a critical re-examination of myself as a rational, emotional, and spiritual human being.

GEBS students — A Scientist's Pledge

A Scientist's Pledge

I accept this opportunity to follow the difficult and rewarding path of biomedical science and clinical research.

I will endeavor to honor all those who have contributed to this opportunity by always working to the utmost of my abilities and by increasing those abilities when possible.

I will strive to advance fundamental knowledge about all living things.

I pledge to use my energy, intellect and education to enhance the lives of all mankind, understanding that often the greatest strides are made through efforts to assist the dispossessed and underprivileged in our world.

I will carefully consider and remain mindful of the ethical implications of my work.

I will never use my gifts and skills to intentionally harm any individual, or group.

In planning and carrying out my work, I will treat this planet and all its life forms with honor and respect.

I will honor and respect the efforts of my teachers, taking great care always to give credit where credit is due and always humbly understanding that all that I see, I see by standing on the shoulders of the many scientists who have gone before me.

I will also honor and respect my students and all who rely on that which I have learned, striving to truthfully and openly disclose all my methods, findings, and conclusions

So long as I adhere to this pledge, may I have continued success in the field of biomedical science and clinical research.

MPH students — International Declaration of Health Rights

International Declaration of Health Rights

Health requires peaceful and equitable development and collaboration of all peoples.

The enjoyment of the highest attainable standard of health is one of the fundamental rights of every human being. It is not a privilege for those with power, money, or social standing.

Health is more than the absence of disease, but includes prevention of illness, development of individual potential, a positive sense of physical, mental, and social well-being.

Health care should be based on dialogue and collaboration between citizens, professions, communities, and policy makers. Health service should be affordable, accessible, effective, efficient, and convenient.

Health begins with healthy development of the child and a positive family environment.

Health must be sustained by the active role of men and women in health and development. The role of women and their welfare must be recognized and addressed.

Health care for the elderly should preserve dignity, respect, and concern for a sustainable environment with balanced human populations growth and preservation of cultural diversity.

Health depends on the availability to people of basic elements: Food, safe water, housing, education, productive employment, protection from pollution, and prevention of social alienation.

Health depends on protection from exploitation without distinction of race, religion, political-belief, economic or social condition.

OATH: WE as people concerned about health improvement in the world do hereby commit ourselves to advocacy and action to promote the health rights of all human beings.
---
Parking Alert!
Due to our rapid growth and associated construction projects, on-campus parking is extremely limited at this time, particularly on weekdays when classes and regular campus operations are under way. We highly recommend that students and their families carpool to Convocation, use public transportation—the closest MARTA stop is the West End station—or take a rideshare service such as Lyft or Uber. MSM police will be directing traffic to appropriate parking locations.
The parking garage entrance is located on Lee Street. Visitors with mobility considerations may be dropped off and picked up at the Westview Drive entrance/NCPC circle drive.
---
2018 Entering Class Profile
165 students
100 – Doctor of Medicine
8 – Doctor of Philosophy in Biomedical Sciences
3 – Master of Science in Biomedical Research
1 – Master of Science in Biomedical Technology
4 – Master of Science in Clinical Research
24 – Master of Science in Medical Sciences
3 – Master of Science in Neuroscience
22 – Master of Public Health
Race/Ethnicity

African-American

76%
Asian
9%
Caucasian
8%
Hispanic/Latino
2%
Other
5%
Gender
Female
60%
Male
40%
Residency
Georgia Resident
66%
Out of State
34%
Campaign honors, assists entering students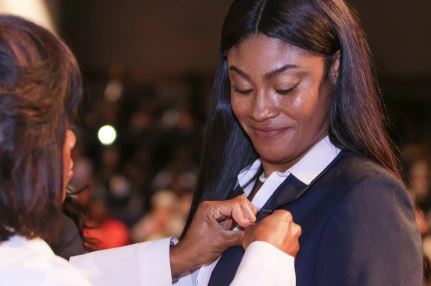 To honor – and ultimately assist – these 165 entering students, we've created the Blue and White Coat crowdfunding campaign. It's a perfect way for fellow students, family members, alumni and non-alumni alike to let these new MSM family members know you support them as they embark on their journeys to becoming physicians, scientists and other health profession leaders.
Gifts made to this crowdfunding campaign go to the President's Innovation Fund, which supports scholarships, enables clinical experiences and provides students the tools they need to become successful physicians, researchers and public health professionals. Your generosity enables our students to focus on their education, not the cost.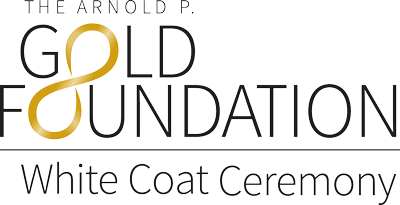 Morehouse School of Medicine thanks the Arnold P. Gold Foundation for its support of our 34th Convocation & White Coat and Pinning Ceremony.