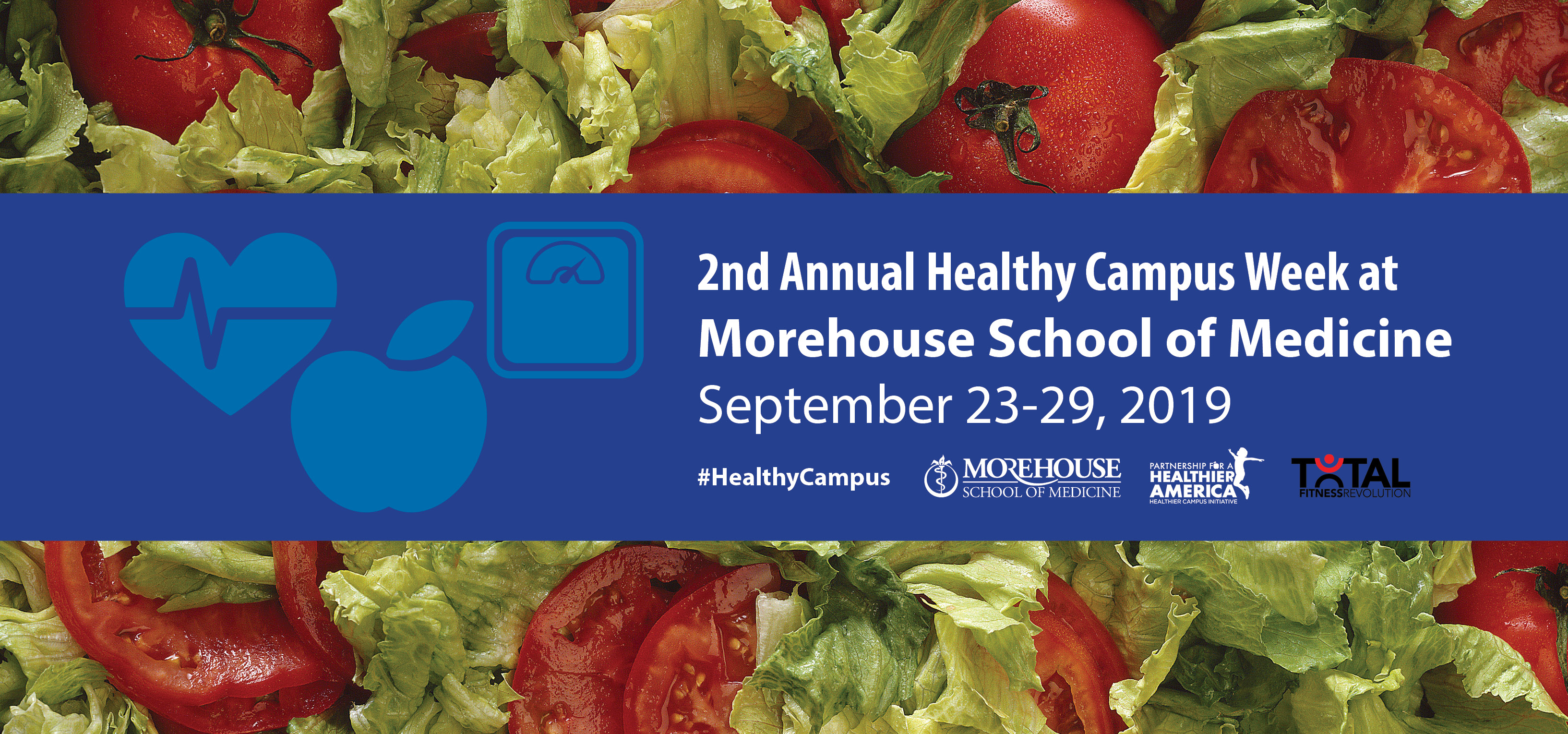 Healthy Campus Week
Morehouse School of Medicine is hosting our 2nd Annual Healthy Campus Week, in collaboration with the national Healthier Campus Initiative (HCI) network supported by Partnernship for a Healthier America. With the support of national sponsors MindBody and Columbia Sportswear, this week-long push is focused on promoting the great work HCI campus partners are doing to make healthier choices easier for students, faculty and staff. A wide variety of physical activity, healthy eating, and wellness activities are being hosted, free of charge, for all MSM students, faculty, and staff at a key time in the school year – the start of the semester!
The HCW Passport
We encourage all MSM students, faculty, and staff to participate in as many HCW activities as possible! At the start of the week you will receive a passport; each HCW activity you complete will earn you a stamp. At the conclusion of the week, all passports will be collected and verified. Those who collect at least 5 stamps on their passport will be entered into a raffle for the HCW Grand Champion Prize! The HCW Grand Champion Prize will be announced on Monday, September 30, 2019.
Most of the activities for Morehouse School of Medicine HCW are happening during the lunch hour, immediately after work/class hours, or during times in the day when productivity is historically low. This is done deliberately, to encourage students, faculty, and staff to break away and reclaim quality time during the "business day" for wellness! Also, the MSM business day officially ends at 4:30 pm…unplug!! Lastly, the events are designed to gently disrupt meetings and other business items that we tend to schedule during the lunch hour out of convenience. We need to reclaim this time for wellness!
Schedule of Events
Use Social Media
Take selfies and pictures throughout Healthy Campus Week and share them with us on social media! Use the hashtag #HealthyCampus and #MSMwellness on all of your posts. Also, tag our social media accounts when you post!
Twitter: @PHANews, @MSMedu, @GetFitMSM
Facebook: @PHA, @MSMedu, @GetFitMSM
Instagram: @GetFitMSM, @morehouseschoolofmedicine
Participate in Photo Sweepstakes!
As a part of HCW, PHA will host a social media sweepstakes to encourage students to share photos of themselves engaging in healthy activities on Instagram and Twitter using the hashtag #HealthyCampus. Participants will be entered to win a $100 Target Gift Card and backpacks from Northface (valued between $90 and $140) and other giveaways from MINDBODY! The winner will be selected at random, and PHA will ship the prize directly to the recipient. To view the sweepstakes rules, please visit this site.
Any Questions?: For more information on MSM Wellness initiatives please contact Jammie Hopkins jhopkins@msm.edu or 404-756-8923.