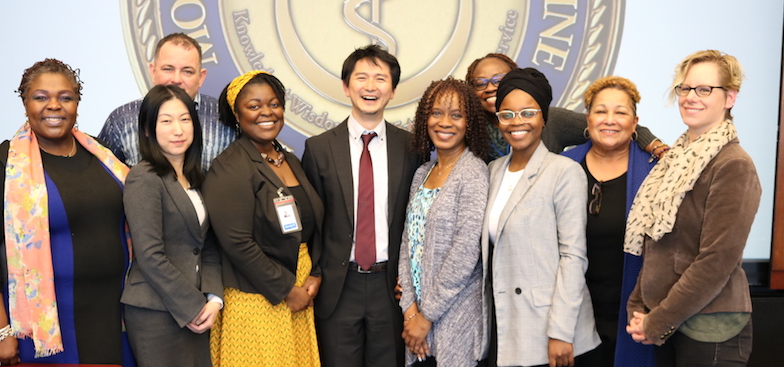 Global Health Lecture Series
Office of Global Health Equity through its quarterly lecture series, is continuing to advance its efforts towards implementing the strategic vision of charting the future direction for global health education, research, and service towards the ultimate end of advancing global health equity. The OGHE lecture series in the past year has focused on addressing COVID-19 from different perspectives – from Mental health to Emergency preparedness.
The Natural Healing Approaches to COVID-19
March 11, 2021

The panel of experts convened have vast experiences and knowledge in the use of natural and traditional approaches in the prevention and healing of various illness. Dr. Erick Gbodossou and Fr. Dr. Adodo will be specifically focused on COVID-19, presenting insights into tackling the pandemic from a natural healing perspective.
Panelists
Erick Vidjin' Agnih Gbodossou, MD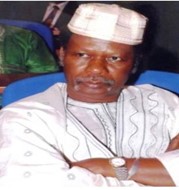 Dr. Gbodossou is an Ob-Gyn and psychiatrist, with a joint degree in medicine and pharmacy from the University of Dakar in Senegal. Dr. Gbodossou served as an obstetrician-gynecologist at the CHU hospital in Dakar in the late 1970s and was later appointed Chief Inspector of Medicine in Senegal. He now maintains a private practice in Dakar along with his duties as President of PROMETRA International.
Dr. Gbodossou traces his traditional medicine roots back to childhood. He was chosen at the age of two to be trained and initiated in the forest as a healer under the direction of his grandfather and a team of elders.
Dr. Gbodossou carried that passion to adulthood while in Senegal and began working with traditional healers from the Sereer ethnic group. Determined to preserve and resuscitate the ancient healing arts, Dr. Gbodossou in 1976 founded an organization in Senegal called PROMETRA – The Association for the Promotion of Traditional Medicine. He later established a healing and research center in the town of Fatick. PROMETRA International has official chapters in 28 countries and collaborates with traditional healers in Africa, United States, Brazil, Asia and the Pacific Islands.
Dr. Gbodossou and the PROMETRA network has collaborated with western-trained health and medical researchers in Africa, Europe and America, including the World Health Organization (WHO), the National Institutes of Health (NIH), UNICEF, the Global Health Council (USA), NOVIB in the Netherlands, the International Medical Exchange of South Africa, and the Institute of Medical Anthropology in Vienna, Austria. PROMETRA International has official memorandum of agreements for education and research with the Morehouse School of Medicine in USA and Medical University of South Africa (MEDUSA). His greatest desire is for traditional and modern western medicine to work hand in hand to help maintain and restore the health of the peoples of Africa – and of the world.
Reverend Fr. Dr. Anselm Adodo, PhD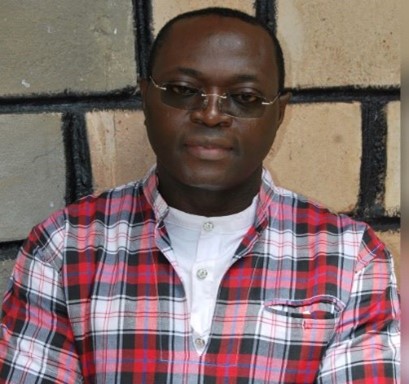 Fr. Anselm Adodo is a Catholic priest and founder of Nigeria's foremost herbal research Institute, the Pax Herbal Clinic and Research Laboratories, popularly called paxherbals. He has over twenty years' experience of research in the fields of Ethnography, Ethnobotany, phytomedicine and Medical Sociology and Anthropology. He is a prominent advocate of African Herbal medicine research, indigenous knowledge systems, rural community development, health policy reform and transformation of education in Africa. He has authored a dozen books which include the best-selling Nature Power (2000), Disease and Dietary patterns in Edo Central Nigeria. An Epidemiological Survey (2013), Integral Healing Enterprise in Africa (Routledge, 2017), The Idea of the Communiversity (Beacon Academic, 2019) and Healing Plants of Nigeria: Ethnomedicine and Therapeutic Applications (CRC Press, 2020).
Fr. Anselm has a BA in Religious studies from University of Nigeria, Nsukka, Nigeria; an MA in Systematic Theology from Duquesne University, Pittsburgh USA; an MSC in Medical Sociology from University of Benin, Nigeria. His doctoral degrees are in Management of Technology and Innovation from Da Vinci Institute, South Africa and Medical Sociology from University of Benin, Nigeria.
Fr. Adodo is a visiting lecturer in Traditional African Medicine and African and Africa Transformation Studies at the Institute of African studies, University of Ibadan, Nigeria, an adjunct research Fellow of the Institute of Medical Research (NIMR), a Research Associate at University of Johannesburg, South Africa, and a Fellow of the Nigerian Society of Botanists. He is currently the director of African centre for Integral research and Development and a founding member of Trans4m Communiversities Associates, a mode-3 university educational initiative.
Arletha W. Livingston (Lizana), PhD, MPH, MBA - Moderator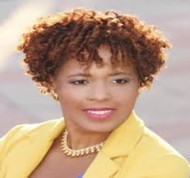 Arletha W. Livingston PhD, MPH, MBA is Director of the Morehouse School of Medicine Innovation Learning Laboratory for Population Health. She is a graduate of Spelman College, Temple University and Emory University. Dr. Livingston has 20+ years of experience in project management, health improvement, innovation strategy, research, curriculum design, training, technical assistance and evaluation at the international, federal, state and local levels.
She has worked on various capacity-building projects for The National Institutes of Health, Oak Ridge Institute for Science and Education, Center for Medicare & Medicaid Innovation (CMS), The National Democratic Institute, the Department of Energy and the Centers for Disease Control. She serves on the Board of Directors for several Community-Based organizations and has done extensive field work in Ghana, Nigeria, Kenya, Tanzania, Nicaragua and Costa Rica.
Her life's work includes an emphasis on assisting community-based organizations, promoting community empowerment, commitment to social innovation, respect for cultural diversity and devotion to systems change and policy change as vehicles to promote health, prevent disease and address systemic societal problems.