HR Professional Development Program

The Purpose
The Office of Human Resources has a three- to six-month career development program complete with resources and a step-by-step guide that walks managers and employees through developing their career. While this program does not guarantee a promotion or job change, it does provide employees with a strong sense of their strengths, areas for development and positions that may potentially be a good job fit.
Our Career Development Program is tied to our strategic plans cross-cutting goal – People:
Be the employer of choice and provide a supportive work environment for all at MSM
Who is eligible?
All MSM employees


The Process
Employees will register for the program in the LMS - https://msm.csod.com
They will be contacted by a member of HR that will walk them through the program
The program is designed for the manager and employee to work on some of the steps together
In the learning management system (LMS) under "Career Development Program" there is a one-minute video that explains how the program works.
There are two guides to assist with the program - Manager's Guide to the Career Development Program and Employees guide to the CDP.


The Program Components
Here are the components of the program, but of course it's detailed in the guide and the video.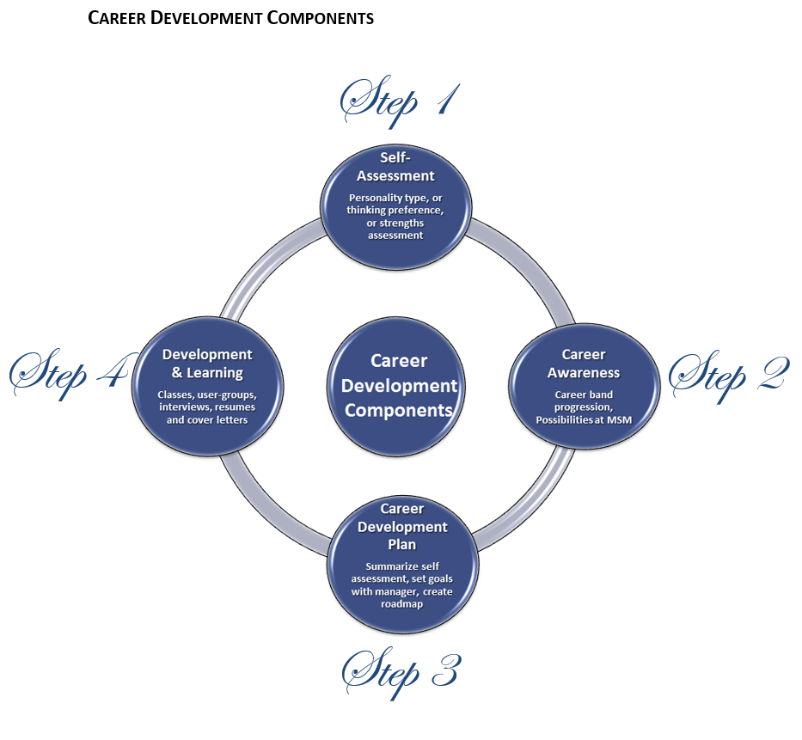 Click for larger image
Step One – Self Assessment
The purpose of the self-assessment is to emphasize the identification of strengths, as well as areas of growth. The process also allows you to identify and acknowledge your internal strengths and assets that in many instances are inadvertently overlooked. The intent of the self-assessment process is not to render a score or rating nor to label you.
The assessment is intended to provide a snapshot as to where you are at a point in time. Results will be used to strategically plan long-and short-term objectives to enhance your capacity to deliver competent performance in your current job and understand capacity for potential new opportunities.
Step Two – Career Awareness
At MSM, we work in a higher education environment that is supported by a vast number of academic, service, business and administrative departments, all with their own workplace objectives and distinctive organizational cultures. Assessing yourself and your work environment is a critical piece of career development. Learning about a department's culture will help you determine whether a work environment is a good fit personally and professionally.
When you can find a work environment that is aligned with your values, work style, skills, and interests – that is where you'll do your best work. Understanding both the culture and mission of MSM and the organizational culture in the department will also enable you to see how your work environment contributes to the success of MSM as a whole. Career Awareness will include the following:
Possibilities at MSM
Career Band progression
Explore my next steps
Step Three - Career Development Plan (CDP) & Goal Setting
By planning for the future and setting a specific timeline for accomplishments, a career development plan is an effective way to ensure motivation along the way. Between the accountability of having fixed objectives and the inspiration gained by attaining goals, career planning is an opportunity to maximize true potential.
See the steps to completing the Career Development Plan below:
Building Your Career Development Plan
Summarize the Career Development info from assessment (Strength Finders or literacy.net) activity.
Provide framework for conversation with department manager.
Create Roadmap for Development Activities.
Employee and manager decide together what will be the milestones of progress toward successful acquisition of skills and the target completion dates for each milestone.
Review the Career Development Plan regularly.
Step Four – Development & Learning
What constitutes professional development?
When people use the term "professional development," they usually mean a formal process such as a conference, seminar, or workshop; collaborative learning among members of a work team; or a course at a college or university.
However, professional development can also occur in informal contexts such as discussions among work colleagues, independent reading and research, observations of a colleague's work, or other learning from a peer. Professional development can provide the drive to progress your career, and ultimately, can make you more employable.
Professional development is something you will do every day of your life without even thinking about it; however, being conscious of the development you undertake will allow you to record this and develop in a systematic way. To maximize your potential for lifetime employability, it is essential that you maintain high levels of professional competence by continually improving your knowledge and skills.
In the Development and Learning step there are 3 components:
Learning
Interviewing
Resumes and Cover Letters

Employee Eligibility

Employee must . . .
Be an active employee working at least .50 FTE at the time of enrollment
Be and active employee for at least 1 year (with the exception of the first registrants)
Be in good standing on the most recent performance evaluation and without any written disciplinary actions in the prior year
Can devote the time needed to complete engagement sessions with your HR partner without sacrificing work deliverables
Understand this program will provide career development guidance, training and support – it's not guarantee of promotion or a new position
Understand their failure to meet their commitment as outlined in the program commitment form will lead to termination of participation in the program
Click here for the MSM Career & Professional Development page