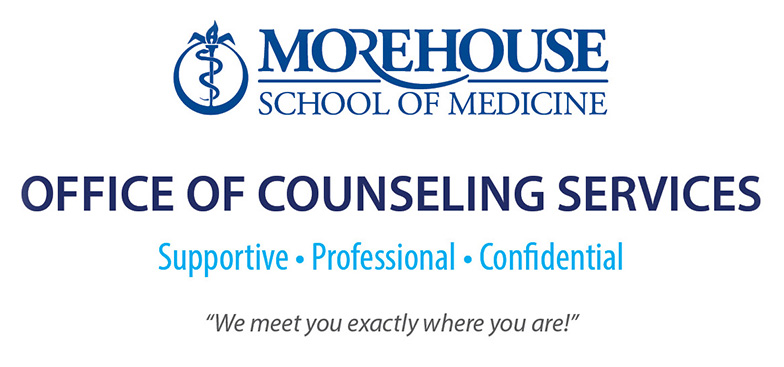 Office of Counseling Services
Any student can talk to a counseling services staff member to maximize his or her potential while at MSM. Counseling sessions are confidential and free of charge to all matriculating students. We can also provide external referrals available at a minimal personal cost.
Purpose, Goal, and Mission
The Office of Counseling Services is incorporated under the Admissions/Student Affairs department at Morehouse School of Medicine. Our purpose is to support the successful matriculation of medical, biomedical, and community health graduate students. Issues evidenced by academic, personal and/or interpersonal difficulties are addressed by professional staff through individual, couple, or group sessions. Referrals are made if further assessment is required.

Our goal is to provide a safe environment where you are respected and comfortable. If your preference is to be served elsewhere for your counseling needs, we will provide external referrals, who will be available to you at personal expense.
Our mission is to assist student adjustment in the physical, emotional, and cognitive demands of graduate study in biomedical science, medicine, and community health in such a way as to ensure excellent academic preparation and an established, effective personal system for physical and emotional resilience upon graduation.
Student Concerns Addressed
The Office of Counseling Services is committed to providing assistance to students at Morehouse School of Medicine that are experiencing challenges that may have an impact on their academic performance. Through the facilitation of individual and group sessions, the following personal challenges are addressed:
Time Management
Test Taking Skills
Stress Management
Study Skills
Anxiety and Depression Management
Conflict Management
Family Issues
Grief and Loss
Scheduling an Appointment
Students and residents interested in scheduling an appointment for individual and/or group counseling may email counseling@msm.edu. Appointments are confirmed and scheduled during offices hours, 9 a.m. to 5 p.m., Monday through Friday.
Open Hours
Email counseling@msm.edu or call 404-752-1778 for details.
External Resources