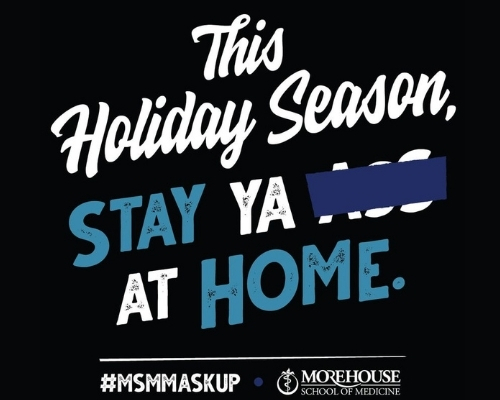 Celebrities and MSM Urge Black America to Stay Home
JEMELE HILL, DERAY MCKESSON AND BOMANI JONES TEAM UP WITH MOREHOUSE SCHOOL OF MEDICINE TO URGE BLACK AMERICA TO CELEBRATE-IN-PLACE THIS HOLIDAY SEASON
Historically Black Medical School Releases #StayYourBleepAtHome, a Public Health Campaign Designed to Dissuade Holiday Travel Amid COVID-19 Pandemic; Star-Studded Video Promotes Healthy Behaviors to Stop the Spread of the Novel Coronavirus
ATLANTA, GEORGIA -- November 25, 2020 – Stay home for the holidays and mask up — that's the message that celebrities and Morehouse School of Medicine are sending as part of a new national public service announcement (PSA) campaign designed to stop the spread of COVID-19.
Morehouse School of Medicine — an independent and mission-driven education, research and clinical institution based in Atlanta — announced the #StayYourBleepAtHome campaign today with such celebrities as veteran journalist Soledad O'Brien, sportscaster Bomani Jones and podcaster Jemele Hill.
According to recent reports, an estimated 50 million U.S. travelers will take to the highways and skyways over the Thanksgiving holiday. With small gatherings — such as in-home dinner parties and game nights — helping to fuel the recent surge in transmissions, the Centers for Disease Control and Prevention (CDC) recommends postponing family travel plans through the new year.
"Staying home with only those you live with, or celebrating virtually, is the safest way to spend this holiday season," said Morehouse School of Medicine President and Dean Valerie Montgomery Rice, MD. "For Black families in particular, this may mean breaking generations-long traditions. But COVID-19 is taking a devastating and disproportionate toll on our families — both in infections and deaths — so we need to do what we can to stop the spread. That means masking up and staying home."
MSM is a historically Black medical school and a leading educator of culturally competent clinicians and researchers who are dedicated to creating and advancing health equity in underserved communities. Black patients are more than three times as likely to be infected by the novel coronavirus and nearly two times as likely to die from it.
For those who do choose to travel, there are specific steps that should be taken to protect against infection and spread. In addition to wearing a mask, frequent hand washing and social distancing, people are encouraged to get a flu shot, check travel destination restrictions, and host smaller outdoor meals or open windows for inside gatherings. For more tips, visit the CDC website at https://www.cdc.gov/coronavirus/2019-ncov/daily-life-coping/holidays/thanksgiving.html.
"I hail from a large African American family, and there is simply nothing better than cooking, laughing and playing Spades with my cousins," said MSM Chief Marketing Officer Goldie Taylor. "But this year has to be different. We cannot trade our health for tradition."
The full list of celebrities participating in the campaign includes:

Journalist and producer Soledad O'Brien
Sportscaster Bomani Jones
Podcaster, producer and journalist Jemele Hill
Social justice activist DeRay McKesson
Talk show host and comedian Loni Love
Comedian Roy Wood Jr.
Actress Yvette Nicole Brown
Political analyst and podcaster Bakari Sellers
The public service announcement will go live across social media under the hashtags #MSMMaskUp and #StayYourBleepAtHome. The PSA campaign was produced by Atlanta-based Brandprenuer, Ikon Filmworks and digital engagement agency Dragon Army.
To watch the video, visit: https://www.msm.edu/news-center/coronavirusadvisory/holidaysathome.php
ABOUT MOREHOUSE SCHOOL OF MEDICINE
Morehouse School of Medicine is located in Atlanta, Ga. The historically Black institution exists to improve the health and well-being of individuals and communities; increase the diversity of the health professional and scientific workforce; and address primary health care through programs in education, research and service, with emphasis on people of color and the underserved urban and rural populations in Georgia, the nation, and the world. The faculty and alumni are noted in their fields for excellence in teaching, research and public policy, and are known in the community for exceptional, culturally appropriate patient care. Morehouse School of Medicine is accredited by the Commission on Colleges of the Southern Association of Colleges and Schools to award doctorate and master's degrees. To learn more, visit www.msm.edu.