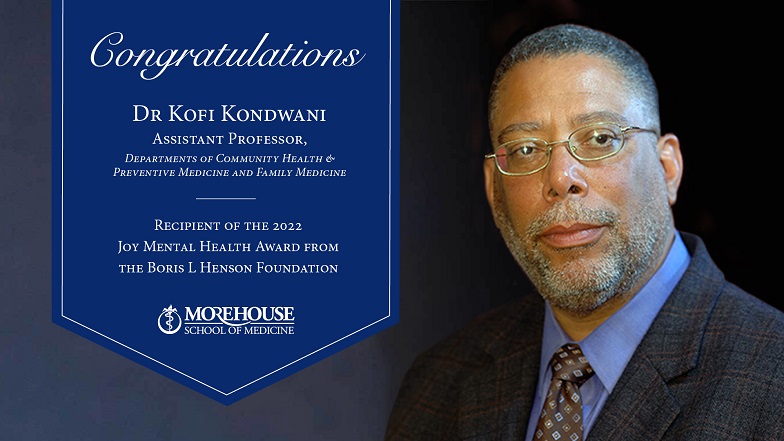 Morehouse School of Medicine Assistant Professor Dr. Kofi A. Kondwani Receives Joy Mental Health Award from Boris L. Henson Foundation
Dr. Kondwani is recognized for his leadership in conjunction with the first-annual
National Black Mental Health Professionals Day.
ATLANTA – JUNE 13, 2022 – Morehouse School of Medicine (MSM) is proud to announce that Assistant Professor Kofi A. Kondwani, MS, PhD, received a Joy Award from the Boris Lawrence Henson Foundation. The awards were bestowed at the nonprofit organization's Can We Talk Symposium on June 4, 2022, in observance of the first annual National Black Mental Health Professionals Day. In recognition of their leadership in the field of mental health, including integrated health and wellness and mental health advocacy, Dr. Kondwani and his fellow honorees will each receive a $10,000 prize.
The Boris Lawrence Henson Foundation was founded in 2018 by Taraji P. Henson in honor of her father, who suffered from mental health challenges after serving in the Vietnam War. The foundation aims to eradicate the stigma around mental health issues in the Black community, connect individuals to therapy services, foster positive dialogues about mental health and wellness, and increase the number of culturally competent therapists by offering scholarship support to African Americans who want to pursue careers in mental health.
Dr. Kondwani is an assistant professor in the Departments of Community Health & Preventive Medicine and Family Medicine at Morehouse School of Medicine and serves in the Office of Global Health Equity. He has been the Consciously Resting treatment provider in six randomized clinical control trials supported by the National Institutes of Health, Department of Defense, and the National Center for Complementary and Integrative Medicine.
Dr. Kondwani developed Consciously Resting Meditation (CRM) and has taught the practice to thousands of individuals in hospitals, prisons, clinics, schools, corporations, and low-income communities. Dr. Kondwani's collaborative research has found improvements in mental clarity, anxiety, and sleep dysfunction through Consciously Resting. In addition, he has investigated the effect of Consciously Resting on stress, blood pressure, diabetes, metabolic syndrome, and other cardiovascular diseases such as left ventricular hypertrophy and arteriosclerotic plaque. These randomized clinical trials have consistently shown immediate and long-term benefits from Consciously Resting.
For more information about Morehouse School of Medicine, or Dr. Kondwani, please visit MSM.edu.
About Morehouse School of Medicine
Founded in 1975, Morehouse School of Medicine (MSM) is among the nation's leading educators of primary care physicians, biomedical scientists, and public health professionals. An independent and private historically-Black medical school, MSM was recognized by the Annals of Internal Medicine as the nation's number one medical school in fulfilling a social mission — the creation and advancement of health equity. MSM faculty and alumni are noted for excellence in teaching, research, and public policy, as well as exceptional patient care. MSM is accredited by the Commission on Colleges of the Southern Association of Colleges and Schools to award doctoral and master's degrees. To learn more about programs and donate today, please visit MSM.edu or call 404-752-1500.
Contact
Amanda Magdalenski
Morehouse School of Medicine
amagdalenski@msm.edu