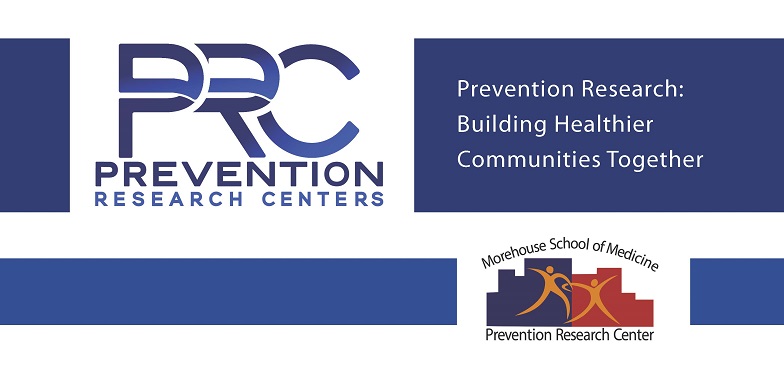 Funded Initiatives and Collaborations
Morehouse School of Medicine Prevention Research Center
The Morehouse School of Medicine Prevention Research Center is one of a networks of 26 academic research centers funded by the Centers for Disease Control and Prevention (CDC). The theme of the PRC is: Risk Reduction and Early Detection in African American and Other Minority Community-Coalitions for Prevention Research. This center's research infrastructure is designed to conduct multi-interdisciplinary community-based research initiatives, train community-based researchers and public health practitioners, demonstrate the value of community coalitions in conducting research and communicate and disseminate research findings and public health information widely to advance public health practice and improve health outcomes in communities. The Center's core research project is entitled: Project Take Charge. The proposed research is a collaborative effort between Minority Serving Institutions (MSIs) and their surrounding communities to address the burdens of HIV/AIDS, STIs and Substance Use among African American young adults ages 18-24. Take Charge seeks to these health conditions among young adults by implementing evidence-based practices (EBPs including HIV testing, condom distribution, educational workshops) at four MSIs in Georgia - Clark Atlanta University, Morehouse College, Atlanta Metropolitan State College and Albany State University. MSIs, particularly Historically Black Colleges and Universities, can serve as important collaborators with public health institutions to address the high rates of HIV in their surrounding communities.
Advancing Health Literacy Program to Enhance Equitable Community Responses to COVID-19
The Advancing Health Literacy to Enhance Equitable Community Responses to COVID-19 project will implement evidence-based, culturally-tailored health literacy strategies to enhance the rates of COVID-19 testing, contact tracing, mitigation measures, vaccine confidence, and the cross-cutting urgency of behavioral health literacy and access to related services among racial and ethnic minority populations and other socially vulnerable populations in Fulton County, Georgia. The program will partner with Morehouse School of Medicine for quality improvement activities and program evaluation.
The Health Literacy program will address personal and organizational health literacy through culturally appropriate strategies that include:
Formation of a Community Coalition Board (CCB) led by a non-governmental, community-based organization.
Implementation of a primary and behavioral health integration strategy to address the current needs resulting from COVID-19 as well as pre-existing and future needs in minority and socially vulnerable populations.
Deployment of a mobile unit in minority and underserved neighborhoods connect and build rapport with residents; mitigate distrust issues surrounding the medical community; address stigma related to behavioral health; provide education, information, linkages to services; empower individuals to recognize signs and symptoms of physical and emotional health needs; provide information and linkages related to COVID-19.
Creation of a team of six Outreach Workers who will become experts on the underserved and minority populations in their district and receive culturally specific training.
Recruit Resident Workers who speak the languages of the communities served to canvas hard to reach neighborhoods through door-to-door engagement to provide education and information related to COVID-19.
Use of an Organizational Health Literacy Initiative for primary and behavioral health providers that includes train-the-trainer, evidenced-based teach backs, toolkits/discussion guides, and plain language materials in order to align with the Healthy People 2030 objectives related to provider/patient communication.
Implementation of a dynamic online culturally responsive HUB as a resource for utilizing the evidence-based model of community care coordination that focuses on addressing social determinants of health.
Hosting community events with topics related to COVID-19 and behavioral health.
Conducting a culturally and linguistically sensitive visibility and outreach campaign.
Centers for Disease Control and Prevention Undergraduate Student Programs (CUPS) Student Coordinating Center
The CUPS program prepares a diverse body of students to consider public health as a career to ensure a future where the American public benefits from a more diverse and better trained public health workforce. A core area of study and practice during the internship is related to the health needs of U.S. minority and other populations who often are underserved and underrepresented in the field. During their internships, students work in a variety of public health settings including community organizations, health departments, university-based programs, and federal agencies. Students display a variety of skills and knowledge including a focus on epidemiology, fundamentals of public health, minority health and health disparities, working with special populations, and biostatistics and statistical software. The MSM PRC collaborates with Morehouse College to leads the Students Coordinative Center. The SCC aims to 1) identify and document emerging best practices in student internship placement, 2) enhance and facilitate the process of grantee program implementation, monitoring, and tracking and 3) support the exposure and entry of underrepresented minorities to public health and biomedical science careers. Evaluation will provide program technical assistance, training, leadership and monitoring to assess the extent to which the program has attained established goals and objectives through processes that can be replicated and sustained over time. https://www.cdc.gov/healthequity/features/cups/index.html
Center for Translational Research in Health Disparities
The goal of this project is to build on and expand established research capacity and infrastructure through rapid translation of health disparities research (e.g., cancer, stroke, infectious diseases, cardiometabolic disease, reproductive health) into practical solutions, and build multidisciplinary expertise (e.g., biomedical, clinical, and behavioral), focused on health disparities. MSM PRC affiliated faculty and staff lead the community engagement core for this Center: https://www.msm.edu/Research/research_centersandinstitutes/RCMI/overview.php
Garnering Effective Outreach and Research in Georgia for Impact Alliance Community Engagement Alliance Against COVID-19 Disparities (Georgia CEAL)
The COVID-19 pandemic has revealed striking morbidity and mortality disparities among racial and ethnic minority communities, and populations who are medically and socially vulnerable to COVID-19 exposure and infection. This has underscored the urgency for multipronged, and community-engaged strategies to reduce these inequities. Disparities are amplified by community mistrust and misinformation, and policy-influenced on mitigation behaviors. Georgia CEAL will leverage and capitalize upon existing community partners, leaders, and knowledge holders, community resources, and local service delivery settings to enhance education, awareness, access, and inclusion of underserved communities in research and outreach designed to advance the prevention and treatment of COVID-19 and reduce disease disparities. The overall goal of Georgia CEAL is to understand factors that contribute to the disproportionate burden of COVID-19 in underserved communities and establish effective, community-engaged research and outreach response.
Rapid Acceleration of Diagnostics – Underserved Populations (RADx-UP)
RADxUP is a collaboration between Morehouse School of Medicine, Emory University and Georgia Institute of Technology. The overarching goal of the RADx-UP initiative is to understand the factors associated with disparities in COVID-19 morbidity and mortality and to lay the foundation to reduce disparities for those underserved and vulnerable populations who are disproportionately affected by, have the highest infection rates of, and/or are most at risk for complications or poor outcomes from the COVID-19 pandemic. The community facing name for RADx-UP is Project PEACH (Promoting Engagement and COVID-19 testing for Health). For more information on how to be involved visit projectpeach.org.
The Georgia Clinical and Translational Science Alliance Community Engagement
The Georgia Clinical & Translational Science Alliance (Georgia CTSA) is an inter-institutional magnet that concentrates basic, translational, and clinical research investigators, community clinicians, professional societies, and industry collaborators in dynamic clinical and translational research projects. Emory engaged three of its close academic partners - Morehouse School of Medicine (MSM), Georgia Institute of Technology (Georgia Tech), and the University of Georgia (UGA) - to form the Georgia CTSA. The Georgia CTSA Community Engagement (led by MSM PRC) supports community-university research partnerships, obtains community input into university research, and increases health research in community settings that is responsive to the health needs of the community. It connects existing academic community research programs, transforms research from a scientist-subject interaction to an equitable partnership, and trains investigators in principles of community-based participatory research. The CE aims to support community-university research partnerships, to facilitate community input into university research, and to increase health research in community settings that is both responsive and relevant to the health needs of the community. The CE is governed by a Steering Board as a coordinating administrative structure. This governing body ensures that research findings and related innovations are translated to practice. We strive to overcome historical trends that imped translation to the community when research, community, and agency experts do not work together as equal partners and as a single body with established rules guiding roles and functions. Dr. Henry Akintobi leads the Georgia CTSA Community Engagement Program http://georgiactsa.org/community/CERP.html
Georgia Peers for Equity Against COVID-19 and for Health (GA PEACH)
Georgia Peers for Equity Against COVID-19 and for Health (GA PEACH) focuses increasing vaccine confidence and uptake in African American/Black and Latinx young adults in Georgia (ages 18-24) on college campuses and in the community. A community-engaged approach will be used to develop and implement a culturally appropriate health communication intervention to inform and educate about the COVID-19 vaccine through addressing mistrust, using appropriate mass and social media platforms and peer leadership. Peer (18 – 24 years old) and Community Champions will design and implement intervention activities.
This project will capitalize on Morehouse School of Medicine's leadership in state and national initiatives designed to address COVID-19 in disproportionately affected communities and leverage existing partnerships with academic institutions, community-based organizations (CBO), state and local health departments, and dissemination partners. GA PEACH is partnering with four Historically Black Colleges and Minority Serving Institutions (Dalton State College, Fort Valley State University, Georgia State University, and Savannah State University) and two CBO partners (The Latino Community Fund and the Georgia Campaign for Adolescent Power & Potential (GCAAP).
The program activities will: 1) Use data collected to develop communication campaigns and strategies for young adults. 2) Use data collected to assist academic and CBO partners in developing vaccination confidence and uptake efforts. 3) Use data collected to inform state and local health departments engagement with young adults central to audience tailored vaccine uptake strategies. 4) Creation of a Community Coalition Board (CCB) led by Peer Champions (young adults, in majority), and including Community Champions and Georgia PEACH faculty/staff.
The National COVID-19 Resiliency Network (NCRN): Mitigating the Impact of COVID-19 on Vulnerable Populations
To mitigate the impact of COVID-19 on racial and ethnic minority, rural, and socially vulnerable populations The NCRN COVID-19 national dissemination platform will consist of six foundational areas in which the network will: 1) Identify and engage vulnerable communities through local, state, and national partners. 2) Nurture existing and develop new partnerships to address the COVID-19 pandemic and ensure the NCRN is an active information dissemination network with whom to collaborate; 3) Partner with vulnerable communities and national, state, local, and government organizations to provide and disseminate culturally and linguistically appropriate information throughout states, territories, and tribes; 4) Use technology to link members of the priority vulnerable communities to community health workers, COVID-19 healthcare and social services, including testing, vaccinations, behavioral health counseling, and links to primary care practices; 5) Monitor and evaluate the success of the services and measure outcomes using process improvement methods to improve the quality of the overall program. The initiative is designed to work with community-based organizations across the nation to deliver education and information on resources to help fight the pandemic. The information network will strengthen efforts to link communities to COVID-19 testing, healthcare and social services and to best share and implement effective response, recovery and resilience strategies. MSM PRC affiliated faculty lead or advise efforts related to community engagement, community health worker leadership or health communication for this effort.
https://ncrn.msm.edu/s/?language=en_US&targetlanguage=en_US
Kessler Foundation-Morehouse School of Medicine Collaboration
The MSM PRC is one of institutional centers working on the Kessler Foundation Phase 1 activities. The MSM PRC component consists of two phases. Phase 1 includes the conduct a systematic review and quantitative meta-analysis of the existing peer-reviewed and grey literature to identify and characterize studies related to perceptions of, attitudes towards, knowledge of and experiences with medicinal cannabis by health disparity populations (characterized by geography, sexual orientation/identify, socioeconomic status, among others) 65 years and over with respect to treatment of clinical indications. The study will also evaluate interventions and identify barriers and facilitators to access these medicinal cannabis interventions. The findings will inform the development of a central repository of the literature that will be synthesized through white papers, reports, and peer review publications. It will serve as global evidence-base to inform medicinal cannabis research and evaluation related to cannabis and older adults (particularly those from health disparity population. Phase 2 will strategically engage health disparity populations through focus groups and key informant interviews. The purpose of this phase will be to identify perceptions, attitudes and recommendations to best position implementation approaches of the Center and funded research studies in addition to other components of the MSM Kessler Foundation.
Peer Prevention Navigation for Black Youth and Young Adults
Morehouse School of Medicine, ANIZ, Inc, and Odyssey Family Counseling Center will collaborate to implement a comprehensive culturally appropriate approach to provide HIV and Viral testing, and prevention navigation services. The priority populations include youth and young adults between 16 and 24 (men, women, LGBTQ) in Fulton County, GA. Navigation services will be provided for those diagnosed with HIV and/or a substance misuse disorder. MSM PRC faculty and staff lead or support this effort.
Toolkit to Guide Academic Researchers in Effective Community Engagement in Human Genome Research
The goal of the project is to partner with the National Institutes of Health National Human Genome Research Institute (NIH-NHGRI), local, state and national community leaders to develop and disseminate a tool kit designed by community residents and leaders for researchers guide effective engagement of community residents and patients in human genome research.
Past Initiatives
PICH is a 3-year initiative that supports implementation of evidence-based strategies to improve the health of communities and reduce the prevalence of chronic disease. PICH builds on a body of knowledge developed through previously funded Centers for Disease Control and Prevention programs and encourages collaborations with a multi-sectoral coalition to implement sustainable changes in communities where people live, learn, work, and play.
The purpose of the program evaluation, funded through the Fulton County Department of Health and Wellness, is to assess the implementation of evidence- and practice-based strategies to address tobacco use and exposure, poor nutrition, physical inactivity, lack of access to chronic disease prevention, and risk reduction and management in Fulton County.
Georgia Center for Diabetes Translational Research
The diabetes epidemic in the United States (US) has evolved considerably over the last quarter century. Though the evidence base for diabetes prevention and management has grown, major gaps persist: 1) The proportion of people with undiagnosed diabetes and pre-diabetes has not improved; 2) Engagement in prevention is exceedingly low; and 3) Young adults and disenfranchised populations with diabetes fare poorly in terms of control.

To address these trends in Georgia, where disparities in diabetes outcomes are particularly apparent, Emory University, the Georgia Institute of Technology, and Morehouse School of Medicine collaboratively established the Georgia Center for Diabetes Translation Research (GCDTR), funded by the National Institute of Diabetes and Digestive and Kidney Diseases (NIDDK - P30DK111024) and inter‐institutional partners. Learn more about the GCDTR.
Core Research Project: HIV/AIDS Prevention Program for Youth
The Morehouse School of Medicine Prevention Research Center is one of a network of 26 academic research centers funded by the Centers for Disease Control and Prevention. The PRC theme is "Risk Reduction and Early Detection in African American and Other Minority Community-Coalitions for Prevention Research." This center's research infrastructure is designed to conduct multi-interdisciplinary community-based research initiatives, train community-based researchers and public health practitioners, demonstrate the value of community coalitions in conducting research, and communicate and disseminate research findings and public health information widely to advance public health practice and improve health outcomes in communities.

The center's core research project, "A Multi-Method Approach to STI and HIV/AIDS Prevention among Urban Minority Youth," will implement a STI and HIV/AIDS prevention intervention with 384 youths ages 14-18, residing the Neighborhood Planning Units serviced by the Prevention Research Center. It also aims to address evidence gaps in the intervention research and analysis, such as the effects of gender, the effectiveness of multi-component interventions, and the effectiveness of including parents in intervention efforts. Tabia Henry Akintobi, PhD, MPH, is principal investigator, Rhonda Holliday, PhD, is core research project principal investigator and LaShawn Hoffman is Community Coalition board chair.
Special Interest Project: Adapting Evidence-Based Epilepsy Self-Management Programs for Blacks in Georgia
Epilepsy self-management can improve treatment outcomes and overall quality of life for people with epilepsy. Using a community-engaged approach—including an Epilepsy Community Advisory Board, focus groups and interviews with community stakeholders—this project proposes to replicate the use of Project UPLIFT among African Americans, and to disseminate three CDC Managing Epilepsy Well Network products (i.e., Project UPLIFT, Self-Management Instrument, & WebEase) in Atlanta and around Georgia. The research goals are to promote the adoption and replication of self-management programs in underserved communities, and to understand the features that facilitate dissemination, replication, and adoption of these programs among people with epilepsy. Rakale C. Quarells, PhD, (MSM) is principal investigator and Nancy Thompson, PhD, (Emory University) is co-principal investigator. This special interest project is funded by the Centers for Disease Control and Prevention.
NPU- V Community Safety Pilot Needs Assessment
MSM PRC partnered with Annie E Casey Foundation to implement a needs assessment through a community-based participatory approach to determine the feasibility of evaluating a community-based (NPU V) violence prevention pilot project which consisted of healing circles, community trauma response network, and cure violence models. MSM PRC also established a community resident advisory committee to implement the needs assessment.
Morehouse School of Medicine Racial and Ethnic Approaches to Health Initiative: Transforming Metropolitan Atlanta Communities through Prevention, Primary Care Linkages and Policy Change Resources for Healthy Living, Cardiovascular Disease and Diabetes
This comprehensive implementation grant partners the MSM Prevention Research Center with the Satcher Health Leadership Institute, Georgia State University and the National Center for Primary Care. It will employ an evidence‐based and culturally tailored model that bridges community and clinical connections, and employs tailored policy, systems and environmental change. Strategies will be designed to improve access to quality healthcare and reduce risk factors for diabetes and cardiovascular disease among vulnerable adult African Americans. MSM REACH HI will accomplish this through a community‐based participatory approach that connects residents to care through community health workers, enlists the clinical leadership of federally qualified health centers, improves behavioral health and chronic disease management, engages community leaders, and improves health outcomes.

Tabia Henry Akintobi, PhD, MPH, PRC director, is principal investigator and Kisha Holden, PhD, MSCR, SHLI deputy director, is co-principal investigator. This project is funded by the Centers for Disease Control and Prevention.