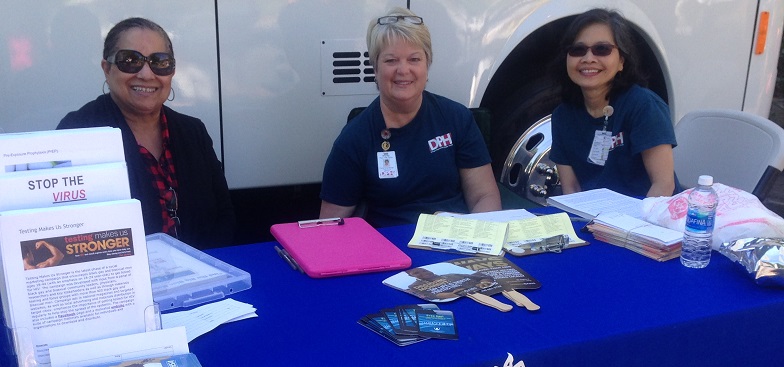 Health Promotion Resource Center
Alcohol, HIV & Teen Pregnancy Prevention
Health Promotion Resource Center
The Health Promotion Resource Center (HPRC) at MSM was established in 1988 under the Department of Community Health and Preventive Medicine. Initially funded by the Kaiser Family Foundation (KFF) in Menlo Park, Calif., the HPRC has developed a health promotion and disease prevention model for underserved populations and has provided multiple programs and services in over 80 of Georgia's 159 counties. The primary focus of the diverse projects administered by the HPRC is health promotion, prevention, education and youth development in African-American populations through community-based organizations in both urban and rural communities.
Mission
The mission of HPRC is to work independently and collaboratively to develop a comprehensive network of culturally competent programs and services to empower and promote the development of healthy families and communities.
Our Goals
Goal 1: To become the leading center in the Southeast for the advancement and evaluation of culturally competent programs and services that promote and sustain healthy families and communities.


Goal 2: To sponsor local, regional and state training events for professionals in evidence-based prevention and /or health promotion programs to increase knowledge and expertise in field.


Goal 3: To increase knowledge of risk factors that contribute to negative life outcomes for youth, families and communities; and increase knowledge of protective factors and strategies that decrease at risk behaviors among susceptible populations in fragile communities.
Organizational Experience, Capacity and Available Resources
The core staff of HPRC has provided knowledge dissemination, technical assistance and training related to substance abuse prevention since 1993. Four of the core staff has been certified by "The Certifying Board for Prevention in the State of Georgia. Three staff are Internationally Certified Prevention Specialist-R, which means they can conduct training out of the country. In their role as the Prevention Technical Support Center (PTSC) for the MHDDAD Regional Offices, the HPRC staff has facilitated the implementation of evidence-based intervention by local providers, conducted community needs assessments in order to assist the regional policy makers set funding priorities, and conducted prevention training and evaluated technology transfer across a diverse group of prevention providers. With limited funding, the HPRC/MSM has provided a wide array of prevention services throughout the State.
The HPRC has established partnerships with local and statewide organizations to develop educational, youth development, violence/gang prevention and health promotion programs for minority and low-income populations throughout Georgia. These relationships focus primarily on the following:
Establishing a statewide planning and governance board to develop concrete strategies that will forge community organization and development efforts implemented within African-American and poor communities statewide;
Establishing advocacy partnerships with voluntary associations, state agencies/organizations to assure that effective health interventions are developed;
Working with state agencies/organizations to provide ongoing training, technical assistance, consultation and resources;
Building infrastructure capacity of faith-based and community organizations through training, technical assistance and funding to provide prevention and social services to at risk populations. As result of these initiatives, HPRC has become a successful intermediary and change agent in the field of community development, prevention and health promotion in the 21st century.
Current HPRC Projects
In 2015, HPRC was awarded two five-year grants totaling $7,669,370 for Teenage Pregnancy Prevention Initiative (TPPI) and HIV Capacity Building Initiative (HIV-CBI). The Teenage Pregnancy Prevention Program operates in DeKalb, Dougherty, Douglas, Jasper, Spalding and Thomas Counties. The HIV-CBI works in Lamar, Meriwether and Spalding Counties. In addition to these grants, HPRC contracts with the State of Georgia Department of Behavioral Health and Developmental Disabilities on the Alcohol Prevention Project (APP).
HPRC Leadership
Mary Langley, Ph.D., M.P.H., RN, ICPS, Director, is administratively and fiscally responsible for all aspects of HPRC. Dr. Langley is an experienced administrator and trainer. She is certified in prevention professional. Dr. Langley has developed many innovative prevention-training models for community-based prevention providers in both urban and rural areas. She has many years of experience working with the faith community, has been a leader in recruiting and is an experienced grant writer. Dr. Langley has been instrumental in establishing and obtaining funding for prevention programs in faith/community-based settings.
Sarah Laster, B.S., ICPS, Associate Director, is responsible developing and monitoring budgets and coordinating the daily operations of HPRC. Ms. Laster is a certified trainer with expertise in program development and evaluation.
Debera Ayers, MBA, B.S., CPS, Program Manager, is responsible for the Alcohol Prevention Project (APP) in three counties, of the Georgia Department of Behavioral Health and Developmental Disabilities.
Victoria Broussard, MEd, CHES, Program Manager, is responsible for The Office of Population Affairs funded Statewide Network Among Partners for Parents and Caregivers project.
Diona Dallas, BS, Program Coordinator, is responsible for accounting and bookkeeping records of HPRC grants and working directly with Grants and Contracts to prepare invoices and manage transactions.
Trese Flowers, MPH, ABD, ICPS, Program Manager, is responsible for The Office of Population Affairs funded Taking Time for Teens project.
Alice Jackson, BS, ICPS, Program Coordinator, is responsible for the oversight of the Teenage Pregnancy Prevention Initiative.