Coming to a Corner Store Near You: Nutritious Options
Morehouse School of Medicine, Georgia State University team up with South Atlanta business owners to bring fresh fruits and vegetables to urban community food marts

Peach Pantry owner Maurice Burrell is proud to be part of a new breed of corner store in South Atlanta—the healthy corner store.
"It is important when someone comes in your store to give them some good choices," said Burrell, whose business sits in the Sylvan Hills neighborhood. "Like some greens, tomatoes and cucumbers instead of just a candy bar and some potato chips."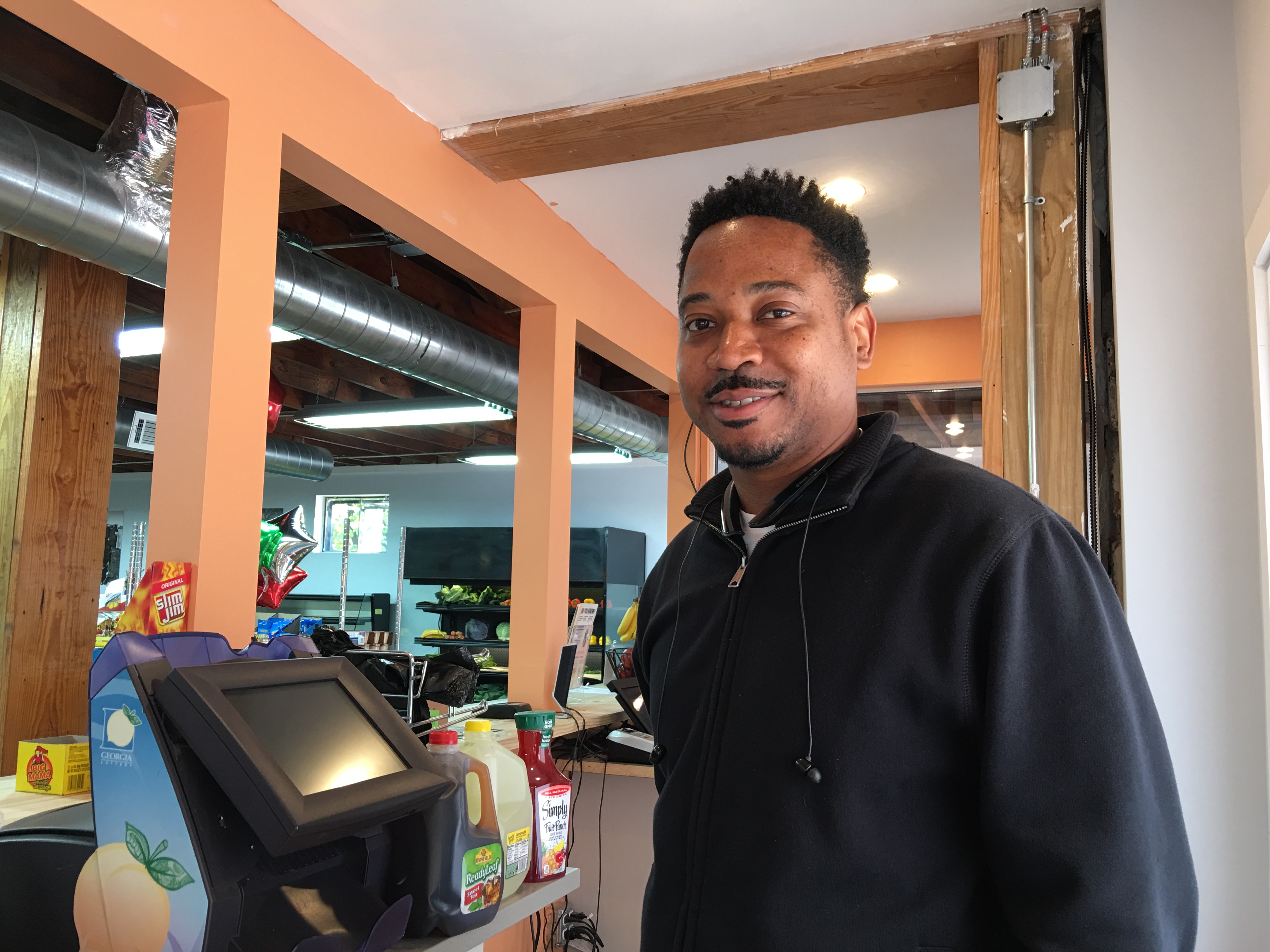 Burrell and other local store owners have joined the Healthy Corner Store Initiative, a new partnership between Georgia State University's School of Public Health and Morehouse School of Medicine (MSM)'s Prevention Research Center and Satcher Health Leadership Institute (SHLI). The measure encourages urban community food marts to provide fresh fruits and vegetables, low-sodium canned vegetables, whole wheat bread, skim milk and reduced-fat cheeses. That's because statistics show that lack of access to healthy food is linked to increased rates of obesity, diabetes and heart disease.
"We know and understand that small changes can make a critical difference," SHLI Deputy Director Kisha Holden, Ph.D., said during a Nov. 15 press conference announcing the initiative. "Choosing to engage in healthier choices is going to impact our overall health and wellness in the long run."
The initiative is funded by the Centers for Disease Control and Prevention's Racial and Ethnic Approaches to Community Health (REACH) initiative. Held outside Peach Pantry, the press conference was attended by residents from various South Atlanta neighborhoods, local politicians, representatives from Morehouse School of Medicine and Georgia State University, the United States Department of Agriculture and others.
Corner stores have long been associated with beer, cigarettes and soda. But locals often rely on them for food, too, particularly those without cars who may have to take circuitous routes using public transportation just to find more nutritious options. This reality can contribute to higher rates of disease for a given community.
"This is about taking blight and turning it into light," said Ceasar Mitchell, president of Atlanta's City Council. "This is about the community coming together with all the partners we can find and scrape up, and taking something that was bringing our community down and turning it into something that is lifting our community up."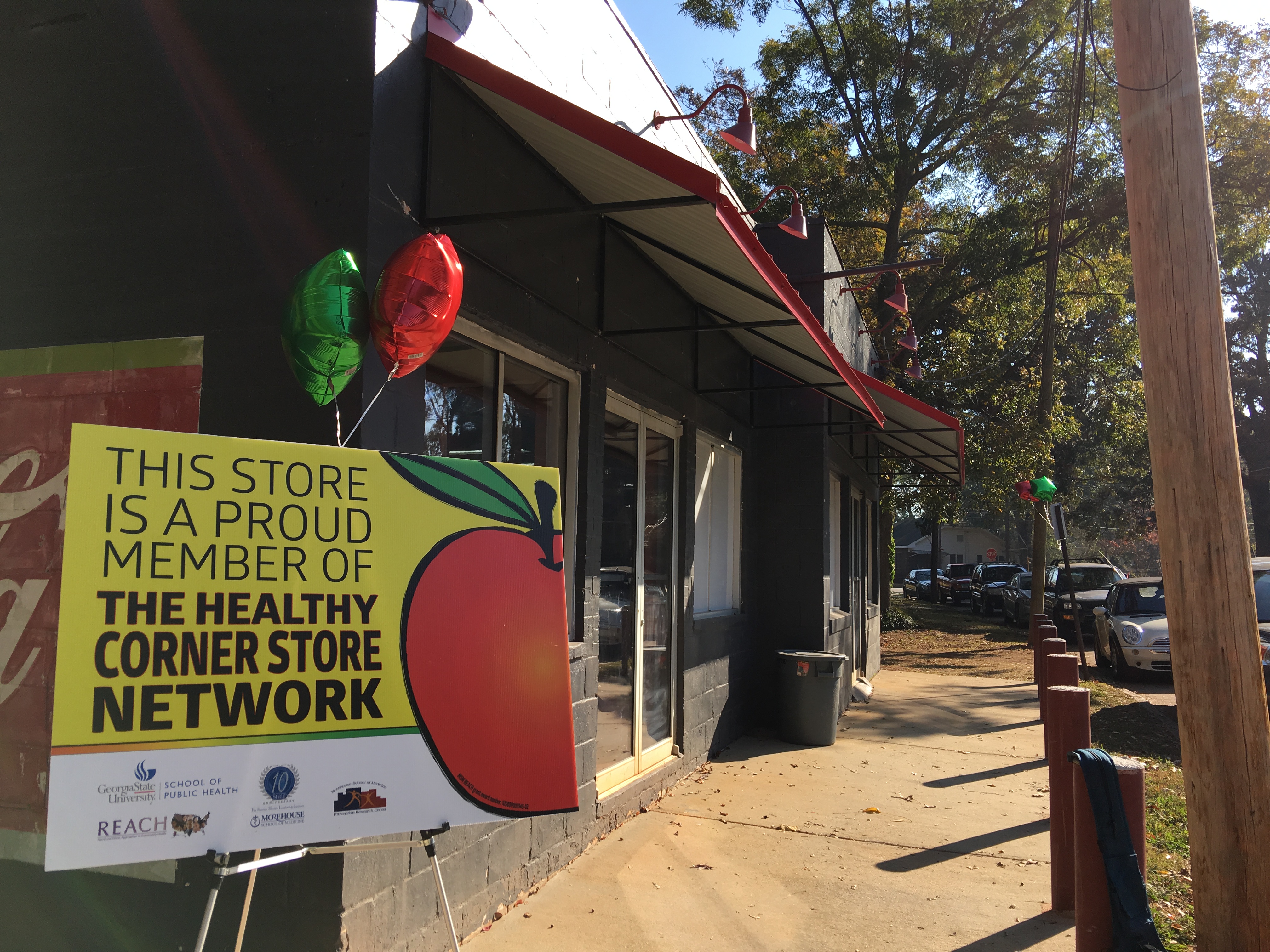 The Healthy Corner Store Initiative was not developed in a vacuum, said Tabia Henry Akintobi, Ph.D., associate professor of community health and preventive medicine, associate dean of community engagement, and principal investigator and director of the Prevention Research Center.
"We went and talked with community residents as they went in and out of these stores to find out if they wanted healthier options, what they wanted and under what conditions," Akintobi told the crowd, who were also treated by Carla Rabb DeRosa to a food demo inside the store. "This is for you, and we hope it will be led by you."
Georgia State University's Rodney Lyn, Ph.D., associate professor and associate dean for academic affairs, agreed that the success of the initiative lies in the hands of locals who patronize the stores.
"We've started a journey today, and we're going to need you along the way," he told the crowd.
Nearly a dozen stores have signed on for the Healthy Corner Store Initiative. Visit MSM's Healthy Corner Store Initiative web page for more information and a complete list of participating neighborhood marts.
About Morehouse School of Medicine (MSM)
Founded in 1975, MSM is among the nation's leading educators of primary care physicians and was recognized by Annals of Internal Medicine in 2011 as the top institution in the first study of U.S. medical schools for our social mission based on our production of primary care physicians, training of underrepresented minority doctors and placement of doctors practicing in underserved communities. Our faculty and alumni are noted for excellence in teaching, research and public policy, as well as exceptional patient care.
Morehouse School of Medicine is accredited by the Southern Association of Colleges and Schools Commission on Colleges to award doctorate and master degrees. For more information, please visit www.msm.edu.
About Georgia State University School of Public Health (SPH)
Whether in the classroom or in the community, through research or through its programs and centers, the Georgia State University School of Public Health (SPH) is geared toward providing a broad practical understanding of complex health issues ranging from violence to tobacco to obesity to environmental threats to HIV/AIDS. Members of its faculty conduct innovative research and test community-based interventions, developing evidence-based best practices that are poised to make a difference, especially in urban settings and among global populations. Its students engage in practicum opportunities throughout greater Atlanta's vibrant public health community—from the Centers for Disease Control and Prevention to local government agencies to international non-governmental organizations. Together, they are bringing health to life.