M.D. Student Spotlight: Carlton Smith, C'2023: Future Physician, Researcher, and Community Leader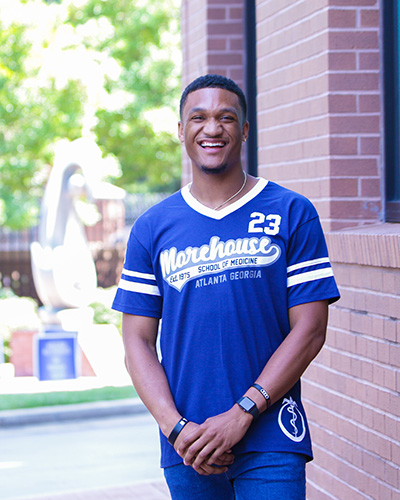 Carlton Smith, MD Class of 2023 participates in new student orientation on campus in June 2019.
Carlton Smith is from the small town of Lilburn, Georgia. He graduated from Florida A&M University (FAMU) in Tallahassee, Florida with a degree in Biology this past May. Right around this time last year, he submitted his application to the M.D. program at Morehouse School of Medicine. He'd only learned about the program a few years ago and thought it might be an opportunity to come back to his hometown to make a difference as he took the next step of his academic career.
Over the past year, Carlton connected with MSM faculty and staff whom he met at the Annual Biomedical Research Conference for Minority Students Conference. He also spoke to current students through social media where he continued to hear about MSM's "supportive and nurturing environment."
While studying Biology at FAMU, Carlton participated in cancer research as an undergraduate student with his mentor who he credited for urging him to learn more about research and to participate in the new Frontiers in Alzheimer's Research course being hosted at MSM. The course is designed to sustain and enhance the aging-research workforce with intensive laboratory experiences for competitive trainees, especially from under-represented minorities.
"As I kept learning more about research as an undergraduate student, I applied to the M.D. program at Morehouse School of Medicine because the school just really fit who I was as a person," says Carlton.
Listen to Carlton's message on social media to anyone with a dream to go to medical school, moments after he decided where he would begin his medical school journey.
In addition to MSM, Carlton interviewed for medical school admission at:
Medical College of Georgia
University of Tennessee
University of Connecticut
Wake Forest University
University of South Florida
Florida State University
Florida International University
Carlton took his time weighing his options and deciding on the best institutional fit.
"Morehouse School of Medicine always stood out to me because I trust the staff to help build me into the type of physician, researcher and community leader that I want to be in the future," says Carlton.
Carlton is one of 101 students in the entering class of 2023 welcomed by MSM this summer.