Surgery Residency Program
Program Director's Overview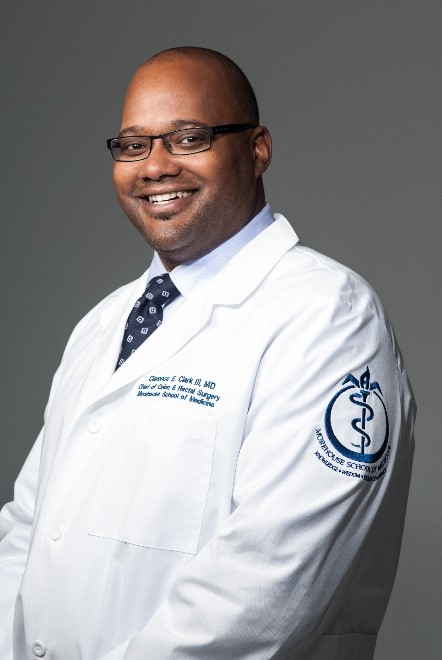 Welcome to the Surgery Residency Program at Morehouse School of Medicine (MSM). The goal of the General Surgery Residency Program is to train compassionate surgeons steeped with technical and clinical excellence. Our diverse and outstanding faculty immerse our trainees with basic science and clinical research, comprehensive and innovative surgical care, and community outreach that influences health policy and patient centered care. In addition, state of the art surgical innovation and simulation, housed on our main campus, has ushered in an ever-growing era of technological advancement that will continue to impact patients from all walks of life here in Atlanta and afar. The residency program's educational conferences include, Patient Safety and Quality Improvement (Morbidity and Mortality), Grand Rounds, Journal Club, Simulation/Robotics Training, Resident Research Presentations, and Basic Science Instruction.
The MSM General Surgery Residency Program is dedicated to professional development and training needs as we continue to train excellent surgeons who prepare for fellowship training, private practice, global surgery, and academic medicine. In addition to the Department of Surgery's reputable trauma and critical care services, the department has embarked upon and achieved numerous milestones focused on enhancing the clinical experience in laparoscopic/robotic surgery, bariatric surgery, colorectal surgery and surgical oncology to name a few. Our mission is to provide comprehensive education on surgical care in a community-centered urban environment. We aim to promote excellence in technical skills, patient care, teaching, and leadership in the field of surgery.
Clarence Clark III, MD, FACS, FASCRS
Associate Professor of Colon and Rectal Surgery
General Surgery Program Director
Program Highlights
While the department of surgery is known for excellence in trauma and critical care, our recent initiatives over the past year include: enhancing the clinical experience in laparoscopic/robotic, vascular, colorectal surgery and surgical oncology.