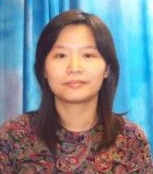 Li Ma, M.D., Ph.D.
Research Instructor
Microbiology, Biochemistry & Immunology

Location: Research Wing, Room 107
Phone: (404) 756-5056
E-mail: lma@msm.edu
Education
GRADUATE:
Morehouse School of Medicine
Degree: Doctor of Philosophy in Genomics

SUN Yat-sen University, Guangdong, China
Degree: Doctor of Philosophy in Pharmacology


MEDICAL SCHOOL:
Wannan Medical College, Anhui, China
Degree: Doctor of Medicine
Research Interests
My research interest is focused on the big data analysis, and development of high-throughput technologies, analytical software and references.
Publications
Ma L, Xiao Y, Huang H, Wang Q, Rao W, Feng Y, Zhang K, Song Q. (2010) Direct determination of molecular haplotypes by chromosome microdissection. Nat Methods. 7(4):299-301. PMID: 20305652, PMCID: PMC2871314.

Rao W, Ma Y, Ma L, Zhao J, Li Q, Gu W, Zhang K, Bond VC, Song Q. (2013) Highresolution whole-genome haplotyping using limited seed data. Nat Methods. 10(1):6-7. PMID: 23269372, PMCID: PMC3835542.

Ma Y, Zhao J, Wong JS, Ma L, Li W, Fu G, Xu W, Zhang K, Kittles RA, Li Y, Song Q. (2014) Accurate inference of local phased ancestry of modern admixed populations. SciRep. 4:5800. PMID: 25052506, PMCID: PMC4107375.

Xu W, Ma L, Li W, Brunson TA, Tian X, Richards J, Li Q, Bythwood T, Yuan Z, Song Q. (2015) Functional pseudogenes inhibit the superoxide production. Precision Medicine. 1(1). PMID: 26086043, PMCID: PMC 4467915.


Honors and Awards
2010 - Corebuxx award, RCMC Center of Excellence for Clinical and Translational Research (R-center) Corebuxx Voucher Program, Morehouse School of Medicine, GA

2010 - Emerging Scholar Graduate Student Achievement Award

2004 - Honored the Outstanding Graduate Students, Sun Yat-sen University, China