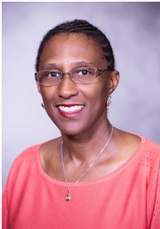 Rakale C. Quarells, Ph.D.
Associate Professor
Community Health & Preventive Medicine

Cardiovascular Research Institute
Location: National Center for Primary Care 318B
Phone: 404-752-1956
E-mail: rquarells@msm.edu
Education
POSTGRADUATE:
Stanford University School of Medicine, Stanford Prevention Research Center
Fellowship: Medicine


GRADUATE:
Howard University
Degree: Doctor of Philosophy in Personality Psychology

Howard University
Degree: Master of Science in Personality in Psychology


UNDERGRADUATE:
Howard University
Degree: Bachelor of Science in Psychology
Research Interests
As a behavioral scientist, Dr. Quarells' long term goals are to elucidate and identify innovative methods for addressing those social and cultural determinants of health that have Black Americans at higher risk for chronic disease. In particular, she is interested in intervening in the lives of at-risk families by utilizing behavior change strategies to prevent and reduce disease risk factors among parents and children. Dr. Quarells has been the recipient of NIH and CDC funding, including her Career Development Award (K-01) from the National Heart, Lung, and Blood Institute.


Past funding has supported Dr. Quarells' family intervention studies (FIGHT for Life and FIGHT Against MetS) which resulted in reductions in cardiovascular risk among Black families through the increase in physical activity and fruit and vegetable consumption. Additionally, in 2012 Dr. Quarells replaced Dr. Gary H. Gibbons as principal investigator of the Minority Health-GRID Network when he left MSM to become Director of the National Heart, Lung, and Blood Institute. The Minority Health Genomics and Translational Research BIo-Repository Database Network (Minority Health-GRID) was a NIH funded multi-site clinical epidemiology research study with multiple aims designed to create a minority focused research network, link health information with genetic data, and assess genetic, personal, and environmental factors associated with severe hypertension.


Currently, Dr. Quarells is principal investigator of a research project within the MSM Center of Excellence in Health Disparities entitled "Determinants and Consequences of Secondhand Smoke Exposure in African American Children." In that project she is using a community-engaged research approach to work collaboratively with community members to examine specific biological, environmental, and behavioral factors influencing secondhand smoke exposure on cardiovascular and lung health in Black children. Dr. Quarells also recently received funding for her study "Adapting Evidence-Based Epilepsy Self-Management Programs for Blacks in Georgia." The goals of this research project are to utilize a community-engagement approach to 1) adapt and replicate the use of the UPLIFT program among African Americans with epilepsy; and 2) understand the features that facilitate dissemination, replication, and adoption of Managing Epilepsy Well Network products (i.e., UPLIFT, WebEase, and a Self-Management Instrument) to this population in Atlanta and around Georgia.
Publications
Davis, S.K., Samson G., Quarells, R. and Gibbons, G.H. Social Determinants of Cardiovascular Health Among Black and White Women Residing in Stroke Belt and Buckle Regions of the South. Ethnicity & Disease. 24, 133-143, 2014.

Davis, S.K., Quarells, R.C., Gibbons, G. A comprehensive cardiovascular disease lifestyle treatment controlled trial among high-risk African Americans. Open Journal of Preventive Medicine. 3(9):526-533, 2013.

Baltrus PT, Daniels EC, Mack DH, Quarells RC. (2013). "Trends in physical activity in the U.S. before and during the current financial crisis." In G. T. Papanikos (Ed.), Physical education and learning: An introduction. Athens, Greece: ATINER (pp. 13-24).

Quarells, R.C., Liu, J., and Davis, S.K. Social Determinants of Cardiovascular Disease Risk Factor Presence Among Rural and Urban Black and White Men. Journal of Men's Health. 9(2):120–126, 2012.

Davis Sharon K., Quarells Rakale C., Gibbons Gary H. "Hypertension in African American Communities." Health Issues in the Black Community. Edited by Ronald Braithwaite, Sandra E. Taylor and Henrie Treadwell. Jossey-Bass Inc. Publishing Company. 2009

Duncan, D., Quarells, R.C., Din-Dzietham, R., Arroyo, C., Davis, S.K. (2006). Physical Activity and Incident Hypertension Among Blacks: No Relationship? [letter to editor]. Preventing Chronic Disease [serial online]2006 Jul [date cited]. Available from: URL: http://www.cdc.gov/pcd/issues/2006/jul/05_0197.htm.


Click here to view additional publications.
Honors and Awards
2016-2012: NIH PRDP, Study Section Member, Grant Reviewer

2012: NIH SBIR Program, Grant Reviewer

2011: NIMHD Special Emphasis Panel, Grant Reviewer

2004: Mayor Shirley Franklin's Phoenix Award, Atlanta, GA, Given for the work that the F.I.G.H.T. for Life Program is doing
to prevent and delay the development of cardiovascular diseases among the citizens of Atlanta, GA.

2000-1999: Katherine McCormick Fund for Women Travel Grant, Stanford University School of Medicine