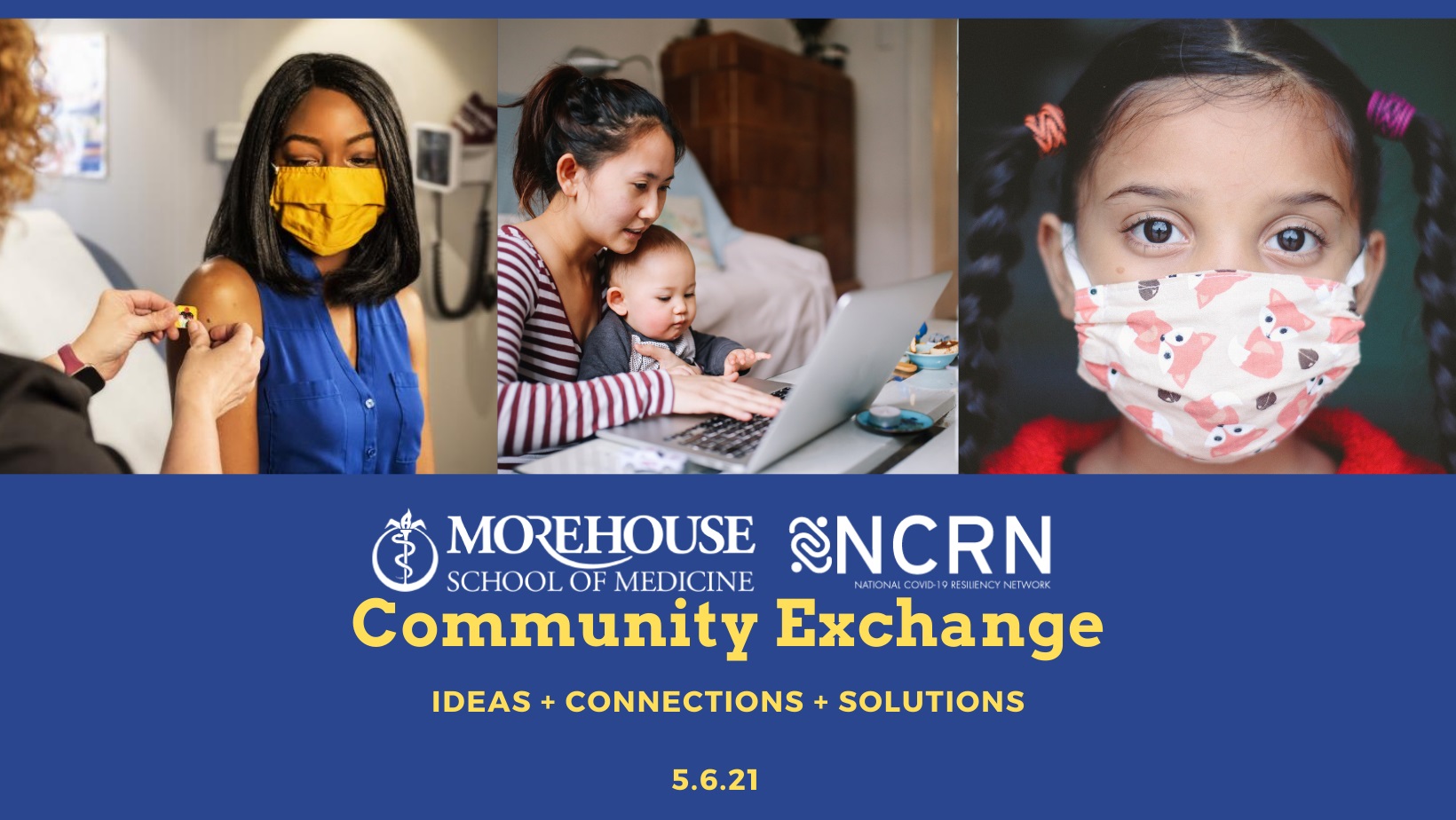 CommUNITY Exchange Conversation
We invite you to lend your voice to share your ideas and local leadership as we work together toward community recovery from the COVID-19 Pandemic. You may attend all, or part of the event depending on your interests. Through participation in the NCRN Community Exchange:
Community Members can look forward to:
Sharing your concerns and ideas for how we recover from the pandemic
Learning about organizations in your community offering COVID-19 resources
Learning about opportunities to ask questions about the COVID-19 vaccines
Community Organizations can look forward to:
Learning about and informing the latest community-engaged efforts of NCRN
Discussing new opportunities to assist in COVID recovery specific to the communities you serve
Learning about funding opportunities and ways to leverage your leadership in national COVID recovery through collaboration with NCRN
For more information about this event, please email: ncrn@msm.edu or call: 1-877-904-5097.
To stay up to date with new COVID-19 resources, subscribe to the National COVID-19 Resiliency Network at: www.msm.edu/ncrn.
Agenda
National COVID-19 Resiliency Network Updates

12:00 - 12:05 p.m.

NCRN Overview and Importance of the Community Exchange
Learn goal and objectives of the NCRN and the cooperative agreement with Office of Minority Health.

12:05 - 12:15 p.m.
Community Health Worker Mobilization
Learn the role Community Health Workers play in pandemic response.
12:15 - 12:25 p.m.
Marketing to Influence Community Change
Learn how Community Based Prevention Marketing can be used as a framework for developing community directed social change through marketing principles.
12:25 - 12:35 p.m.
Community Engaged Data Innovation
Learn the purpose of the CHAMPS survey and the utility of findings for communities and NCRN.
12:35 – 12:40 p.m.
Community Resource Navigation
Learn how to access neighborhood resources related to COVID-19 and other social services.

Partner Highlights

| | |
| --- | --- |
| 12:40 - 12:55 p.m. | Association of University Centers on Disabilities (AUCD) |
| 12:55 - 1:05 p.m. | Alliance for Strong Families and Communities |
| 1:10 - 1:20 p.m. | University of Alaska Fairbanks' Center for Alaska Native Health Research (CANHR) |
| 1:20 - 1:35 p.m. | National Latino Behavioral Health Association (NLBHA) |
| 1:35 – 1:45 p.m. | Transitions to Breakout Rooms and Break |

Community Exchange

| | |
| --- | --- |
| 1:45 – 2:30 p.m. | Breakout Session 1 |
| 2:30 – 3:15 p.m. | Breakout Session 2 |
| 3:15 – 3: 30 p.m. | Report Out/Lessons Learned Session |
| 4:45 – 5:00 p.m. | Close Out Session |