Faculty Development Program
Overview
The NCPC Faculty Development Program ensures that there is a pool of highly trained and culturally competent primary care faculty and practitioners who are dedicated to addressing the needs of underserved communities in the delivery of health services and training the next generation of primary care providers dedicated to serving underserved communities.
The Faculty Development Program (FDP) is the provider of choice for workshops & training programs targeting healthcare teachers, leaders and researchers dedicated to eliminating health disparities. The Faculty Development Program was conceived to address the scarcity of medical school faculty of color and the lack of programs for enhancing clinical teaching, scholarship, and leadership skills among these faculty.
Accreditation
Our CME certified courses are offered to both Morehouse School of Medicine (MSM) faculty and staff and non-MSM participants. Our year-long Modular Program is open to MSM junior faculty, fellows and staff. Our Executive Programs offer workshops, training and resources to external healthcare practitioners, faculty, researchers and community advocates. Learn more about accreditation.
Who should attend?
Individuals interested in:
Academic medicine/faculty career options
Learning to teach medical students, residents and other health professionals
Learning to write for medical literature
Learning to write a successful grant proposal
Understanding health equity in order to impact the teaching role
What are the benefits?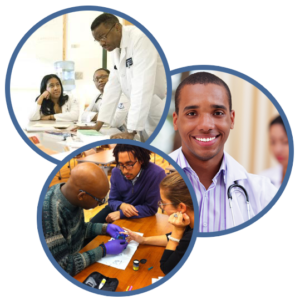 Participants can:
Acquire learner-centered teaching skills for various settings
Publish in medical/academic journals
Develop leadership skills
Use secondary data for research
Practice public speaking using effective PowerPoint
Design a curriculum
What are the programs?
There are three programs offered:
Executive Faculty Development Program
Part-Time Modular Program (attendance to individual modules)
Testimonials
The Faculty Development program was instrumental in advancing my research interests. The secondary data analysis module was especially valuable because I was unaware of the abundance of publicly available data and how to use it to analyze health outcomes. The course unlocked the data and provided a strong foundation for me to mature as a researcher." Megan Douglas, JD, Director, Health Policy Division, NCPC - Morehouse School of Medicine
The Faculty Development Program was transformational for me as junior faculty. Frankly I was surprised to see the depth of training that we received. When I completed the course, I felt much more competent and confident in my skill set. I was particularly impressed with the expertise of the class facilitators as well as the practical training that was provided. Having SPSS training was an especially good bonus." Sabrina Y. Jackson, MMsc., PA-C, Director of Admissions Physician Studies - Morehouse School of Medicine
History
Learn more about the history of the NCPC Faculty Development Program.