Celebrating Her Service: Dr. Truddie Darden Retires After Nearly 30 Years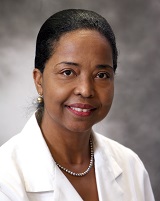 Dr. Truddie Darden
She Came to Serve
All she wanted to do was to make a difference in the lives of her patients and future generations of pediatricians. In her nearly three decades at Morehouse School of Medicine and Morehouse Healthcare, Truddie Darden, M.D. far exceeded her goal.
She became acquainted with some people who were involved in the establishment of MSM and knew she wanted to be a part of this new school. In 1989, the young doctor left Cincinnati Medical Center to come to Atlanta and work for a medical school still in its infancy.
"At that time, we didn't have residents. And so that was really visionary on my part, that I really wanted to be a part of an institution that was going to be impacting patient care, teaching, and researching," said Dr. Darden referencing MSM's mission. "I really felt [MSM] was consistent with where I wanted to be."
Over the years, Dr. Darden helped develop new courses for the residency program and taught numerous doctors as they entered the professional realm. One of her students had actually been one of her patients, and credits Dr. Darden for being influential in her desire to pursue pediatrics.
Helping Others Achieve Health and Professional Goals
Nika Howell, M.D. was just a little girl of about 10 or 11 years old when she started going to Dr. Darden. Although Dr. Howell says she met several black women doctors while growing up, Dr. Darden left a lasting impression on her.
"I think I was really lucky to be able to see smart, confident people who looked like me in those roles, and it definitely helped to motivate me," said Dr. Howell. "And Dr. Darden was at the top of that list."
Dr. Howell developed a special bond with her pediatrician from elementary school through high school graduation and beyond.
Dr. Darden taught by her example to be a master of your craft and also act with generosity. Dr. Howell
"I actually continued to go to Dr. Darden when I was in college, but eventually she had to tell me that sadly it was time to move on to an adult doctor," recalls Dr. Howell.
The two would meet again in 2011 after Dr. Howell completed medical school and selected to complete her residency at MSM.
"I wanted to come to Morehouse because of its commitment to the underserved," said Dr. Howell, adding that what she saw Dr. Darden contribute to the community exemplified MSM's commitment.
After completing her residency in 2014, Dr. Howell moved across the country to work as a pediatrician at Valley Children's Healthcare in Madera, California and serve those who may not have access to doctors and quality healthcare. According to DataUSA, more than 26 percent of residents in the central California community live below the poverty line—nearly twice the national poverty rate.
"Dr. Darden taught by her example to be a master of your craft and also act with generosity," recalls Dr. Howell.
Meeting People Where They Are
That mastery and generosity came in to play when Dr. Darden had a new patient referred to her. A young boy was frequently visiting a local emergency room because of his asthma. His mother was trying to use the emergency room to manage his condition rather than going to a pediatrician.
After getting to know the family, Dr. Darden learned the mother did not know how to manage his asthma at home and did not understand the medications and treatments, so she kept coming to the hospital whenever he had an asthma attack. Rather than throwing a bunch of medical and technical terms at her, Dr. Darden decided to keep it simple in language she could understand. The doctor started referring to the medications by color and educating the mother and son about his condition and treatment.
"At that level, she became one of the compliant mother that I have had in a practice," said Dr. Darden "She additionally turned around her son's care to where he was not an emergency room patient monthly to rarely having to go. She now talks about how she developed with me, and ultimately with our practice, the comfort level that would help her to take care of her child."
The mother continued bringing her son and daughters to see Dr. Darden. The family has had a more than 20-year relationship with the pediatrician. The woman's grandchildren are now patients of Dr. Darden as well.
Saying Goodbye
After 29 years at MSM and Morehouse Healthcare, Dr. Darden is retiring from practicing medicine, but not from fighting for health equity.
She will take on a new role with Blue Cross and Blue Shield of Georgia. There, she will have the chance to affect health policies and touch the lives of families across the state.
During her time treating and caring for children, Dr. Darden says she has developed great relationships with many of her patients. She has become part of their extended families—attending baby christenings, Eagle Scout pinning ceremonies, and even weddings.
Dr. Darden has advice for future doctors as she nears Friday, September 14, her last day working as a medical educator and directly with patients.
"Continue being purposeful and compassionate with patients. Be communicative. Develop the approach that helps patients to feel comfortable with you as their physician, their provider. To be comfortable sharing those things that may not be shared, that may not be disclosed, but are important to the healthcare of the patient," she advises. "That comes from building relationships and developing a level of comfort and being trusting and trustworthy as well as just be comforting."