Reflections From the First Year
By: Kamron D. Robinson, Doctor of Medicine Candidate, Class of 2021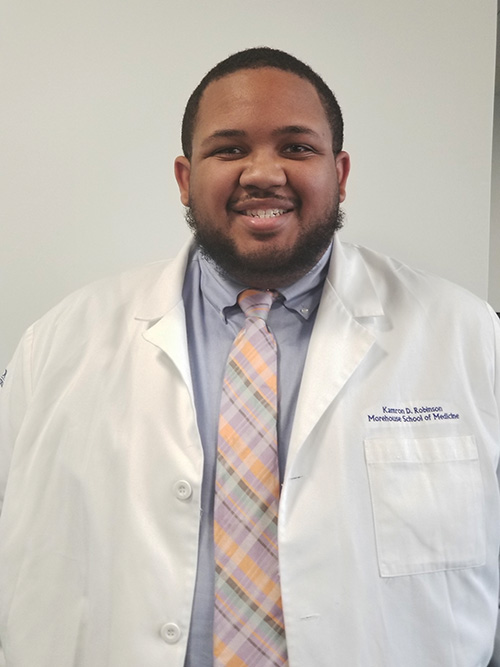 I cannot believe how quickly time flew by. A conversation that I had with two members of the Class of 2020 comes to mind when I first heard that famous medical school cliché. I remember them telling me how your first year of medical school flies by and that I wouldn't believe it. At first, I found it as some cruel joke, like how the professional athletes always find ways to joke with the rookies. However, they were right, first year indeed flew by. One day it was June 28, 2017, I wake up the next day and it is winter break, then I wake up and it is summer break! My classmate Dawn Brawley-Mabra summed up first year perfectly, long days and short weeks. Those long days, however, were full of trials, triumphs, togetherness, and growth. In the beginning, there are growing pains – growth can be uncomfortable. But I honestly can say that I grew as a student and a person during my first year.
This was not my first rodeo at MSM. In 2017, I successfully completed MSM's Master of Science in Medical Sciences (MSMS) program. They took a green student with potential who just got his degree from Jackson State University and molded him into a competent medical student and future physician. The program molded me into a student and future physician that will care for their patient and their community; one that understands that being a physician is not a title or a profession, but an honor and responsibility. I wanted to be a medical student at Morehouse School of Medicine since I was 16. When I was accepted into the MSMS program, naturally, I was ecstatic. When I was accepted into the MD program in January of 2017, I was absolutely floored.
My great friend and current rising third year MD student, Kendra Ivy, told me that the process of learning the volume of information in medical school is equivalent to eating all you can eat pancakes at IHOP. Initially, it's great, then shortly after you're tired of pancakes, birthday cakes, and food in general. It does not stop. I will also share some advice that the resident oracle of MSM, Dr. Elks, gave me: you will be surprised what you will get used to. After adjusting to my life as a medical student, I was able to understand that sharing is caring and that there are different ways to eat. Share your information, hardships, experiences with your classmates. When I began to share with my classmates, my free time and grades increased. There's an African proverb that my class has been told since orientation and it goes: "If you want to go fast, go alone. If you want to go farther, go together." We chose the latter.
My classmates and I are not just members of the Class of 2021, but we are the inaugural class of 100 MD students at MSM. There is not a group of people I would rather go on this journey with. This collective is awesome! The class is full of personality, leaders, and talent. I knew from orientation that we would be close. We had classmates asking if anyone needed help studying, classmates who were freely giving of their time and insight. The ultimate test of togetherness that we had, as had many classes before us, was the annual first-year production, Lampoons. That in itself can be its own blog post, but I will say that we put on one of the best productions this institution has seen. From all of the experiences that we shared over this past year, we grew from classmates to family.
To the Class of 2022, it is my hope that you all experience academic and personal growth and triumphs. I know you heard it during your interviews, but you will experience the family environment here at Morehouse School of Medicine. Everyone here is rooting for you and have a personal vested interest in your success. When you need help, ask for it as soon as possible. The ones who get through medical school are not always the smartest, but those who understand how to use their resources to succeed. You have a plethora of resources here to help you, do not let pride derail all of your hard work to get here. There will be long days and some dark nights, but lean on each other and understand that the sun will rise again. Welcome to Morehouse School of Medicine!