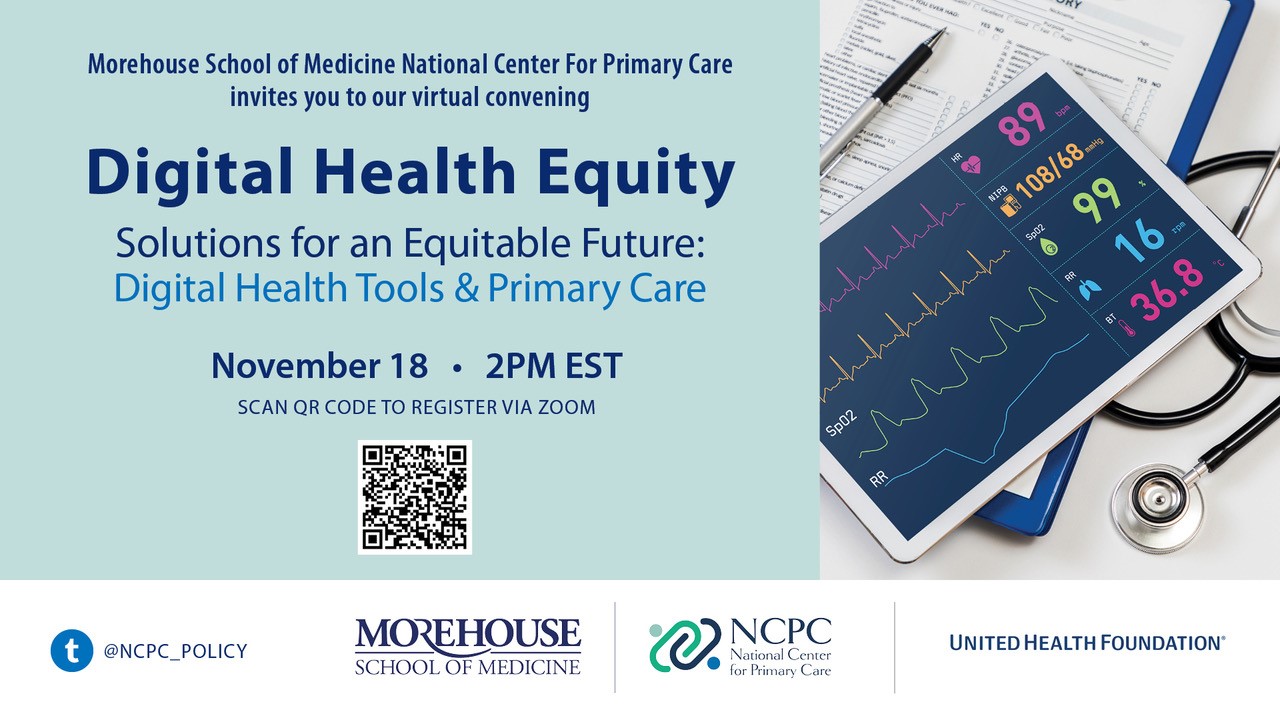 The COVID-19 pandemic necessitated use of digital health tools, especially telemedicine, by primary care clinicians. In response, federal and state policymakers enacted changes that allowed reimbursement for audio-only visits, expanded use of telehealth in community health centers, and removed geographic and distant/presenting site limitations. These policies supported rapid adoption by clinicians and increased access for consumers, especially those insured through Medicare, Medicaid and the uninsured.

This event will highlight the role that federal policy has on health care access and health equity. We will showcase the findings of the Digital Health Tools Study (DHTS), highlighting the pandemic's impact on primary care and other underserved health care settings, followed by a reaction panel of experts representing a variety of perspectives including primary care practice, payers, patients, and health technology. The panelists will discuss lessons learned and future directions for primary care delivery, digital health tools, and health equity in a post-pandemic era.

Event Objectives:
• Assess national priorities related to health care access, digital health tools, and health equity
• Discuss key findings from the DHTS, including barriers and facilitators to adoption and use of technology
• Identify policy and practice changes adopted to support and expand use of digital health tools during the pandemic.
Chief Strategy Officer

@

Black Women's Health Imperative

Pediatrician/Co-Owner/Investor

@

Kids First Pediatrics

Senior Vice President

@

Optum Health

Dr. Angelica Geter serves as Chief Strategy Officer for the Black Women's Health Imperative. Through research, legislation, and corporate engagement, Dr. Geter leads the organization's first national antiracism initiative, an initiative primed to transcend traditional diversity, equity, and inclusion efforts by stimulating more visible, systemic change in corporate policies and practices. The goal of this initiative is to foster the transformation needed to make the workforce both equitable and fair for Black women. Dr. Geter, first-ever Chief Health Officer for the City of Atlanta, was appointed by Mayor Keisha Lance Bottoms and led the Pandemic Coordination Team assembled in response to the COVID-19 pandemic. With experience at the federal, state, and local levels, her leadership ensured the continuity of essential City operations, workforce resilience, community messaging, and local and state health department coordination.

Dr. Odell Barnwell III has dedicated his life to providing excellent pediatric care and making the lives of children within his community better. He has an interest in addressing healthcare disparities and serving the underserved. He is a pediatrician and part-owner physician at South Atlanta Pediatrics located in Locust Grove and Riverdale Georgia. He has been in pediatric practice for over 18 years. He has been an investor in Kids Time Pediatrics, an afterhours/urgent care facility since 2007. Dr. Barnwell received his Doctor of Medicine from Morehouse School of Medicine, where he was inducted into the prestigious Alpha Omega Alpha Honor Society and received several awards including the Primary Care Award and Ross-Book Pediatric Award. He further completed his pediatric residency at Emory University School of Medicine and is currently a member of the American Academy of Pediatrics. He is a proud member of the Zeta Pi Chapter of Alpha Phi Alpha Fraternity, Inc.

Dr. Henderson is a digital health leader and clinician with over 25 years of experience designing, implementing and optimizing the health care delivery system using digital health tools and technology. She is the CEO for MedExpress and SVP of The Center for Digital Health & Innovation for Optum Health, where she is creating a first-of-its-kind connected health ecosystem using industry-leading digital health tools and telehealth. She most recently led clinical operations for Amazon Care, a healthcare initiative for Amazon employees and their families. Before joining Amazon, she designed and launched a national solutions center for patient access, virtual care, and care coordination for Ascension Health. She has a proven track record of delivering successful programs at scale that improve health and save money. She is an adjunct faculty member in Population Health at the Dell Medical School at the University of Texas-Austin and at the University of Washington School of Nursing.

Digital Technology Study
Despite tremendous potential for technology to aid in the advancement of health equity, our prior research1 has identified gaps in technology adoption that impact high disparity populations.
To address these gaps, the National Center for Primary Care (NCPC) at Morehouse School of Medicine is examining the adoption and use of digital health tools by primary care clinicians (Family Medicine, General Internal Medicine, General Practice, Pediatrics, or OB/GYN specialized physicians, nurse practitioners, physician assistants, and certified nurse midwives) in four southeastern states: Georgia, Kentucky, North Carolina and Tennessee.
We are prioritizing clinicians serving underserved communities in the southeast region due to the prevalent health disparities and poor health outcomes experienced by residents of these communities, with a particular focus on diabetes and maternal morbidity and mortality.
Our research strategy consists of the NCPC Digital Health Tool survey and focus groups of primary care clinicians working in the states of interest. We will also be conducting key informant interviews with policymakers, leadership, administrators, and staff in small practices and rural hospitals and conducting an environmental scan of the policy and system-level factors in each state to identify the facilitators and barriers to utilization of digital health tools in practice.
The following data is an early look at results from surveys completed as a results of this study. The data from these surveys were completed between October 2019 and January 2021.
Are you not a Primary Care clinician? We still want to partner with you! Whether you are a clinician in our study, a clinician outside our focus areas, or an associate, you can help spread the word about our study. For partnership opportunities, please contact Denita Walston, MS at dhtsncpc@msm.edu.
DIGITAL HEALTH TOOLS STUDY: MATERIALS
Leadership Roundtable Briefs
This program is funded in partnership with the United Health Foundation.



---
1Mack D, Zhang S, Douglas M, Sow C, Strothers H, Rust G. Disparities in Primary Care EHR Adoption Rates. J Health Care Poor Underserved. 2016 Feb;27(1):327-338.
Douglas MD, Xu J, Heggs A, Wrenn G, Mack DH, Rust G. Assessing Telemedicine Utilization by Using Medicaid Claims Data. Psychiatr Serv. 2017 Feb 1;68(2):173-178.
Douglas MD, Dawes DE, Holden KB, Mack D. Missed policy opportunities to advance health equity by recording demographic data in electronic health records. Am J Public Health. 2015 Jul;105 Suppl 3:S380-8.