Rotation Names and Descriptions
In keeping with the commitment to general pediatrics, approximately 60% of the residency training is devoted to the ambulatory experience. This includes assignments in community practices, emergency care, subspecialty, development/behavioral, adolescent medicine, rural health and other community-based experiences. Additionally, each resident will have a minimum of six blocks of Individualized Curriculum (IC) units (formerly known as electives) based on the resident's career goals, with guidance from the program. Residents can choose an early subspecialty exposure in their PGY-1 year, work on a subspecialty advocacy project during their PGY-2 year and have up to four electives in their PGY-3 year.
General Pediatrics Experience
Inpatient
Our residents rotate on the inpatient services of 2 hospitals that are a part of Children's Healthcare of Atlanta (CHOA). These hospitals are very different and provide the residents a nice breadth and depth of general pediatrics experience.
Rotations at CHOA-Hughes Spalding occur during their first and third years. Hughes Spalding is a small children's hospital with 24 inpatient beds, a very busy Emergency Room and Urgent Care. It runs very much like a more typical community hospital. Here, our residents learn about more "bread and butter" general pediatrics.
They also rotate at CHOA-Scottish Rite. Scottish Rite is a tertiary/quaternary regional referral hospital that has some of the very sickest children in the state of Georgia. They spend time on the inpatient service here during their second year. This allows them to get comfortable with the busy pace of a busy hospital with patients who have complex medical conditions.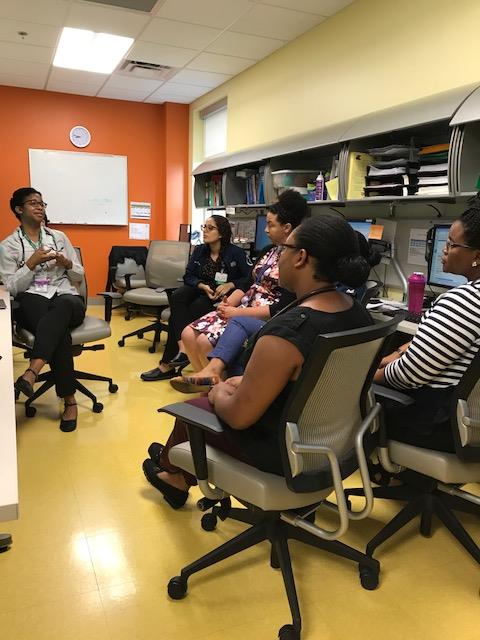 Continuity Clinic
All PL-1's have continuity clinic at Children's Healthcare of Atlanta at Hughes Spalding. They have their own patient panels with the goal of increasing continuity with their patients. After the first year, the PL2's and PL3's have their continuity experiences in community primary care offices. We have a longstanding partnership with our community physicians and this has made for enhanced training experiences for our senior residents.
Subspecialty Experience
Residents also participate in a core set of subspecialty rotations including but not limited to:
Cardiology
Gastroenterology
Hematology/Oncology
Infectious Diseases
Pediatric Surgery
Pulmonology
Many of these subspecialty rotations have both inpatient and outpatient components. Subspecialty rotation goals and objectives complement the community-based generalist curriculum.
Term Neonatal Medicine
Well newborn care is taught at Dekalb Medical Center which is a community hospital just outside of metro Atlanta. The Maternity Center at Dekalb Medical Center welcomes nearly 3,000 newborns a year, placing them among the top five maternity programs in Georgia. Here our residents get a wealth of experience in newborn care and the approach to common newborn illnesses and problems.
NICU
Neonatal Intensive Care is taught at one of our community hospitals, Gwinnett Medical Center. GMC is home to a large Level III NICU that sees a large number of newborns in each year. This allows our residents to have a robust experience in neonatology as a PGY 1 and PGY 2.
PICU
Resident experience in Pediatric Intensive Care Medicine is done at CHOA-Egleston. Egleston is a quaternary regional referral hospital. The PICU provides the following services:
74 pediatric intensive care beds
Board-certified pediatricians trained in critical care
Nurses with expertise in pediatric intensive care
State-of-the-art life monitoring technologies and life support
Emergency medical transportation by ground and air 24 hours a day, seven days a week
Pediatric ECMO (extracorporeal membrane oxygenation) Center with sophisticated heart and lung bypass machines
Emergency Medicine
Our residents experience the Emergency Departments at CHOA Hughes Spalding and CHOA Egleston. These 2 hospitals see over 100,000 emergency department patients each year. CHOA is home to the first state-designated Level 1 pediatric trauma center in Georgia, located at the Egleston hospital location. The Level 1 distinction is the highest ranking of its kind, and recognizes centers that provide premier care and conduct academic research.
Advocacy and Community Experiences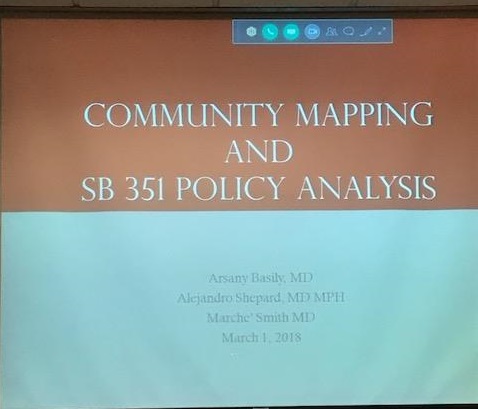 Our Advocacy rotation is done in the 2nd year. During the first week, the residents learn about topics such as policy-making processes, the role of the physician as advocate, community mapping, use of census data and data sets, windshield surveys, leadership, and writing for advocacy (op eds, letters to the editor, etc.). During the remainder of the rotation, the resients spend time at thes tate capitol for their legislative advocacy experience where they sit in on a state agency strategic planning session. They engage in numerous other activities as well and write up their experiences at the end of the rotation. Each 2nd year resident presents their work at one of our grand rounds sessions.
During our Community Pediatrics rotation, the residents spend more concentrated time learning about the Social Determinants of Health and Health Disparities. They have a series of videos to watch and reading materials to complete. This servces to enhance the learners' knowledge about the cirumstances and barriers faced by their patients' families and how these influence the health of their patients. They also visit several agencies in the community. This allows our learners to understand more about the community resources that are available to our patient families. A reflective piece is required at the end of this rotation.
---
Block Schedules At-A-Glance
| Course | Duration |
| --- | --- |
| Adolescent Medicine | 1 Blocks |
| Child & Adolescent Psychiatry/Community Pediatrics | 1 Blocks |
| Developmental & Behavioral Pediatrics | 1 Block |
| Emergency Medicine | 2 Block |
| General Pediatrics - Inpatient | 5 Block |
| Individualized Curriculum | 1 Block |
| Neonatal Intensive Care (NICU) | 1 Block |
| Term Nursery | 1 Block |
| Course | Duration |
| --- | --- |
| Advocacy | 1 Blocks |
| Cardiology | 1 Block |
| Emergency Medicine | 1 Block |
| Float - Research | 1 Block |
| General Pediatrics - Inpatient | 2 Block |
| Hematology/Oncology | 1 Block |
| Individualized Curriculum | 2 Blocks |
| Neonatal Intensive Care (NICU) | 1 Block |
| Pediatric Intensive Care (PICU) | 1 Block |
| Pediatric Surgery | 1 Block |
| Pulmonology | 1 Block |
| Course | Duration |
| --- | --- |
| Board Review | 1 Blocks |
| Emergency Medicine | 1 Block |
| Float - Quality Improvement | 1 Block |
| Gastroenterology | 1 Block |
| General Pediatrics - Inpatient | 3 Block |
| Individualized Curriculum | 4 Block |
| Infectious Disease | 1 Block |
| Pediatric Intensive Care (PICU) | 1 Blocks |