Chief Residents' Spotlight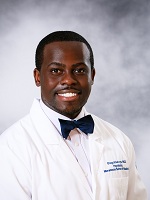 I trained at Morehouse School of Medicine as a medical student and rank my experience as one of the best. Despite interviewing at various prospective residency programs across the country, I found my clerkship and elective experiences with Morehouse's Department of Psychiatry truly unique. It was only natural that I would continue my training at Morehouse School of Medicine. Now entering my final year of residency at the Department of Psychiatry and Behavioral Sciences, I realize that staying with Morehouse for the last seven years has been one of the best decisions I have ever made. From intern to chief resident, I have seen my talents acknowledged and skills developed to a level that I never would have envisioned. Under the steady and nurturing guidance of my faculty, every day, I noticed as my confidence grew and I began to see myself as a competent and well-rounded physician. Morehouse School of Medicine has become more than a educational institution to me. I consider them family. Living in Atlanta has been a blast. I have had a lot of personal memories that have shaped me into the person I am today. It was easy to make friends both in residency and outside and there was always something exciting to do. After graduating from residency, I hope to stay in Atlanta and give back to the community I have come to know and love as a board certified general psychiatrist.
Otega T. Edukuye, M.D.
PGY-IV, Chief Resident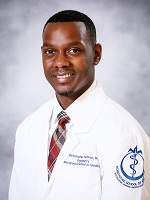 As a native of Tuskegee, AL, I spent my entire life in Alabama. The best decision of my life was to relocate to Atlanta for residency training at Morehouse School of Medicine. The atmosphere at Morehouse was crucial to my development. Although the curriculum was demanding, I was given time and space to explore other aspects of the field. Because of this freedom, I was able to determine how I wanted to practice, and I developed interests in areas of psychiatry that I had not considered previously. Not only have I matured in skill and knowledge but also in my self- confidence. With my supportive Morehouse family behind me, I felt secure pursuing esteemed opportunities. I have been chosen as a prestigious American Psychiatric Association fellow and I secured a position at my top choice for Forensic psychiatry fellowship before the start of my final residency year. Being chosen as the Chief resident was monumental considering that just two years ago I suppressed thoughts about the position as I doubted myself as a competitive applicant. I have worked hard during residency, but these accomplishments are a testament to the foundation and support I have here at Morehouse. From the training I received to the deep connections I have with the other residents, faculty, and staff, this experience has given me far more than I could have asked. After residency, I plan to complete a Forensic Psychiatry residency at Saint Elizabeth hospital. Eventually, I plan to practice psychiatry in the United States Air Force as well as provide services in underserved communities.
Christopher J. Hoffman, M.D.
PGY-IV, Chief Resident