Program Highlights
Highlights and news for the Child and Adolescent Psychiatry Fellowship Program.
---
CAP Fellowship Awarded $250K Grant
We as a program are both deeply humbled and absolutely thrilled to share that the
Jesse Parker Williams Foundation
has awarded a
$250,000
grant to the CAP fellowship program to support the training of our fellows!! This will allow us to continue to prioritize service and the quality of their educational experience (over financial considerations) in chosing sites and learning experiences for our fellows. This grant is a first of its kind for Morehouse School of Medicine and a testament to
each
of our faculty member's contributions to make this, even in its very early stages, an endeavor that people want to support and see thrive. BRAVO to all!
Dr. Vinson Appointed to State Advisory Group for the Coalition for Juvenile Justice
Dr. Sarah Vinson was recently appointed to Georgia's State Advisory Group through the Coalition for Juvenile Justice (CJJ) by Governor Brian P. Kemp. Established under the
Juvenile Justice and Delinquency Prevention Act (JJDPA)
, appointees play an important role in The Coalition's mission and are tasked with monitoring and supporting its four core requirements:
Deinstitutionalization of Status Offenders (DSO)

Adult Jail and Lock-up Removal

Sight and Sound Separation

Racial and Ethnic Disparities
Members of the State Advisory Groups will also receive specialized training and technical assistance on unconventional practices in juvenile justice to help aid CJJ's mission.
To learn more about SAGs, click here.
About the Coalition for Juvenile Justice
The Coalition for Juvenile Justice (CJJ) is a nationwide coalition of State Advisory Groups (SAGs), organizations, individuals, youth, and allies dedicated to preventing children and youth from becoming involved in the courts and upholding the highest standards of care when youth are charged with wrongdoing and enter the justice system. CJJ envisions a nation where fewer children are at risk of delinquency; and if they are at risk or involved with the justice system, they and their families receive every possible opportunity to live safe, healthy and fulfilling lives.
About Juvenile Justice and Delinquency Prevention Act (JJDPA)
JJDPA is based on a broad consensus that children, youth, and families involved with the juvenile and criminal courts should be guarded by federal standards for care and custody, while also upholding the interests of community safety and the prevention of victimization. The Juvenile Justice and Delinquency Prevention Act (JJDPA) provides for: A nationwide juvenile justice planning and advisory system spanning all states, territories, and the District of Columbia; Federal funding for delinquency prevention and improvements in state and local juvenile justice programs and practices; and The operation of a federal agency, the Office of Juvenile Justice and Delinquency Prevention, which is dedicated to training, technical assistance, model programs, and research and evaluation, to support state and local efforts.
On January 27, 2021, Dr. Kamille Williams, 1st Year CAP Fellow, participated in the first session of the Inaugural APA Fellows Professional Development Series. As a member of the APA Ethics Committee, Dr. Williams spearheaded this project that encompasses discussion of common ethical cases that residents and fellows may face while in training. The session provided an opportunity for participants to talk through cases and learn key ethical concepts from the APA Ethics committee. Kudos Dr. Williams, way to represent!
On January 6, 2021, the results of the child psychiatry match were revealed to psychiatry applicants and training programs across the country. Though only in its second year of existence and with the added complications of interviewing and recruiting during a pandemic, the Morehouse School of Medicine Child psychiatry program successfully filled its two slots - an important milestone, as 2021 will be the first year with the full complement of 4 child psychiatry fellows for the MSM program.
We enthusiastically welcome Dr. Karyn Korsah, currently a general psychiatry resident at Emory in Atlanta, GA, and Dr. Darron Lewis, currently a general psychiatry resident at Coliseum Medical Center in Macon, GA. Dr. Sarah Y. Vinson, M.D., the Program Director for the Child Psychiatry Fellowship stated, "I am absolutely thrilled with this match. These applicants were great on paper and even better in person. Even with virtual interviews, it was clear that their interests and mission are beautifully aligned with our fellowship's and Morehouse School of Medicine's values of service, equity and leadership." The new fellows will join us in July of 2021.
Our CAP PD Dr. Sarah Y. Vinson is an invited discussant for The Kennedy Forum Spotlight Series Event - Shocking Injustices: Mental Health and Black Americans. The virtual event will convene experts and advocates for a discussion focused on injustice and racial inequity in the mental healthcare system including Patrick Kennedy, former Congressman and Founder of the Kennedy Forum and the Honorable Juliano Stratton, Lt. Gov. of Illinois. The event will stream online Martin Luther King Jr. Day.
Dr. Sarah Y. Vinson, is a co-author on a newly released article in the Journal of the American Academy of Child and Adolescent Psychiatry entitled "
Black Children and the Pressing Need for Anti-Racism in Child Psychiatry
". The article touches upon the inequitable impact of societal stressors including the COVID epidemic and racism on the mental health of black children. It also includes a call to action for children's mental health providers, with anti-racist action steps for child psychiatrists to take as clinicians, educators, administrators and advocates. Please click on title to access this acclaimed article. Kudos Dr. Vinson!
Dr. Vinson Receives Invitation to Task Force to Examine State Courts' Response to Mental Illness
This past month (August 2020), The Conference of Chief Justices (CCJ) and Conference of State Court Administrators (COSCA) invited Dr. Sarah Vinson to become a member of the National Judicial Task Force to Examine State Courts' Response to Mental Illness.
The responsibly of the Task Force is to examine the impact that individuals with mental illness have on the operations of state judicial systems. As a continuation and transition of the work of the National Initiative Advisory Committee (est. 2019; National Initiative Advisory Committee), the team will make policy and practice recommendations to help improve the state courts' response.
In May 2020, CCJ and COSCA established the Task Force to assume leadership of the project, transitioning the Advisory Committee's work to the Task Force. This report includes information about the current activities of the project. The work of the Task Force is led by an Executive Committee and each of the members will be assigned to and work within one of three Work Groups: Criminal Justice, Civil, Family and Probate, and Education and Partnerships. Dr. Vinson, along with the other members of the group, will use her field expertise to help ensure court systems play a leading role in understanding the issues and aid in providing practicable solutions for individuals suffering from mental illness at every intersection point within the justice system.
About The Conference of Chief Justices — The Conference of Chief Justices (CCJ) was founded in 1949 to provide an opportunity for the highest judicial officers of the states to meet and discuss matters of importance in improving the administration of justice, rules and methods of procedure, and the organization and operation of state courts and judicial systems, and to make recommendations and bring about improvements on such matters.
About The Conference of State Court Administrators (COSCA) — The Conference of State Court Administrators (COSCA), established in 1955, is dedicated to the improvement of state court systems. Its membership consists of the state court administrator or equivalent official in each of the fifty states, the District of Columbia, Puerto Rico, American Samoa, Guam, Northern Mariana Islands, and the Virgin Islands.
Voices in the Community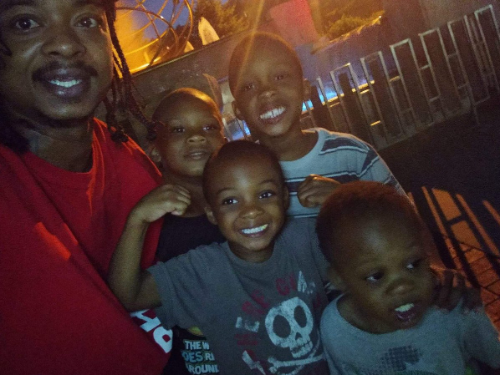 Program Director, Dr. Sarah Vinson, was interviewed by the Insider explaining why Jacob Blake's 3 sons seeing the police shoot their father is so traumatic and how it could affect them for years to come. Click here to access this profound interview.
Published!
The Lancet Child & Adolescent Health is an independent journal with an international perspective, and a strong clinical focus. The monthly journal presents the most influential and innovative practice-changing original research, as well as authoritative reviews and insightful opinion pieces to promote the health of the whole child, from the fetal period through to young adulthood. Our Program Director, Dr. Sarah Vinson and CAP Faculty Randee J Waldman co-wrote and article entitled "The pandemic paused the US school-to-prison pipeline: potential lessons learned". Click here to access this publication in its entirety.
Our own CAP Faculty Dr. Vinson, Dr. Brian McGregor and Dr. Reese were co-authors in an article published in Psychiatric Clinics of North America entitled "Two Systems, One Population: Achieving Equity in Mental Healthcare for Criminal Justice and Marginalized Populations". It was a special issue edited by Dr.s Altha Stewart and Ruth Shim, and we highly suggest you check out the entire thing. It's stellar! Please click on the title to access full article.
Another one of our Psychiatry Department's distinguished faculty, Dr. Kisha Holden was part of a collaborative research commentary along with other MSM Faculty and community advocates. It was recently published in CDC's academic journal, Preventing Chronic Disease, Volume 17, E83.. The commentary covers Community Engagement of African Americans in the Era of COVID-19: Considerations, Challenges, Implications and Recommendations for Public Health.
CAP Faculty Represents at GPPA
In the GPPA Virtual Annual Mtg. held Sat. August 8th, five of our MSM CAP faculty were featured. Dr. Sally Herbert moderated a panel about "Working from Home During the Pandemic" that included Dr. Nicole Cotton and Dr. Fatima Kasiah. Also, our PD Dr. Sarah Vinson was an invited lecturer on the topic of Structural Racism, Black Mental Health and the Psychiatrist's Role with the Q & A moderated by MSM Psych. Dept Chair and CAP Psychiatrist Dr. Gail Mattox.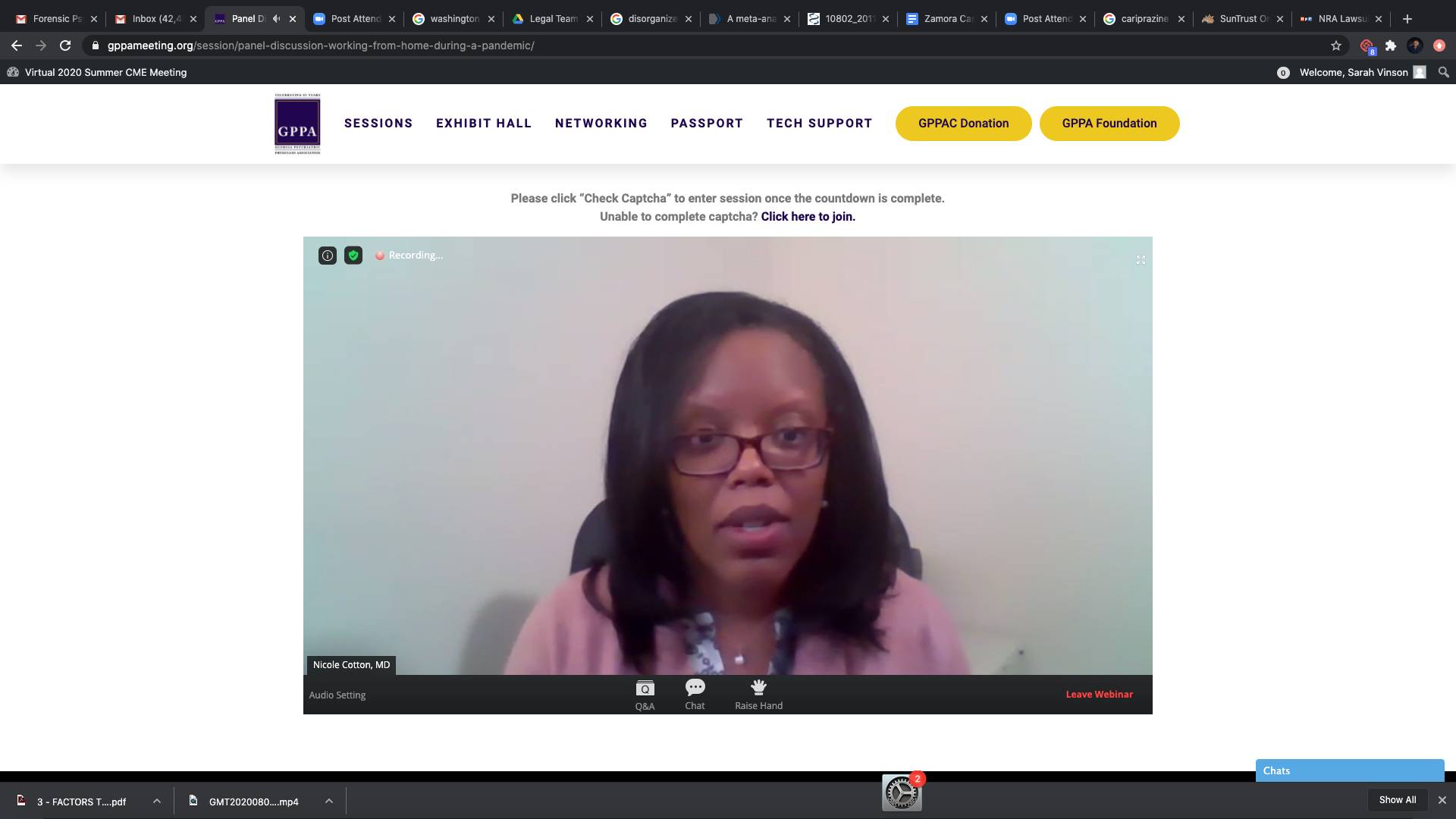 Faculty In the Know
Our own Program Director, Sarah Vinson, MD will be part of a black mental health town hall on August 20 @ 7:30pm hosted by @BlackPsychiatry. She will be among several esteemed panelists discussing black mental health and wealth. She is also co-hosting a virtual event and discussion on "Social (In)Justice and Mental Health Thursday, July 30th at 8pm sponsored by The American Association for Community Psychiatry (AACP). In addition, Dr. Vinson was interviewed by WSB-TV Channel 2 as part of a prime time special taking an in-depth look at The Changing Classroom. Please click here to view this special segment.
Dr. Vinson was interviewed by Vox Media to offer her expertise on what schools and families can do to protect students' mental health in the Covid-19 pandemic. Please click here to access the article, Remote School Has Kids Isolated and Stressed. Here's How to Help". Dr. Vinson also took part in a panel discussion on Georgia Public Broadcasting (GPB) to discuss "are Georgia schools prepared to support youth mental health in the coming school year? To access an article on the panel, which includes video of the full discussion, please click here.
One of our esteemed faculty members, Dr. Angela Shannon will participate in a virtual, panel-led discussion, "Is Unconscious Bias Affecting Your Treatment of Black Patients?" On July 29th at 7PM EST and July 30th at 8PM EST, this one-hour conversation is designed to help clinicians get a better understanding of what unconscious bias is, how to look for it within themselves, and to offer them tools that may help mitigate the impact of unconscious bias. From multiple written publications to speaking engagements and activism on the national level down to the local level, our panelists have quite literally written the book on unconscious bias. Dr. Angela Shannon is also a Distinguished Fellow of the American Psychiatric Association, director/founder of Positive Balance Wellness Center, staff psychiatrist at Palmetto Health Council/Your Town Health, and Locums psychiatrist for Georgia Regional Hospital.
New York Times Interview
One of our esteemed faculty members, Marietta Collins, Ph.D. was recently interviewed by the New York Times about the book she co-authored, "Something Happened in Our Town: A Child's Story About Racial Injustice" . The article discusses how Dr. Collin's book and others can help to explain racism and protest to our children. Please click here to access the NYTimes article. The kudos continues! Dr. Collins also penned a poem she wrote in reaction to the multiple shootings of African-American people of late. Her poem, "Why I Grieve" was selected to be published in the Psychology Today Blog. Please click here to read.
Co-Chair
for the APA/APAF Child and Adolescent Psychiatry Fellowship
Kamille Williams, MD, one of the Child Fellows of the 2020 Inaugural Class, recently accepted the position to be one of the Co-Chairs for the APA/APAF Child and Adolescent Psychiatry Fellowship. Dr. Williams is currently a first year APA/APAF CAP Fellow and is the first resident from the Morehouse School of Medicine General Psychiatry Program to be awarded this specific fellowship. The APA/APAF Child and Adolescent Psychiatry Fellowship is one of several fellowships offered to psychiatry residents and fellows through the American Psychiatric Association (APA) and American Psychiatric Association Foundation (APAF) that promotes professional development, learning, opportunities for recipients to work with APA leadership, and much more. Her role as a Co-Chair will include assisting in developing the agenda and conducting of the fellowship meetings, contribute articles on behalf of the fellowship, help improve the fellowship and assist in coordinate opportunities for fellows to interact with each other as well as other APA fellows around the country and members of the APA and APA Foundation.
Jeanne Spurlock Minority Fellowship Achievement Award
Congratulations to Program Director, Sarah Y. Vinson, MD for being selected as the 2020 Jeanne Spurlock Minority Fellowship Achievement Award Winner. This award is given in recognition of Jeanne Spurlock, MD, former Deputy Medical Director of the American Psychiatric Association and Director of Minority/National Affairs, for her outstanding contributions to psychiatry. Dr. Vinson was selected based on her demonstrated contributions and exceptional achievements in the field as an alumna of the Minority Fellowships program. Congrats on this well-deserved recognition! Dr. Vinson's award reception will be Tuesday, April 28th at the Annual APA Meeting in Philadelphia.
Announcement for Inaugural Fellows of 2020
It is with great pleasure that I welcome Morehouse School of Medicine's inaugural class of Child Psychiatry Fellows, Dr. Sheritta Carmichael and Dr. Kamille Williams. As candidates, they were our top two choices on our rank list for many reasons. Our selection committee was confident that they would not only represent Morehouse School of Medicine well, but, most importantly, that they would serve our patients, families and communities in excellence. Both are under-represented minority women with a track record of service and leadership and with strong Georgia ties. We hope they're as excited about starting July 1st as we are to welcoming them!
Dr. Sarah Vinson Presenting at the Annual AADPRT Meeting
Dr. Sarah Y. Vinson, is teaming up with current MSM General Psychiatry resident Dr. Jeala Barnett with Dr. Arden Dingle and Dr. Danielle Hairston to present at the American Association of Directors of Psychiatric Residency Training (AADPRT) Annual Meeting in Dallas, Texas on March 6, 2020. Chosen after a highly selective peer-review process, their presentation on "Diverse Perspectives and Practical Strategies in URM Psychiatry Recruitment, Retention and Development" will be one to catch!
Dr. Sarah Vinson a
nnounced as appointee to the Georgia Behavioral Health Reform and Innovation Commission
On September 26, 2019, Governor Brian Kemp announced his nine (9) appointees to the Georgia Behavioral Health Reform and Innovation Commission. We are so proud to announce that our distinguished Program Director, Dr. Sarah Vinson is one of these appointees! As a member of this commission, Dr. Vinson is ready and willing to provide her time and expertise to the important issue of mental health regardless of socio-economics, race, age and gender.