Program Highlights
Highlights and news for the Child and Adolescent Psychiatry Fellowship Program.
---
Faculty In the Know
Our own Program Director, Sarah Vinson, MD will be co-hosting a virtual event and discussion on "Social (In)Justice and Mental Health Thursday, July 30th at 8pm sponsored by The American Association for Community Psychiatry (AACP). Dr. Vinson also took part in a panel disccusion on Georgia Public Broadcasting (GPB) to discuss "are Georgia schools prepared to support youth mental health in the coming school year? To access an article on the panel, which includes video of the full discusssion, please click here.
One of our esteemed faculty members, Dr. Angela Shannon will participate in a virtual, panel-led discussion, "Is Unconscious Bias Affecting Your Treatment of Black Patients?" On July 29th at 7PM EST and July 30th at 8PM EST, this one-hour conversation is designed to help clinicians get a better understanding of what unconscious bias is, how to look for it within themselves, and to offer them tools that may help mitigate the impact of unconscious bias. From multiple written publications to speaking engagements and activism on the national level down to the local level, our panelists have quite literally written the book on unconscious bias. Dr. Angela Shannon is also a Distinguished Fellow of the American Psychiatric Association, director/founder of Positive Balance Wellness Center, staff psychiatrist at Palmetto Health Council/Your Town Health, and Locums psychiatrist for Georgia Regional Hospital.
New York Times Interview
One of our esteemed faculty members, Marietta Collins, Ph.D. was recently interviewed by the New York Times about the book she co-authored, "Something Happened in Our Town: A Child's Story About Racial Injustice" . The article discusses how Dr. Collin's book and others can help to explain racism and protest to our children. Please click here to access the NYTimes article. The kudos continues! Dr. Collins also penned a poem she wrote in reaction to the multiple shootings of African-American people of late. Her poem, "Why I Grieve" was selected to be published in the Psychology Today Blog. Please click here to read.
Co-Chair
for the APA/APAF Child and Adolescent Psychiatry Fellowship
Kamille Williams, MD, one of the Child Fellows of the 2020 Inaugural Class, recently accepted the position to be one of the Co-Chairs for the APA/APAF Child and Adolescent Psychiatry Fellowship. Dr. Williams is currently a first year APA/APAF CAP Fellow and is the first resident from the Morehouse School of Medicine General Psychiatry Program to be awarded this specific fellowship. The APA/APAF Child and Adolescent Psychiatry Fellowship is one of several fellowships offered to psychiatry residents and fellows through the American Psychiatric Association (APA) and American Psychiatric Association Foundation (APAF) that promotes professional development, learning, opportunities for recipients to work with APA leadership, and much more. Her role as a Co-Chair will include assisting in developing the agenda and conducting of the fellowship meetings, contribute articles on behalf of the fellowship, help improve the fellowship and assist in coordinate opportunities for fellows to interact with each other as well as other APA fellows around the country and members of the APA and APA Foundation.
Jeanne Spurlock Minority Fellowship Achievement Award
Congratulations to Program Director, Sarah Y. Vinson, MD for being selected as the 2020 Jeanne Spurlock Minority Fellowship Achievement Award Winner. This award is given in recognition of Jeanne Spurlock, MD, former Deputy Medical Director of the American Psychiatric Association and Director of Minority/National Affairs, for her outstanding contributions to psychiatry. Dr. Vinson was selected based on her demonstrated contributions and exceptional achievements in the field as an alumna of the Minority Fellowships program. Congrats on this well-deserved recognition! Dr. Vinson's award reception will be Tuesday, April 28th at the Annual APA Meeting in Philadelphia.
Announcement for Inaugural Fellows of 2020
It is with great pleasure that I welcome Morehouse School of Medicine's inaugural class of Child Psychiatry Fellows, Dr. Sheritta Carmichael and Dr. Kamille Williams. As candidates, they were our top two choices on our rank list for many reasons. Our selection committee was confident that they would not only represent Morehouse School of Medicine well, but, most importantly, that they would serve our patients, families and communities in excellence. Both are under-represented minority women with a track record of service and leadership and with strong Georgia ties. We hope they're as excited about starting July 1st as we are to welcoming them!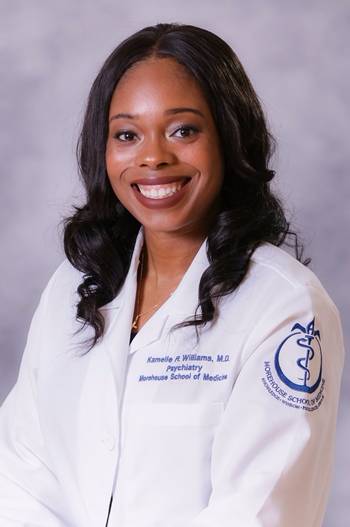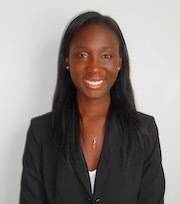 Dr. Sarah Vinson Presenting at the Annual AADPRT Meeting
Dr. Sarah Y. Vinson, is teaming up with current MSM General Psychiatry resident Dr. Jeala Barnett with Dr. Arden Dingle and Dr. Danielle Hairston to present at the American Association of Directors of Psychiatric Residency Training (AADPRT) Annual Meeting in Dallas, Texas on March 6, 2020. Chosen after a highly selective peer-review process, their presentation on "Diverse Perspectives and Practical Strategies in URM Psychiatry Recruitment, Retention and Development" will be one to catch!
Dr. Sarah Vinson a
nnounced as appointee to the Georgia Behavioral Health Reform and Innovation Commission
On September 26, 2019, Governor Brian Kemp announced his nine (9) appointees to the Georgia Behavioral Health Reform and Innovation Commission. We are so proud to announce that our distinguished Program Director, Dr. Sarah Vinson is one of these appointees! As a member of this commission, Dr. Vinson is ready and willing to provide her time and expertise to the important issue of mental health regardless of socio-economics, race, age and gender.