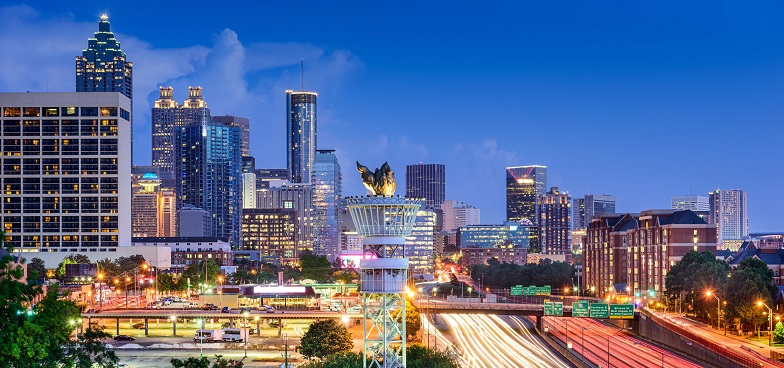 About Atlanta

WELCOME TO ATLANTA! Atlanta offers a unique experience of fine dining, shopping and rich history packed into a city full of southern charm. Atlanta, Georgia, is known for its world-class sophistication and is one of the most popular destinations in the Southeast among tourism. Below you will find a few of the city's favorite attractions.
The Atlanta University Center Consortium
The Atlanta University Center Consortium is the world's oldest and largest association of historically Black colleges and universities. Comprised of four member institutions – Clark Atlanta University, Morehouse College, Morehouse School of Medicine, and Spelman College, the Consortium is a vibrant intellectual community with a long tradition of scholarship, service and community engagement. AUC Consortium, Inc. is a nonprofit organization that operates on behalf of its members to advance each institution's mission and strategic goals by fostering collaboration, managing center-wide initiatives, offering services that benefit our students and community, and leveraging our shared resources.
The AUC Consortium advances the civic mission of its member institutions. The Consortium seeks to promote collaboration and involvement among our campuses, residents and other stakeholders in enhancing the quality of life within the neighboring community. The Consortium seeks to leverage the resources of the community and of member institutions to maximize opportunities for citizens to live, learn, work and play.
The Center for Civil and Human Rights
The Center for Civil and Human Rights is one of the few places in the world educating visitors on the bridge between the American Civil Rights Movement and the contemporary struggle for human rights around the world. The Center serves as the exclusive public venue for the Morehouse College Martin Luther King, Jr. Collection, a display of 13,000 artifacts that convey the profound impact of King's life and legacy. Established in 2007, The Center's groundbreaking 42,000-square-foot facility is located on Pemberton Place, adjacent to the World of Coca-Cola and the Georgia Aquarium, on land donated by the Coca-Cola Company.
Georgia Aquarium
The Georgia Aquarium is a water paradise with more than 60 exhibits featuring a variety of animals and habitats. It's the world's most magical aquarium, and conveniently located next door to the World of Coca‑Cola.
The World of Coca Cola
Experience the history of the world's most famous beverage brand at the dynamic, multimedia home of the more than 125-year old secret formula for Coca-Cola, the World of Coca-Cola. Temp your taste buds by sampling more than 100 beverages from around the world.
The King Center
The King Center was established in 1968 by Mrs. Coretta Scott King. The King Center is a global destination and resource center for the Atlanta Community. Nearly a million people each year make this National Historic site a place to learn, be inspired and pay homage to Dr. Martin Luther King Jr. legacy.

More Information