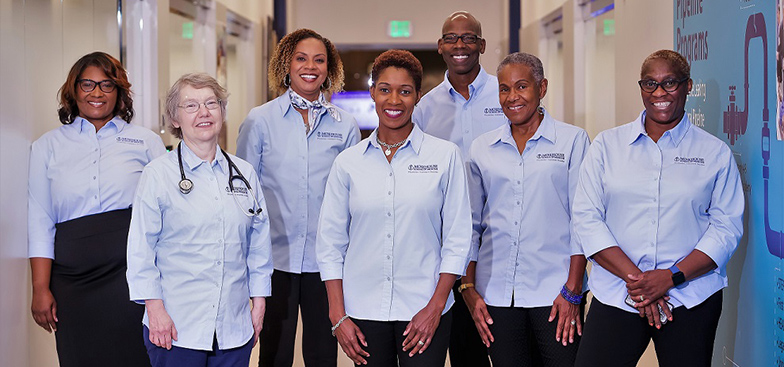 Faculty and Staff


Assistant Professor, Program Director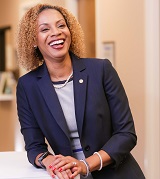 Dr. Pangela Dawson joined Morehouse School of Medicine (MSM) in August of 2017 as the Founding Program Director for the Physician Assistant Program in the department of Family Medicine. She received her Ph.D. in Education Policy Studies and Evaluation in Higher Education from the University of Kentucky. Her dissertation focused on utilizing community-based educational and health-promotion strategies to assist domestic violence survivors in marginalized communities. During this time, she also completed a certificate of study in Gender and Women's Studies. Her academic training includes a bachelor of arts from Oberlin College and a master of science in Physician Assistant Studies from the University of Kentucky.
Dr. Dawson began her academic career at the University of Kentucky in the department of Physician Assistant Studies, where she served as director of Clinical Education. Her role included overseeing 300 regional, national and international clinical sites and over 700 rotation experiences for students during the clinical year. Dr. Dawson later received academic appointments at the University of the Incarnate Word (UIW) School of Osteopathic Medicine as the director of the Physician Assistant and Master of Biomedical Sciences programs. She also served as Clinical Coordinator at the University of Texas Health Science Center San Antonio (UTHSCSA). In this role, she worked to collaborate with community affiliations across south Texas and throughout the San Antonio metropolitan area.
As a practicing physician assistant, Dr. Dawson specialized in orthopedic pediatrics and chronic pain management and rehabilitation. Her current research interests include identifying early indicators for student success and enhancing cultural proficiencies in medical education.
Professor, Medical Director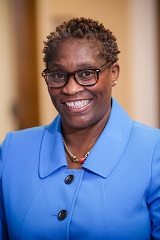 Dr. Omole is a professor and the Sarah and William Hambrecht Chair of the Morehouse School of Medicine (MSM) department of Family Medicine. She received her degree in physics from the University of Lagos, and her medical degree from Obafemi Awolowo University, lle-lfe, Nigeria. She is a fellow of the American Academy of Family Physicians (AAFP) and a licensed medical acupuncturist. Dr. Omole is an educator to the core, she served as the clerkship director, as well as the residency program director, and was instrumental in expanding the class size from 5-5-5 to 6-6-6-6. She has been a PI and Co-PI on several projects and grants, and has authored and co-authored several manuscripts, with her recent collaboration resulting in the American Academy of Otolaryngology Head and Neck Surgery Clinical Practice Guidelines for Allergic Rhinitis, as well as for Tinnitus. She is the faculty advisor and medical director of the MSM Health Equity for All Lives (HEAL) student-run free clinic, and also serves as the director of Integrative Medicine.
Dr. Omole is an active Georgia Academy of Family Physicians (GAFP) member and served as the treasurer and Chair of Finance. She is a recipient of several awards, including being an inductee into the Alpha Omega Alpha Honor Medical Society, GAFP Educator of the Year, Leonard Tow Humanism in Medicine recipient, GAFP Physician of the Year, and recently, the MSM President and Dean's Service award.
Dr. Omole's research interests are chronic disease management (diabetes), data-driven patient health outcomes, acupuncture, and aging, especially sex in the elderly.
Instructor, Community Engagement Director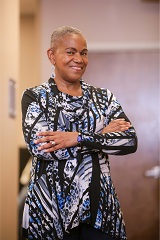 Susan has been a certified Physician Assistant for 23 years practicing in the primary care setting. Her clinical experiences can be characterized as patient-centered and focused on the delivery of culturally sensitive and empathetic care with the central goal of improving health care outcomes. Susan is a passionate advocate for the elimination of health care disparities and the advancement of health care equity. She is presently a clinical instructor in the department of Family Medicine at Morehouse School of Medicine. As Course Director for the department's geriatric learning experiences, Susan instructs medical students and residents in the specialty of geriatrics. Her teaching modalities include problem based, collaborative, interdisciplinary team and case study instructional methods. She has been instrumental in advising and mentoring many of her students. Susan has a master of science degree in Physician Assistant Studies from A.T. Still University of Health Sciences with an emphasis on Education and Leadership. In addition, she has obtained a bachelor of science degree from the Medical College of Georgia at Augusta University and a bachelor of arts degree from Hampton University.
Susan's teaching and direct patient care responsibilities have provided varied opportunities for scholarship and service. She served as a research mentor and collaborator on the research project, "Exploring the Worthiness of Elderly Home Visits." In addition, Susan is the principal author of a published case study outlining community based alternatives to nursing home placement. She has also been featured in two FOX 5 News stories exploring the benefits of geriatric home visitation. Community speaking engagements on health promotion and disease prevention are essential components of her service to others.
Her leisure time is devoted to traveling with her husband Carlton, spending time with her adult sons and grandchildren, running the Peachtree Road Race each year and cheering for the Atlanta Falcons.
Instructor, Admissions Director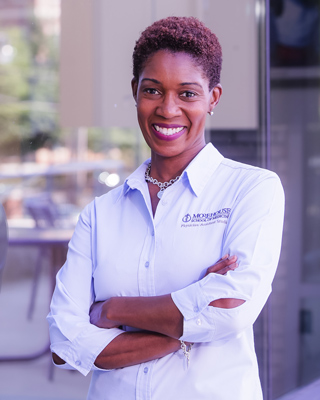 Clinical Instructor in the department of Family Medicine at Morehouse School of Medicine (MSM) and serves as the director of Admissions for the MSM PA Program. She is a native of Atlanta, Georgia, and received her bachelor of science degree in Biology from Jackson State University and her master of medical science PA degree from Emory University. Sabrina has been a Physician Assistant for 20 years, serving in multiple clinical settings. She is a community advocate and equity champion, finding the most joy when providing medical services and education to disparate populations in the clinic and community. She joined the faculty at MSM in July 2009 and throughout her tenure, along with her teaching roles, has worked with an audience of more than 5,000 stakeholders aimed at the elimination of health disparities. She successfully led a team to plan and implement the Partnership for Diabetes Health Equity, a multi-year grant-funded program that serves as a national resource to advance diabetes health equity through evidence-based education, training and resources. Additionally, she has developed expertise in community engagement, with a particular focus on clinic-community partnerships and quality improvement.
David L. Alexander III, DHSc., PA-C
Instructor, Clinical Director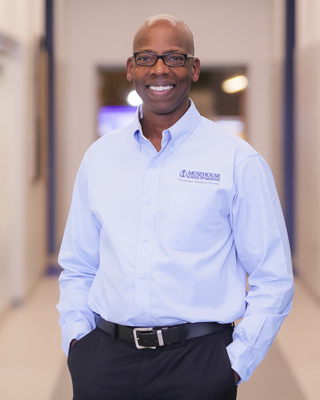 Dr. Alexander joined the Morehouse School of Medicine team in March of 2018. He holds a doctoral degree from A.T. Still University College of Graduate Health Studies with a focus on fundamentals of education. Additionally, he earned a master's in Physician Assistant Studies from the University of Nebraska Medical Center, and a bachelor's of science in Physician Assistant studies from Louisiana State University Health Sciences Center. Dr. Alexander is a United States Army veteran having proudly served more than ten years as a Combat Medic and a Practical Nurse. His doctoral research examined military veterans' perceptions of their health care options. Specifically, he believes that these perceptions directly influence outcomes in this population, because they determine whether the veteran will continue to follow through with their provider's plan of care.
Dr. Alexander's clinical interests and expertise focus on comprehensive cardiovascular critical care, medical and mechanical management of advanced heart failure, and management of the cardiovascular surgical patient. Most recently, Dr. Alexander served as a clinical instructor for the Piedmont Heart–Mercer University Physician Assistant Residency in Advanced Cardiology.
Dr. Alexander is involved in ongoing research to examine the utility of physician assistant Point of Care Ultrasound (PoCUS) to determine left ventricular size and gross ventricular function, quickly estimate the cardiac output, determine the presence of a pericardial effusion, and determine IVC size in acutely decompensating patients.
Mieshia Baker Dunn, MBA
Program Manager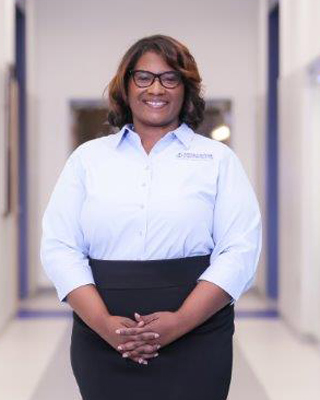 Mieshia Baker Dunn joined Morehouse School of Medicine (MSM) in December 2017 as the program manager for the Office of Physician Assistant Studies. She received her bachelor of art degree from Clark Atlanta University and her master of business administration from Keller Graduate school.
Ms. Baker Dunn's passion for education and helping others began in the role of academic advisement and quickly developed into other areas, including admissions advisor, assistant director of admissions and adjunct faculty. Ms. Baker Dunn is an advocate of education and understands the importance of providing a diverse and enriched learning environment for the 21st century learner of today.
Ms. Baker Dunn is a community advocate and supports MSM's vision of improving health and well-being in surrounding communities. She has developed and supported several community health projects, which include screening for high blood pressure, diabetes prevention, and HIV testing. She currently serves on the Board of the National Coalition of 100 Black Women, Inc.-Mecca Chapter, which allows her an opportunity to focus on initiatives in the areas of health and education.