campus portal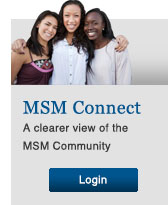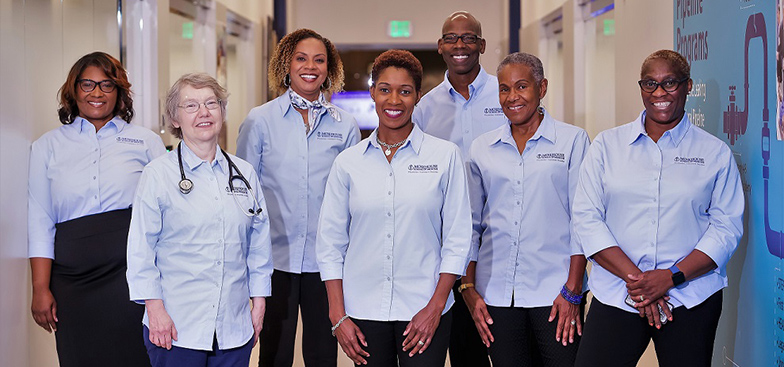 Faculty and Staff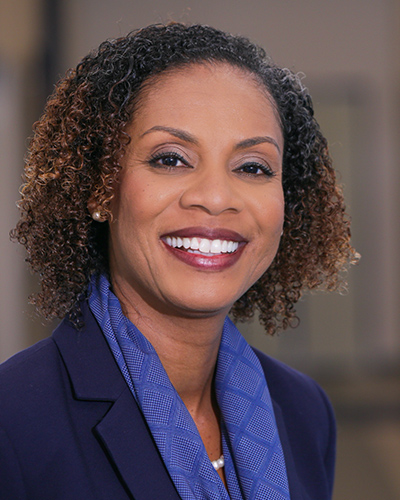 Assistant Professor, Assistant Dean, Founding Program Director
Dr. Pangela Dawson joined Morehouse School of Medicine (MSM) in August of 2017 as the Founding Program Director for the Physician Assistant Program in the department of Family Medicine. She received her Ph.D. in Education Policy Studies and Evaluation in Higher Education from the University of Kentucky. Her dissertation focused on utilizing community-based educational and health-promotion strategies to assist domestic violence survivors in marginalized communities. During this time, she also completed a certificate of study in Gender and Women's Studies. Her academic training includes a bachelor of arts from Oberlin College and a master of science in Physician Assistant Studies from the University of Kentucky.
Dr. Dawson began her academic career at the University of Kentucky in the department of Physician Assistant Studies, where she served as director of Clinical Education. Her role included overseeing 300 regional, national and international clinical sites and over 700 rotation experiences for students during the clinical year. Dr. Dawson later received academic appointments at the University of the Incarnate Word (UIW) School of Osteopathic Medicine as the director of the Physician Assistant and Master of Biomedical Sciences programs. She also served as Clinical Coordinator at the University of Texas Health Science Center San Antonio (UTHSCSA). In this role, she worked to collaborate with community affiliations across south Texas and throughout the San Antonio metropolitan area.
As a practicing physician assistant, Dr. Dawson specialized in orthopedic pediatrics and chronic pain management and rehabilitation. Her current research interests include identifying early indicators for student success and enhancing cultural proficiencies in medical education.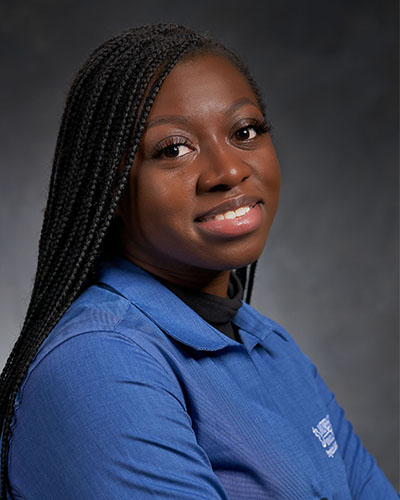 Ijeoma Amobi, DMSc, PA-C
Instructor, Assistant Clinical Director
Dr. Ijeoma Amobi has been a practicing Physician Assistant (PA) since 2015. She obtained a Bachelor of Science in Kinesiology from Temple University in 2011. She also received a Master of Science in Physician Assistant Studies from Wagner College in 2015 and a Doctorate in Medical Science from University of Lynchburg in 2019.
Dr Amobi has worked in many specialties and medical services including emergency medicine, trauma, observation units, urgent care, and the intensive care unit (ICU). Dr Amobi worked on the front lines as an emergency medicine and ICU PA during the COVID-19 pandemic in New York, Texas and Maryland.
Dr Amobi is also actively involved in academics and PA education. She served as the Assistant Director of Medical Education for Physician Assistant Students at the University of Maryland Prince George Hospital from 2017 to 2020. Throughout her clinical years, she also served as a preceptor to many PA students. Today she is currently serving as the Assistant Clinical Director of the Morehouse School of Medicine Physician Assistant Program, Principal Faculty, Co-director of fundamental courses offered in the didactic phase of the PA curriculum, HRSA PALS grant affiliate and is an active member on many MSM PA committees.
Dr Amobi is licensed to practice medicine in several states and is board certified by National Commission on Certification of Physician (NCCPA)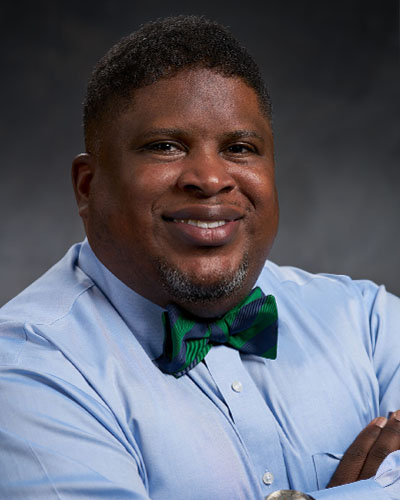 Donny Ard, Ph.D., MHA, PA-C
Assistant Professor, Associate and Academic Director
Dr. Donny Ard joined Morehouse School of Medicine (MSM) in May of 2020 as the Associate and Academic Director for the Physician Assistant Program in the Department of Family Medicine. He received is Ph.D. in Public Health with a concentration on Community Health Education and Promotion from Walden University. His dissertation focused on the understanding impact a family of history of Type 2 Diabetes Mellitus had on positive behavior changes in the African American community. His academic training also includes a Bachelor of Science in Biology from Oakwood University (College), and master's in health administration from University of Phoenix, and a Bachelor of Science in Physician Assistant studies from Touro College in Bay Shore, NY.
After graduating from PA School, Dr. Ard always knew he would give back to the profession by lending his time in educating others who were in PA school. Dr. Ard began as a guest lecturer and adjunct faculty with Anne Arundel Community College/University of Maryland Collaborative PA Program. With a desire to do more and have a larger impact on the student's educational experience, he became a Senior Lecturer for the school in 2017 and served as a council member on the Diversity and Inclusion Committee. Shortly after Dr. Ard took a leadership role with Howard University during the rebuilding phase of their PA Program.
Dr. Ard has been a practicing Physician Assistant for 16 years. All of his years of practice have been in General Surgery and several Surgical Subspecialties such as Vascular, Thoracic, and Gynecological Surgery. Dr. Ard's current research interest is in community health promotion along with diversity and inclusion within the medical profession.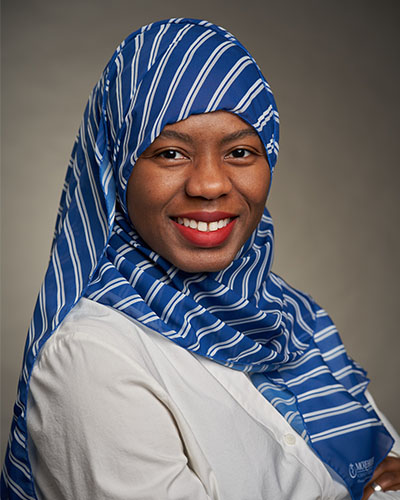 Ebony Blackmon, MSPAS, PA-C
Instructor, Adjunct Faculty
Ms Blackmon is a native of the Louisville, Kentucky. She earned Bachelor of Science in Biology and Bachelor of Arts in Chemistry with a minor in Islamic Studies at the University of Kentucky in 2009. While in undergrad, she joined Delta Sigma Theta Sorority, Inc. Prior to starting PA school, she worked as a medical lab technician and earned her EMT certification. She earned her Master of Physician Assistant Studies from the University of Kentucky in 2013. During her matriculation, she served as a College of Health Sciences Ambassador.
Ms. Blackmon has been serving some of the most vulnerable patients as an Emergency Medicine PA at Grady Memorial Hospital since 2014. She has also volunteered to precept NP and PA students.
Ms. Blackmon joined the Morehouse PA program as adjunct faculty in July 2019. She also serves a student advisor.
She is licensed by the State of Georgia and certified by the National Commission on Certification of Physician Assistants.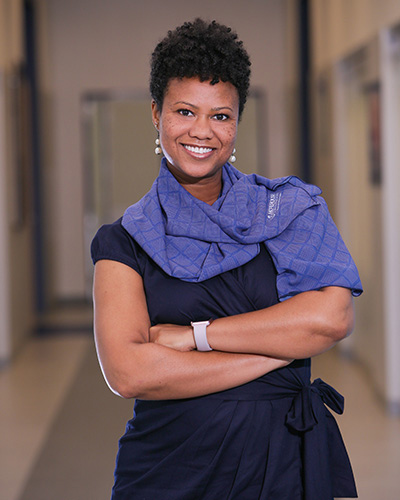 Stephanie Banks, MPH
Instructor, Director of Community Engagement
Ms. Banks is Public Health Practitioner with a breadth of experience providing leadership in academia; instructing, as well as managing, implementing and evaluating various programs and activities in response to the health, well-being, and education of the indigent and the underserved community at large. Specifically, in the areas of health workforce training and development, service learning, and community resource development.
She is excited to be back in PA education, particularly, as a team member of the Physician Assistant Studies at Morehouse School of Medicine.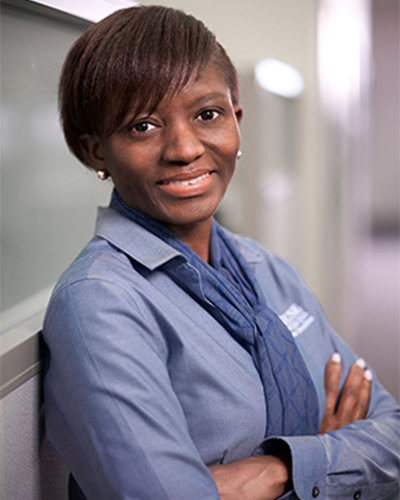 Roselle M. Caruth, M.Ed
PALS HRSA Grant Program Manager
Roselle Caruth joined Morehouse School of Medicine (MSM) in July of 2019 as the curriculum manager for the Physician Assistant Program in the department of Family Medicine. She earned a Bachelor of Science degree in business management and a Master of Education in higher education leadership.
Roselle has always been an advocate for underserved communities. She has a deep passion for student development, education, and learning and supports MSM's mission to increase the diversity of the health professional and scientific workforce. She is excited to be a part of the PA program at Morehouse School of Medicine.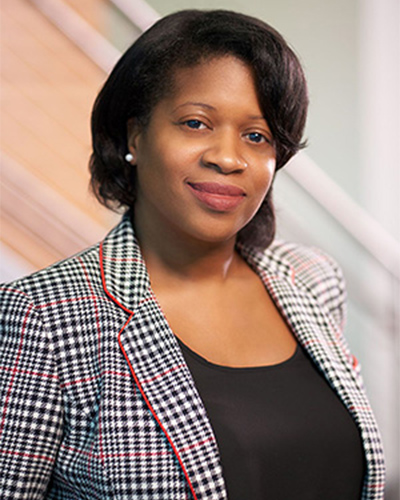 Keisha Chandler, MPA
Clinical Curriculum Manager
Keisha Chandler joined Morehouse School of Medicine's (MSM) Physician Assistant Program in December of 2019. Prior to joining the Physician Assistant Program, she served for three years as the Clerkship Program Manager in MSM's Department of Surgery.
Her interest in medical education began several years ago as the Program Coordinator for the Aspiring Docs initiative within AAMC. In that role; she provided resources, outreach and advisement to students interested in applying to medical school.
Ms. Chandler received her Bachelor of Arts from the State University of New York at Albany and her Master of Public Administration from Troy University. She is committed to delivering impactful programs and initiatives to support the success of all learners.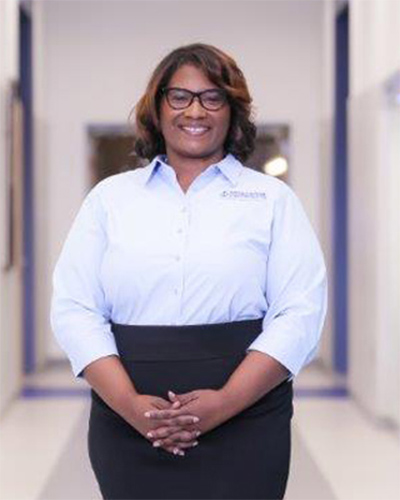 Mieshia Baker Dunn, MBA
Program Manager
Mieshia Baker Dunn joined Morehouse School of Medicine (MSM) in December 2017 as the program manager for the Office of Physician Assistant Studies. She received her bachelor of art degree from Clark Atlanta University and her master of business administration from Keller Graduate school.
Ms. Baker Dunn's passion for education and helping others began in the role of academic advisement and quickly developed into other areas, including admissions advisor, assistant director of admissions and adjunct faculty. Ms. Baker Dunn is an advocate of education and understands the importance of providing a diverse and enriched learning environment for the 21st century learner of today.
Ms. Baker Dunn is a community advocate and supports MSM's vision of improving health and well-being in surrounding communities. She has developed and supported several community health projects, which include screening for high blood pressure, diabetes prevention, and HIV testing. She currently serves on the Board of the National Coalition of 100 Black Women, Inc.-Mecca Chapter, which allows her an opportunity to focus on initiatives in the areas of health and education.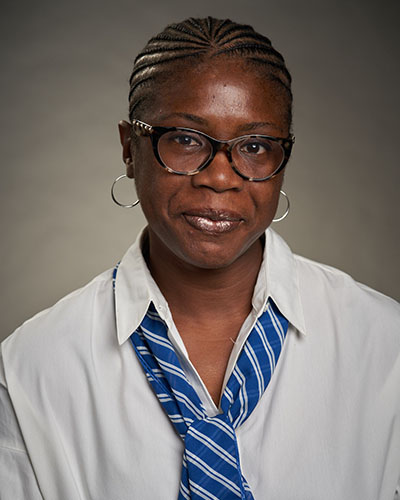 Diane Griggs, NP-C
Instructor, Principal Faculty
Diane Dennis Griggs is one of the newest professors at Morehouse School of Medicine's, Physician Assistant Program. As a graduate of Clark Atlanta University, she received her Bachelor of Science degree in Biology, where she parlayed her education and infused it with a degree in nursing. Diane later pursued and obtained her Master of Science from Georgia State University.
In achieving her Master's, she obtained certification as a Nurse Practitioner. She became the first Nurse Practitioner to care for patients in the critical care department at Grady Memorial Hospital. Diane maintained and continuously sharpened her skills by teaching and training physicians, residents, medical and nurse practitioner students at Morehouse School of Medicine and Grady Hospital Surgical Care Unit.
The ambition to evolve now places her in the role of training the next generation of healthcare providers.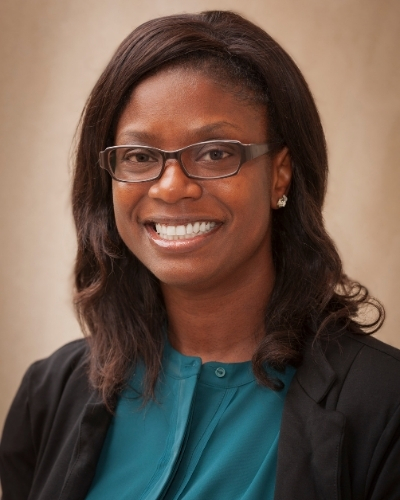 Charlene Justin, MMSc, PA-C, OT
Instructor, Principal Faculty
Charlene Justin has been a health care practitioner since 2003 when she graduated with a bachelor's degree in Occupational Therapy from Florida International University. She worked in a variety of specialties ranging from pediatrics to upper extremity rehabilitation prior to attending Stanford University Primary Care Associate Program and graduating in 2013.

As a PA, Ms. Justin has worked in several surgical subspecialties as well as family medicine and urgent care. Her past experience in academia includes serving as a faculty member at Yale Physician Associate Program.

Her primary academic interests include simulation, medical interviewing, and the translation of these skills into the clinical curriculum. One of her fundamental goals is the promotion of academic excellence through student mentorship and was thus the recipient of the Jack Cole Society Award at Yale.
She enjoys collaborating on projects and presentations that enhance the profession and has presented at a variety of conferences. Her research interests include the formation of professional self-identify amongst underrepresented groups, sense of belonging in PA education and enhancing the PA curriculum through medical simulation.
Ms. Justin currently serves on several committees at Morehouse School of Medicine in conjunction with being an active member on several external committees related to medical education. She is certified by the National Commission on Certification of Physician Assistants and has been licensed in several states.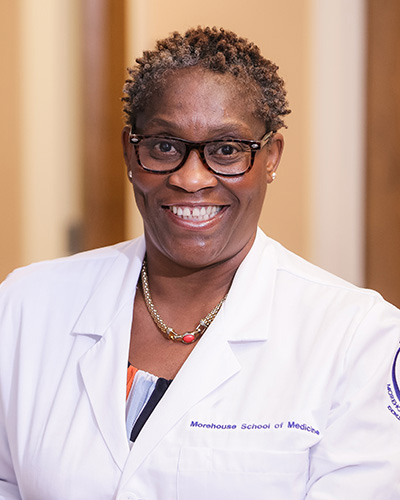 Professor, Medical Director
Dr. Omole is a professor and the Sarah and William Hambrecht Chair of the Morehouse School of Medicine (MSM) department of Family Medicine. She received her degree in physics from the University of Lagos, and her medical degree from Obafemi Awolowo University, lle-lfe, Nigeria. She is a fellow of the American Academy of Family Physicians (AAFP) and a licensed medical acupuncturist. Dr. Omole is an educator to the core, she served as the clerkship director, as well as the residency program director, and was instrumental in expanding the class size from 5-5-5 to 6-6-6-6. She has been a PI and Co-PI on several projects and grants, and has authored and co-authored several manuscripts, with her recent collaboration resulting in the American Academy of Otolaryngology Head and Neck Surgery Clinical Practice Guidelines for Allergic Rhinitis, as well as for Tinnitus. She is the faculty advisor and medical director of the MSM Health Equity for All Lives (HEAL) student-run free clinic, and also serves as the director of Integrative Medicine.
Dr. Omole is an active Georgia Academy of Family Physicians (GAFP) member and served as the treasurer and Chair of Finance. She is a recipient of several awards, including being an inductee into the Alpha Omega Alpha Honor Medical Society, GAFP Educator of the Year, Leonard Tow Humanism in Medicine recipient, GAFP Physician of the Year, and recently, the MSM President and Dean's Service award.
Dr. Omole's research interests are chronic disease management (diabetes), data-driven patient health outcomes, acupuncture, and aging, especially sex in the elderly.
Belinda Richardson, BSBA
Administrative Assistant III
Belinda Richardson joined Morehouse School of Medicine's Office of Physician Assistant Studies on April 5, 2021, in the role of Administrative Assistant III. She has more than 20 years of experience in the administrative field working within institutions of higher learning. She will be responsible for a variety of duties including, Coordinating the operations of our office and assisting with various aspects of program coordination.
Belinda obtained a Bachelor of Science Degree in Business Administration from Frostburg State University located in Western Maryland. Although she's a long way from her original home in Upper Marlboro, MD, she has lived and worked in the state of Georgia for many years before relocating to Dallas, Texas in 2014, where she remained for 3 years returning to Georgia in 2018. Belinda was employed with another PA Program in the area, but is very excited about being with Morehouse and looking forward to becoming an essential team member within the Office of Physician Assistant Studies.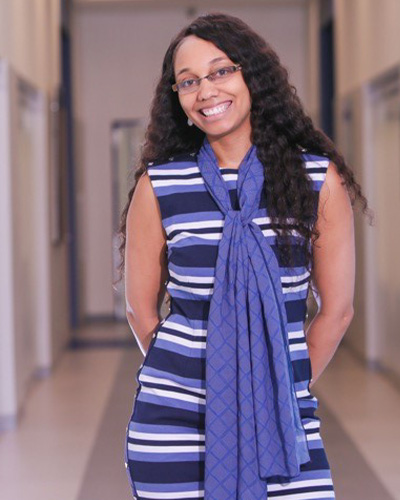 Tyra Willingham, MPH
Curriculum Manager
Tyra Willingham joined Morehouse School of Medicine (MSM) in December 2018. She serves as the Curriculum Manager for the Physician Assistant Studies Program . Tyra received her bachelor's degree in Healthcare Administration from Texas Southern University and a master's in Public Heath from Lamar University. She currently enjoys spending time with her family and exploring innovative ways to live a healthier lifestyle. She has a true passion for helping people and continues to use her skills and experience to make a difference in the community.