Message from the Director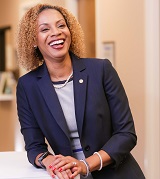 These are exciting times at Morehouse School of Medicine (MSM)! We are on the brink of making history, yet again, as we continue to develop the newest master's degree in Physician Assistant (PA) Studies. I welcome you to explore this website and learn more about the requirements to become part of one of the fastest growing and highly regarded professions in the country! Currently, there are over 200 accredited PA programs in the United States and more than 115,000 practicing PAs. The profession has maintained remarkable growth and spurred noteworthy interest in the healthcare and academic sectors. In fact, the 2017 US News & World Report ranked the PA profession has #3 (third) among all healthcare jobs.
Although the PA profession has gained phenomenal notoriety over the past decade, it was established more than 50 years ago as a means to increase patient access to health services by extending the time and skills of the physician. Today, PAs continue to offer one approach in addressing the healthcare provider shortage in rural and underserved areas, as well as, address global health care disparities. With this in mind, members of the MSM Executive Leadership Team identified the use of trained PAs as a logical step to increase the number of minority healthcare workers and extend its reach in underserved communities. The MSM PA Program exists to equip aspiring learners from underrepresented backgrounds to become competent and compassionate healthcare providers. These future leaders will be trained to respond to the increasing healthcare demands across Georgia and specifically in underserved and underprivileged regions.
The addition of a PA Program to MSM will encourage interprofessional education (IPE) and collaborative practice among today's learners and tomorrow's leaders. Data indicates that IPE plays a significant role in mitigating many of the challenges faced by health systems around the world. There are recognizable educational and policy benefits that support fostering concepts of a medical team in healthcare. These include improved productivity and health outcomes, improved safety, and student exposure to real-world experiences.
Given MSM's rich history and continued accomplishments, the reach and success of this new program are inevitable. By educating and training Physician Assistants to become advanced practitioners, we create a transforming synergy that has great potential to bring about great change. I invite you to continue exploring this interactive website to learn more about the PA profession and the newest PA Program in Atlanta!
Pangela H. Dawson, Ph.D., MSPAS, PA-C
Founding Program Director
Physician Assistant Studies
Department of Family Medicine
Success is the progressive realization of a worthy idea.
-Earl Nightingale