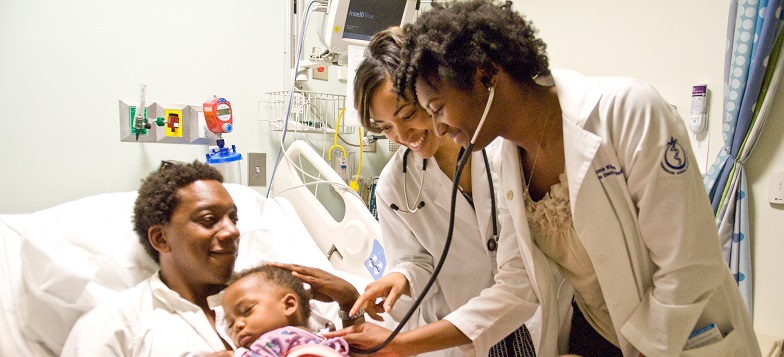 The Physician Assistant (PA) Profession
What is a Physician Assistant?
Physician Assistants (PAs) are highly trained healthcare professionals licensed to provide medical care services with the supervision of a Doctor of Medicine (MD) or Doctor of Osteopathic Medicine (DO). As members of the health care team, PAs work interdependently with physicians to provide a variety of diagnostic and therapeutic patient care. Seventy-eight percent of PAs work in metropolitan areas in the state of Georgia; of these, 73% work in primary care.
Their responsibilities include obtaining medical histories, conducting physical exams, ordering and interpreting diagnostic studies, assessing and developing treatment plans, writing prescriptions, and counseling on preventive care. PAs are educated to provide services in primary health care and specialty medicine. PAs are trained to provide comprehensive care in various specialties including pediatrics, emergency medicine, surgery and more.
PAs can work in different settings such as private physician offices, nursing homes, hospitals, community health centers, retail, schools, correctional institutions, and in uniformed services and other federal government agencies. PAs also work in clinical research, health care administration, and academic positions.
The Physician Assistant Profession began with four ex-Navy corpsmen at Duke University in the mid-1960s. Dr. Eugene A. Stead Jr., then Chairman of the Department of Medicine, believed that mid-level practitioners could increase consumer access to health services by extending the time and skills of the physician. Today, there are 224 accredited PA programs in the United States and 115,547 practicing PAs. With the increasing demand for PA services, the Bureau of Labor Statistics predicts an astounding 38.4 percent employment growth in this profession between 2012 and 2022.
For more information on the Physician Assistant profession, please visit the American Academy of Physician Assistants (AAPA).
Physician Assistant (PA) Core Competencies
The Morehouse School of Medicine (MSM) Physician Assistant (PA) Program offers quality graduate medical curricula that empowers students to prioritize and address community health outcomes through civic engagement, ethical leadership and global social responsibility. To ensure students understand their role in providing high-quality care for the physical and emotional support of patients and families, the MSM PA Program has adopted competencies that are consistent with the national standards for the PA Profession. The Program recognizes the importance of life-long learning and professional behavior in delivering equitable and sustainable health care. Students must demonstrate competency in applying appropriate and effective medical knowledge, interpersonal and communication skills, patient care, professionalism, practice-based learning and improvement, and systems-based practice.