Are you a physician or physician's assistant working in underserved or rural communities? Do you have an interest in leading change in the communities you serve? Apply for the The Morehouse School of Medicine Community Health Advanced by Medical Practice Superstars Transformational Leadership Fellowship to gain leadership skills and skills for transforming your practice and your community.
This yearlong fellowship educates and empowers early/mid-career physicians and PAs practicing in metropolitan Atlanta and rural Georgia who are in emerging leadership roles. You will emerge ready to lead change within your institutions and surrounding communities, and at the state, regional and national levels.
Purpose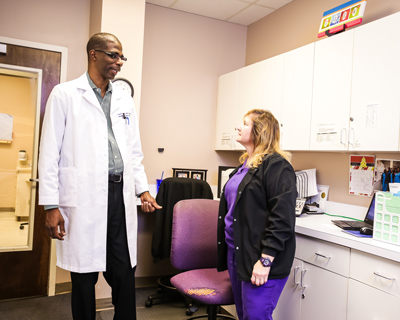 This program strives to strengthen primary care and the healthcare workforce by establishing fellowship programs to train practicing community-based, primary-care physician and/or physician assistant champions to lead health care transformation and enhance teaching in community-based settings. Characteristics of transformed healthcare delivery systems identified by the Centers for Medicare and Medicaid Services include:
Integrated or virtually integrated delivery models across the care continum;
Coordinated care across all providers and settings;
A high level of patient engagement and quantifiable improvements in patient experiences;
Leveraging the use of health information technology to improve quality;
Providers performing at the top of their license and board certification;
Integration of population health measures into the delivery system: and
Data-driven health system processes.
HRSA also recognizes addressing social determinants of health as a characteristic of transformed healthcare delivery systems.
Objectives
Develop leadership capacity in healthcare transformation for primary-care professionals;
Increase integrated and coordinated care services within and between care settings;
Improve the quality of care in healthcare organizations; and
Increase patient access to care.
Benefits
HRSA will provide physicians and physician assistants who have completed PCTE fellowships with priority status when applying for NHSC LRP awards. Participants in the NHSC LRP, NHSC Scholarship Program, and NHSC Students to Service LRP interested in participating in a PCTE primary-care leadership fellowship program may convert to a half-time contract and continue satisfying their service obligation.
Each fellow will:
Earn CME through on-line course instruction
Engage in practical leadership and quality improvement instruction through virtual clinic site visits
Participate in monthly coaching sessions and technical assistance
Complete a healthcare transformation project with a focus on one of the three HHS priorities -- childhood obesity, mental health and opioid abuse -- to benefit your practice and community
Build leadership skills that strengthen change processes in organizations
Become part of a team to coach and mentor future CHAMPS fellows
Apply
Applications are currently being accepted.
For more information contact Christopher Ervin, M.D. or Kendra Moore.
---
This project is/was supported by the Health Resources and Services Administration of the U.S. Department of Health and Human Services under Grant #T13HP31903, Primary Care Training and Enhancement: Training Primary Care Champions for $1,985,744. This information or content and conclusions are those of the author and should not be construed as the official position or policy of, nor should any endorsements be inferred by HRSA, HHS or the U.S. Government.