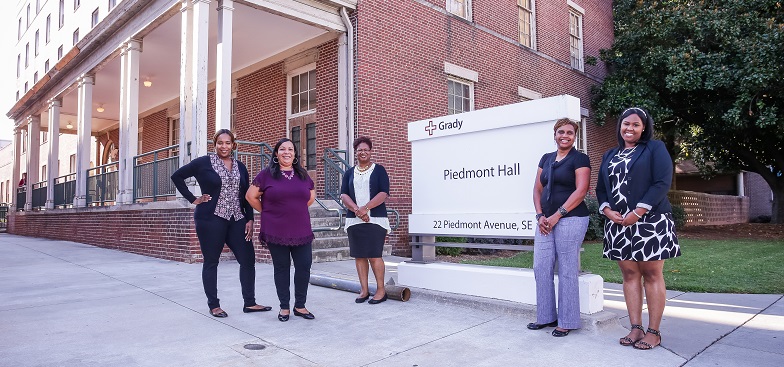 GME Staff

Yolanda Wimberly, M.D., M.Sc., F.A.A.P., F.S.A.M.
Professor of Pediatrics
Associate Dean for Graduate Medical Education
Associate Dean for Clinical Affairs - Grady
ACGME Designated Institutional Official
Chair, Graduate Medical Education Committee
Phone: 404.756.1373

---
Tammy Samuels, M.P.A.
Assistant Dean and Director
Graduate Medical Education
Phone: 404.752.1011
General oversight for GME office and residency programs, ACGME accreditation, J1-Visas and NRMP, disciplinary actions, resident recruitment, and external rotations.


---
Jenay Hicks
Assistant Director
Graduate Medical Education
Phone: 404.756.1364
Contact for annual GME educational activities, financial and administrative compliance (medical licensing and training permits), GMEC, resident onboarding, orientation and exiting, resident association liaison.


---
Paulette Neal-Parham
Special Assistant to the Dean and DIO
Graduate Medical Education
Phone: 404.756.1324
Contact for IRIS reporting, MAA, annual GME events (compact, graduation, etc.). ID cards and educational module support (IPM, IHI, SBIRT), GME website maintenance, Special Assistant to the Associate Dean.


---
Felicia Underwood
Data Management Specialist
Phone: 404.756.1348
Contact for New Innovations - maintenance and training (duty hours, evaluation, etc.), administrative contact for Tammy Samuels, assistance with ERAS, ADS, NRMP, ECFMG and PLA.
---
Tiera Ward
Administrative Assistant
Phone: 404.752.1068
Contact for general information, verification and credentialing requests and scheduling.


---
Contact the GME office at 404.752.1857 for all other requests.