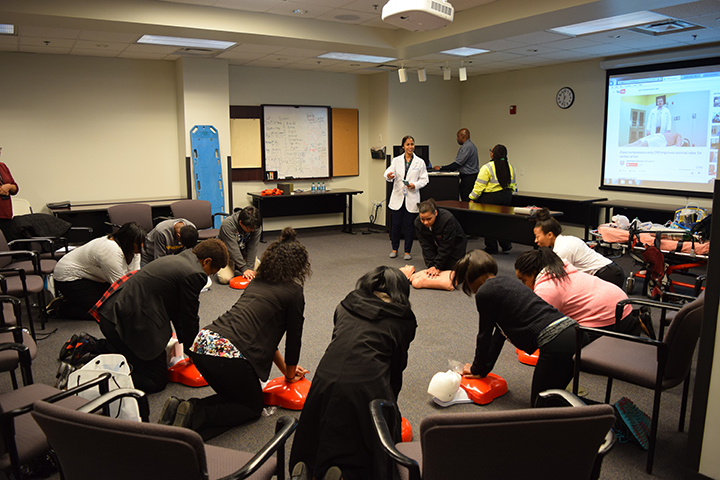 First Look Health TEAM
First Look Health T.E.A.M. (Teaching Education and Mentoring) is a day dedicated to exploring the exciting world of health careers. Participants must be currently enrolled in science and technology based curricula, and will have the opportunity to work with MSM students, residents, and faculty in a workshop setting.
Preparing for College
Interview Skills
Health Career Q&A
Interactive Stations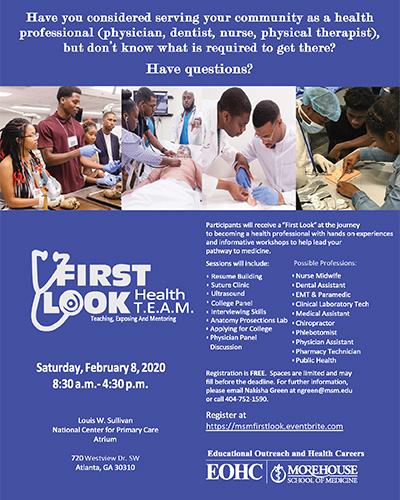 MSM's 5th Annual First Look Health TEAM
Saturday, February 8, 2020
Have you considered serving your community as a health professional (physician, dentist, nurse, physical therapist), but don't know what is required to get there?
Have questions?
Participants will receive a "First Look" at the journey to becoming a health professional with hands-on experiences and informative workshops to help lead your pathway to medicine.
Sessions will include:
Resume Building
Suture Clinic
Ultrasound
College Panel
Interviewing Skills
Anatomy Prosections Lab
Applying for College
Physician Panel Discussion
Possible Professions:
Nurse Midwife
Dental Assistant
EMT & Paramedic
Clinical Laboratory Tech
Medical Assistant
Chiropractor
Phlebotomist
Physician Assistant
Pharmacy Technician
Public Health
Register
The 5th Annual First Look Health T.E.A.M. program for high school students will take place on Saturday, February 8, 2020. Registration is free. Spaces are limited and may fill before the deadline. For further information, please email Nakisha Green at ngreen@msm.edu or call 404-752-1590.
Contact
Rita Finley, Ph.D.
Director, Master of Science in Medical Sciences Degree Program
(404) 752-1614
Jaleesa Garth, Ph.D.
Program Manager, MSMS
(404) 752-1118
Nakisha Green
Administrative Assistant
(404)752-1590
For more information: firstlookhealthteam@gmail.com