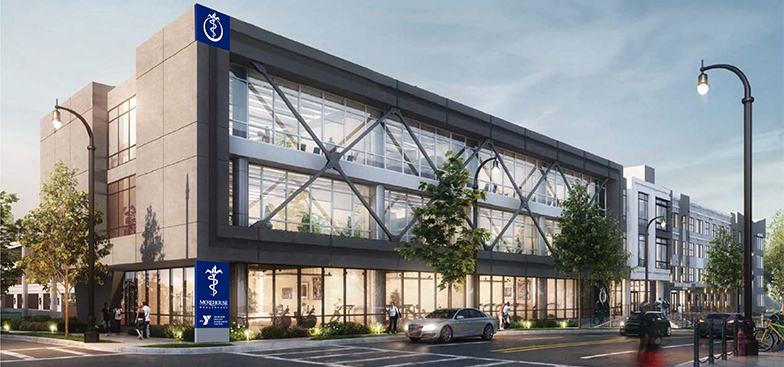 Locations and Hours
Empower. Believe. Become.
Student Health and Wellness Center (SHWC)
AUCC Student Health and Wellness Center
455 Lee Street SW
Third Floor, Ste. 300A
Atlanta, GA 30310
Ph: (404) 756-1241
Fax: (404) 756-1237
Email: SHWCrequests@msm.edu
The SHWC is located within walking distance of all of the AUCC schools. We are in the same building as Entra West End, which also houses the YMCA. There is a campus shuttle that runs every 30 minutes and stops at our clinic (see link below).
Campus Shuttle QR Code

To access behavioral health services at SHWC, please contact our office to schedule your confidential session.
---
Hours of Operation
Mon: 8am-8pm
Tues: 8am-5pm
Wed: 8am-8pm
Thurs: 8am-5pm
Fri: 8am-5pm
Sat: 10am-1pm (located on 2nd floor)
Sun: closed
**Clinic is closed for lunch on weekdays from 12:30-1:30pm
Our clinic occasionally closes for special meetings and programs which allow us to work on quality improvement measures to serve you better. These include:
SHWC Staff Meetings: Held every 2nd and 4th Tuesday from 9-10 AM
Morehouse Healthcare All-Staff Meetings: Held every 4th Friday, from 2-5PM
Annual Strategic Planning Meeting: Held in January, date TBD
View MSM Holiday Calendar for additional closings.
After Hours
Please call (404) 756-1241 to reach our Answering Service.
A SHWC physician or nurse practitioner is on-call when the office is closed and will return any calls of an urgent nature that cannot wait until the office reopens the following morning. Please leave a message on our after-hours service line and the on-call provider will return your call. Refill prescriptions will be provided after hours if they are deemed urgent by the on-call provider and/or initiated by the student's pharmacy. All other after-hours prescription refill requests will be processed within one business day of receipt.
As appropriate, after-hours messages pertaining to urgent mental health matters will be relayed to the on-call SHWC Behavioral Health Services team member, who will return the student's call.
In the event of a medical or mental health emergency, please call 911.
For a mental health crisis call: Georgia Crisis and Access Line (GCAL): 1-800-715-4225